Furniture
Wright furnished the interior with built-in and freestanding furniture he designed specifically for Fallingwater. The Gillen Woodworking Corporation of Milwaukee was employed to manufacture it. For versatility in design and resistance to warping, the furniture was constructed of plywood and veneered with North Carolina black walnut. Seat cushions for sofas, hassocks (ottomans), and zabutons (floor cushions) were filled with Dunlopillo, a vulcanized liquid latex honeycombed with air bubbles to provide durability and ventilation.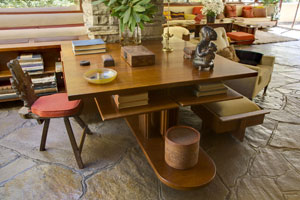 Kitchen
The kitchen was designed by Wright to be essentially utilitarian in nature and included steel cabinets by St. Charles, a Formica-topped work table and asphalt floor tiles in the architect's signature Cherokee red. A Kitchen Aid dishwasher was added during the 1940s, and the cook, Elsie Henderson, purchased the streamlined Frigidaire in the 1950s. While not original to the house, the Swedish AGA stove is coal burning and similar to the one the Kaufmanns purchased for Fallingwater.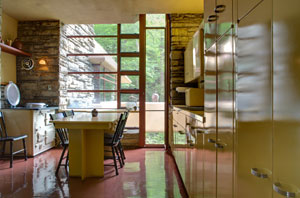 Tower windows
The floor-to-ceiling windows minimize the boundary between interior and exterior space. This effect is facilitated by glass that runs directly into chases in the stonework, thus providing a continuity of surface on both sides of the glass. When the small casements are opened outward, the vertical corner disappears to strengthen horizontal lines and minimize the enclosure.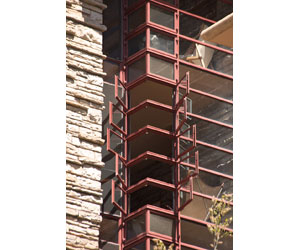 Canopy
The bridge opens onto a great curved walk that leads up the hill to the guest wing. Overhead is an ingenious concrete roof folded and supported on each level by a single steel upright placed on the outside of the curve. The canopy is 8' wide and 3-1/2" thick. It acts as a ring beam, reinforced with a weaving of steel bars in tension. The floating and cascading character of the canopy echoes those same rhythms in the house.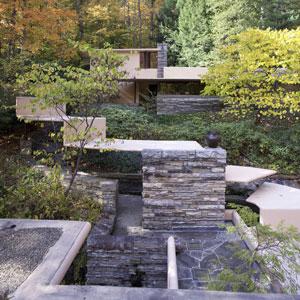 Colours
Wright's desire to create a unified and organic composition limited the colour palette at Fallingwater. Only two colours were used throughout: a light ochre for the concrete and his signature Cherokee red for the steel. PPG Pittsburgh Paints has worked with Fallingwater to develop eco-friendly paints that withstand the environmental challenges of the site. PPG have also created a series of colours inspired by the building and its surroundings.