Casa Milà/La Pedrera
At the height of his career, having achieved a style and independence from historical styles, Antoni Gaudí designed Casa Milà (1906-1912), his last secular work and one of the most innovative in functional terms, spatial distribution, structural system, and in construction and ornamental methods. The industrialist Pere Milà and his wife Roser Segimon commissioned Gaudí to build an apartment house, with the aim of turning the main floor into a family residence and leasing out the rest of the dwellings. Casa Milà is popularly known as 'La Pedrera' (the stone quarry) in allusion to the resemblance of its façade to an open quarry. Its uniqueness, artistic and heritage value have received universal recognition when in 1984 UNESCO inscribed the building in its World Heritage List, for its exceptional universal value.
Highlights
The building features a language totally innovative in Modernisme period, expressed mainly by the sinuous and quasi-naturalistic forms of the façade, in which the stone contrasts with the daring railings of the balconies. Structurally the building is characterised by the open-plan floor, a network of stone and brick pillars which allows no supporting walls in the flats. The attic was constructed with a series of adobe catenaris arches of different heights which form an insulating space and which determine the different levels of the terrace. One of the most amazing parts is the terrace, crowned by staircases, ventilation towers and chimneys: real sculptures integrated into the building.
Insider's Guide
Not to be missed, the vestibule staircase, with its strips of twisted wrought-ironwork, decorated with mural paintings that in some places reflect Gaudí's trencadís hallmark. Take your time to have a break at La Pedrera Café, which combines the splendour of Gaudí's most unique architecture with the popular spirit of the inns of old. Open to all for coffee, apéritifs, meals or drinks under the building's finest dropped plaster ceiling.
Inside Iconic Houses
Want to get the inside scoop on this iconic building? Join the online tour of La Pedrera from our Inside Iconic Houses series. This hour-long ZOOM tour is led by Silvia Vilarroya, Curator of the Permanent Exhibition, who knows the house best. She will walk you through the building, sharing highlights and inside stories you would never hear during a regular visit. Marga Viza, Director of Culture at the Fundació Catalunya-La Pedrera will be joining during the Q&A. You can stream the tour via the webshop.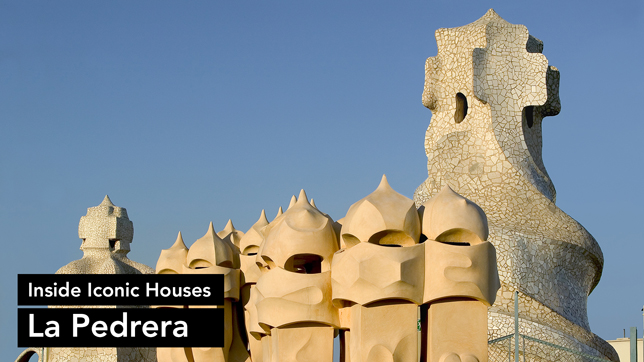 Check our books section for a book about the house.