Paul Stevens House
Architect: Paul Stevens
Year of completion: 1933
Location: Herent (sub municipality Winksele), Belgium
Saved from demolition in 2014
Latest update 14 May 2020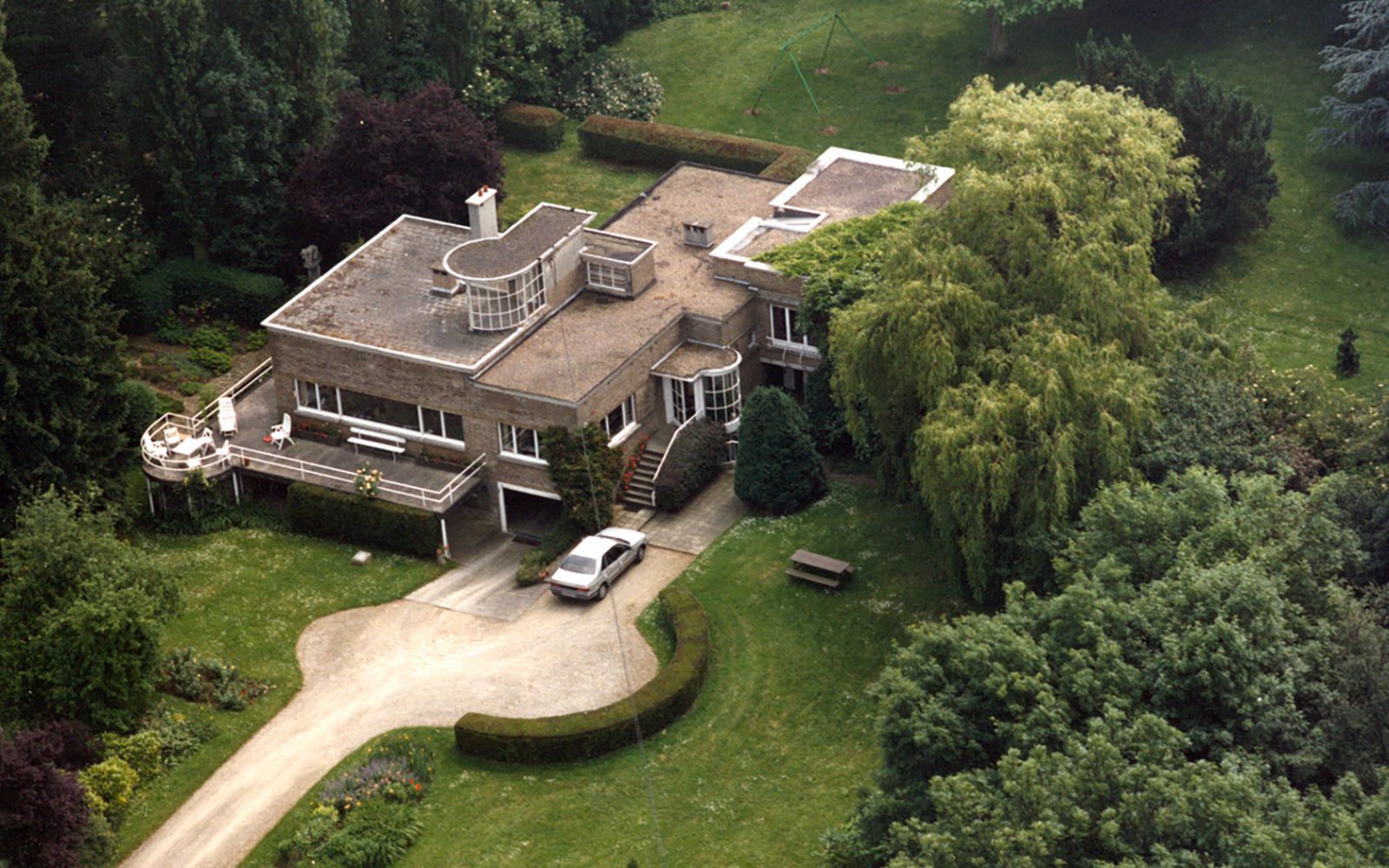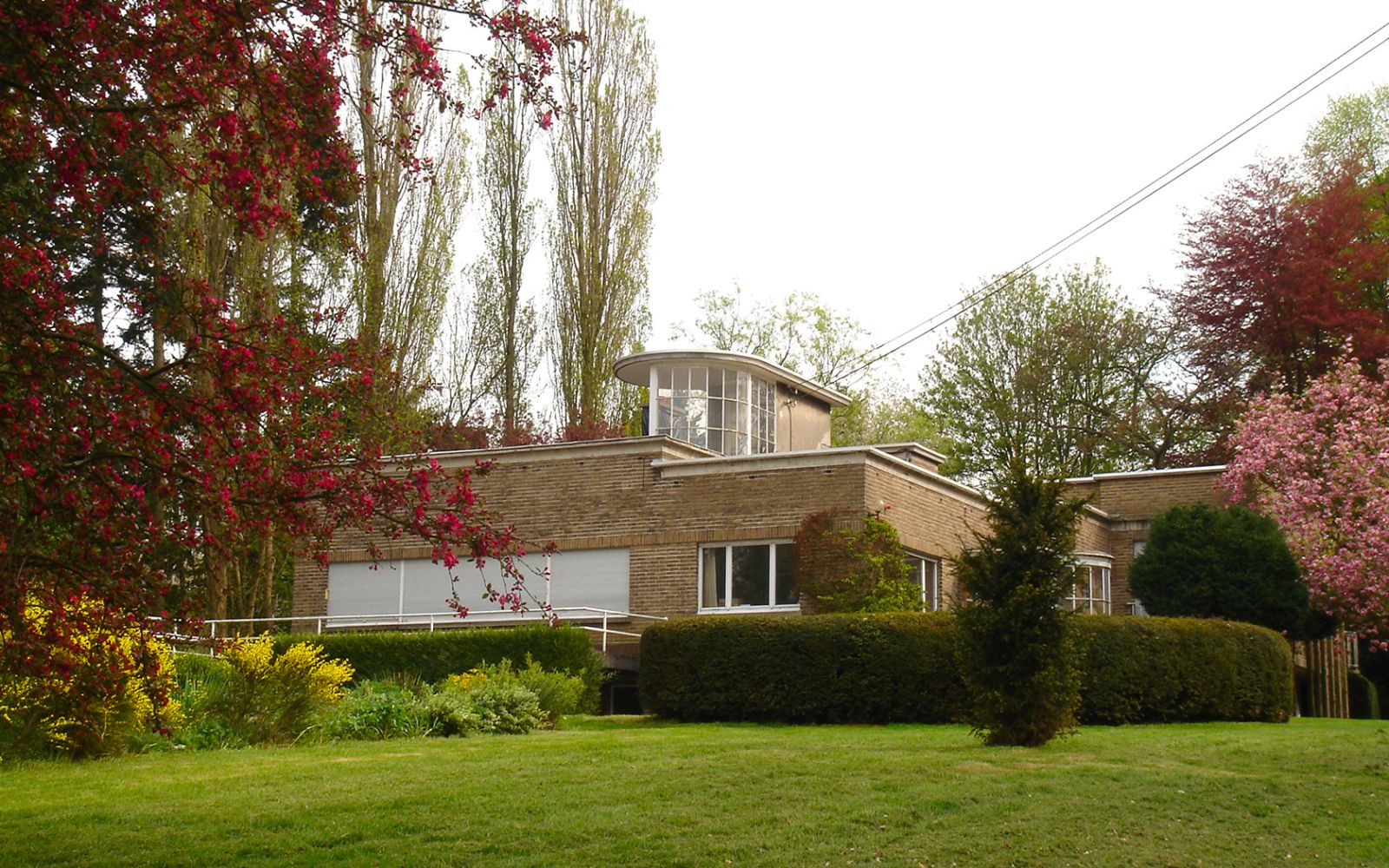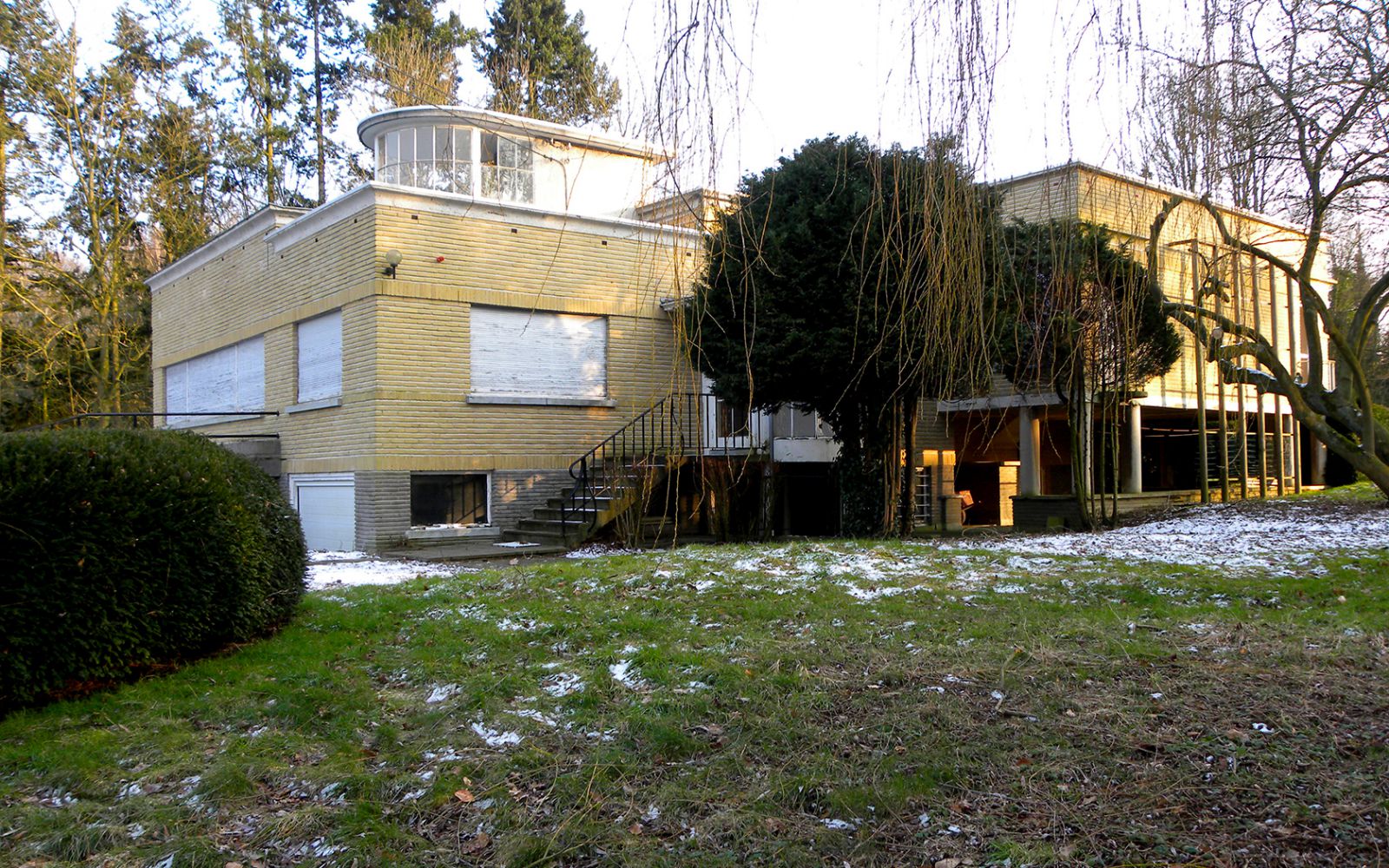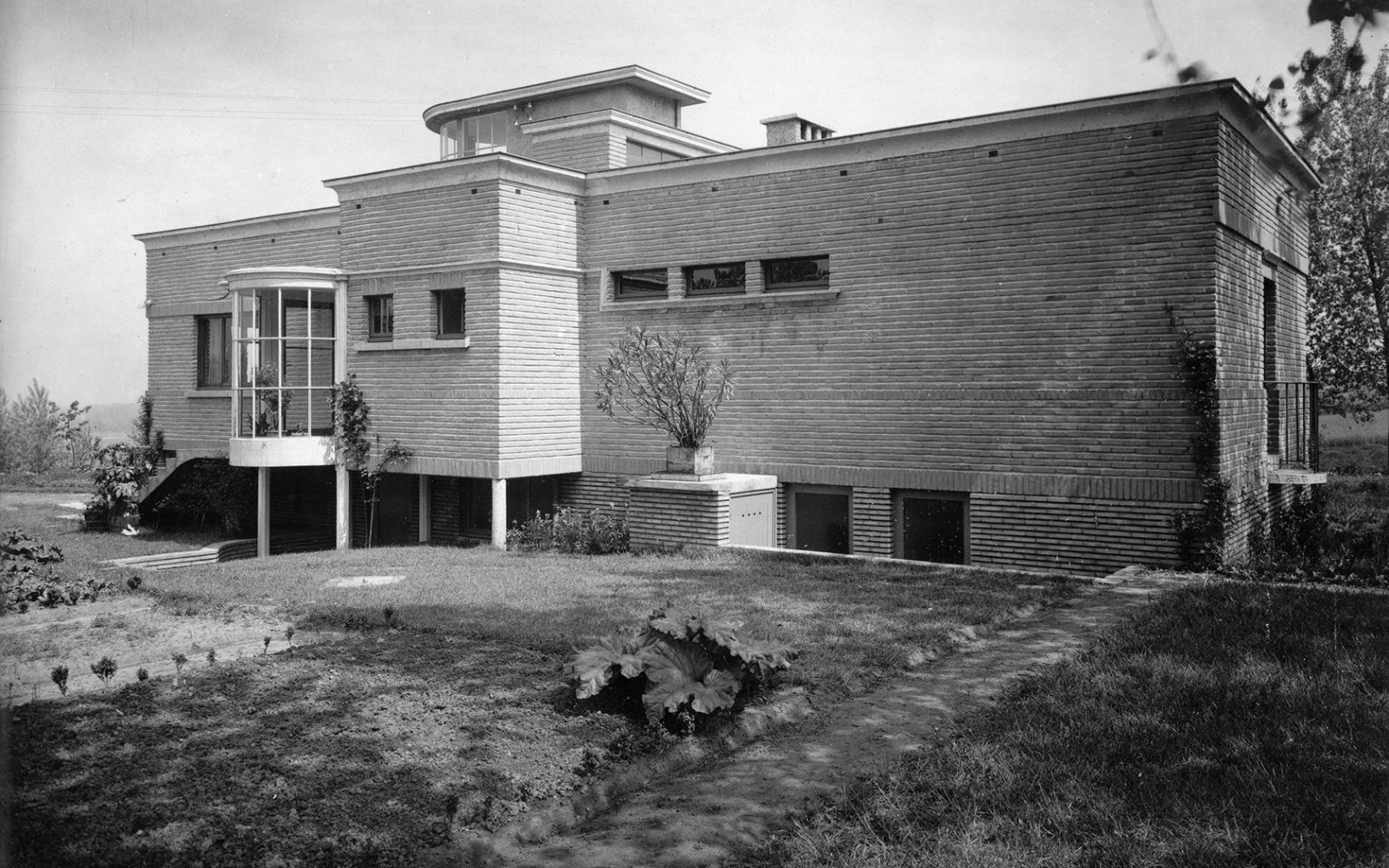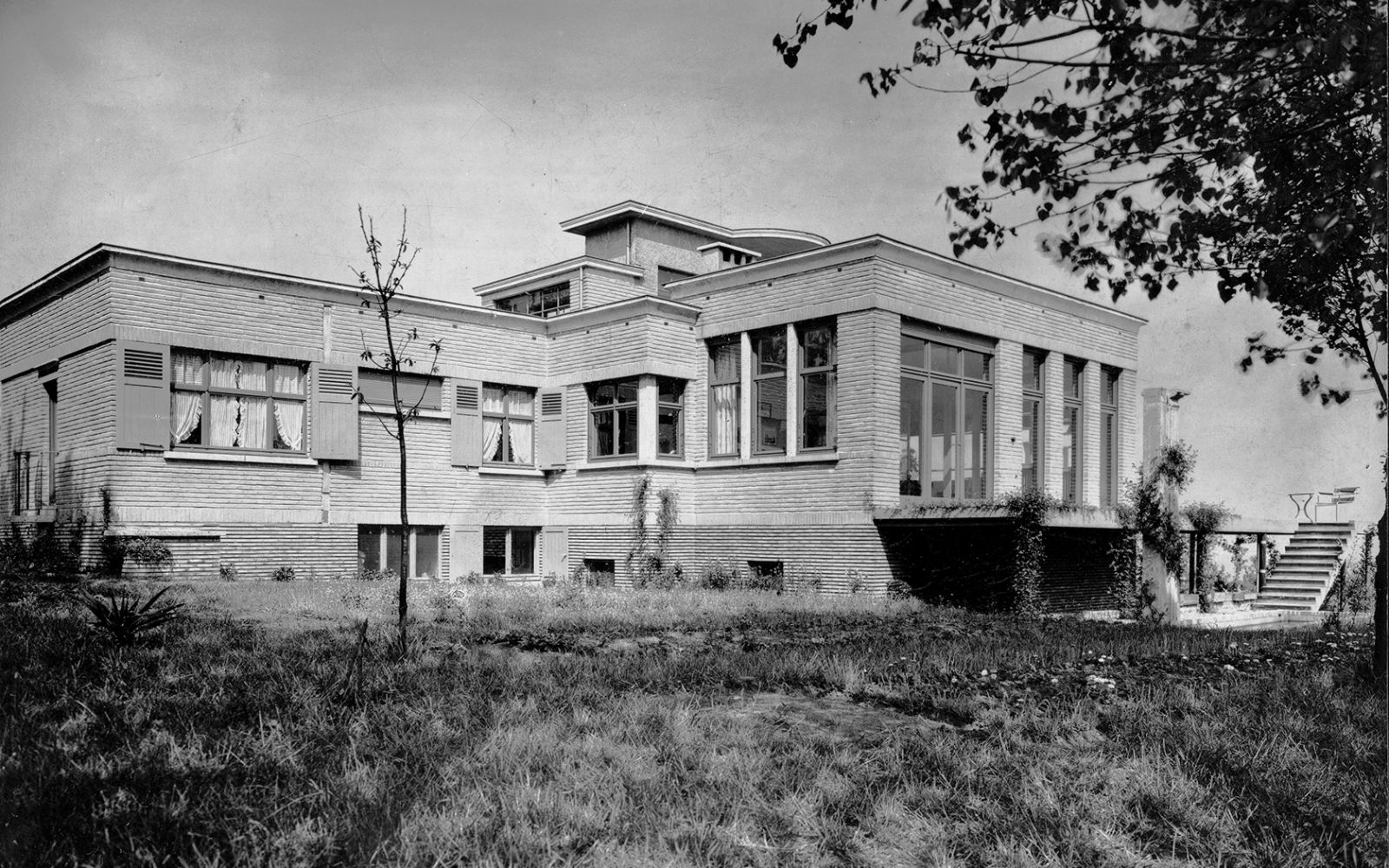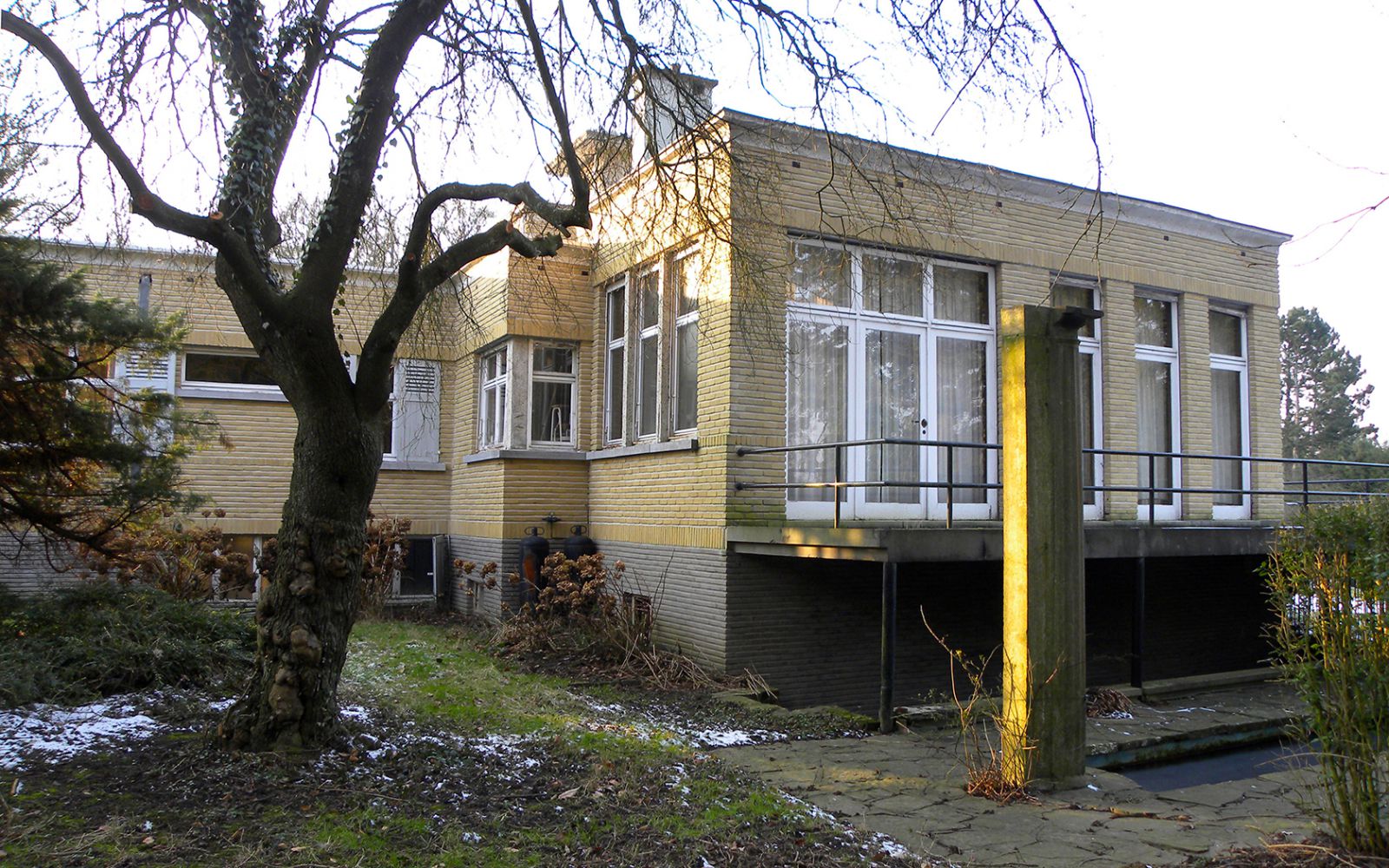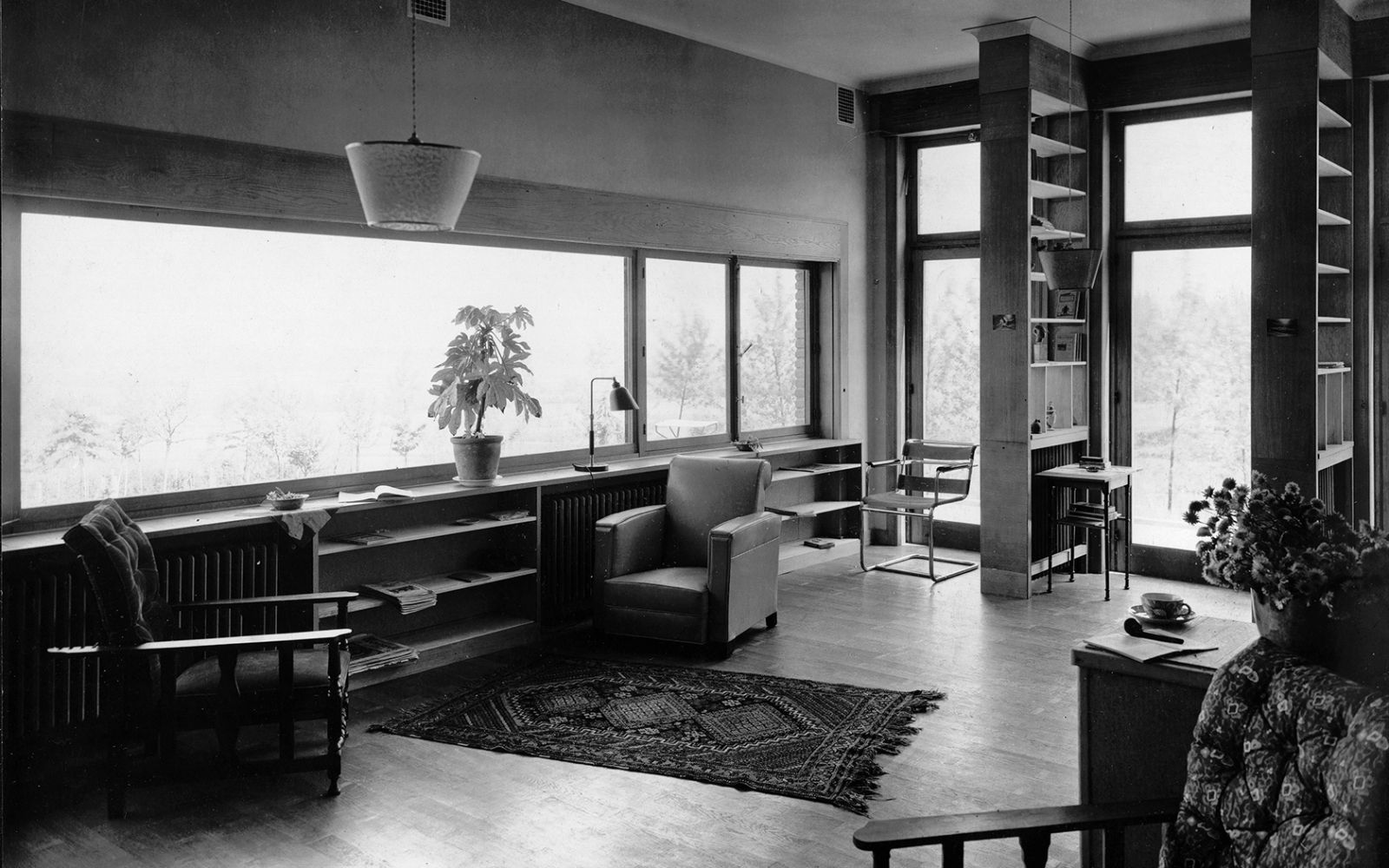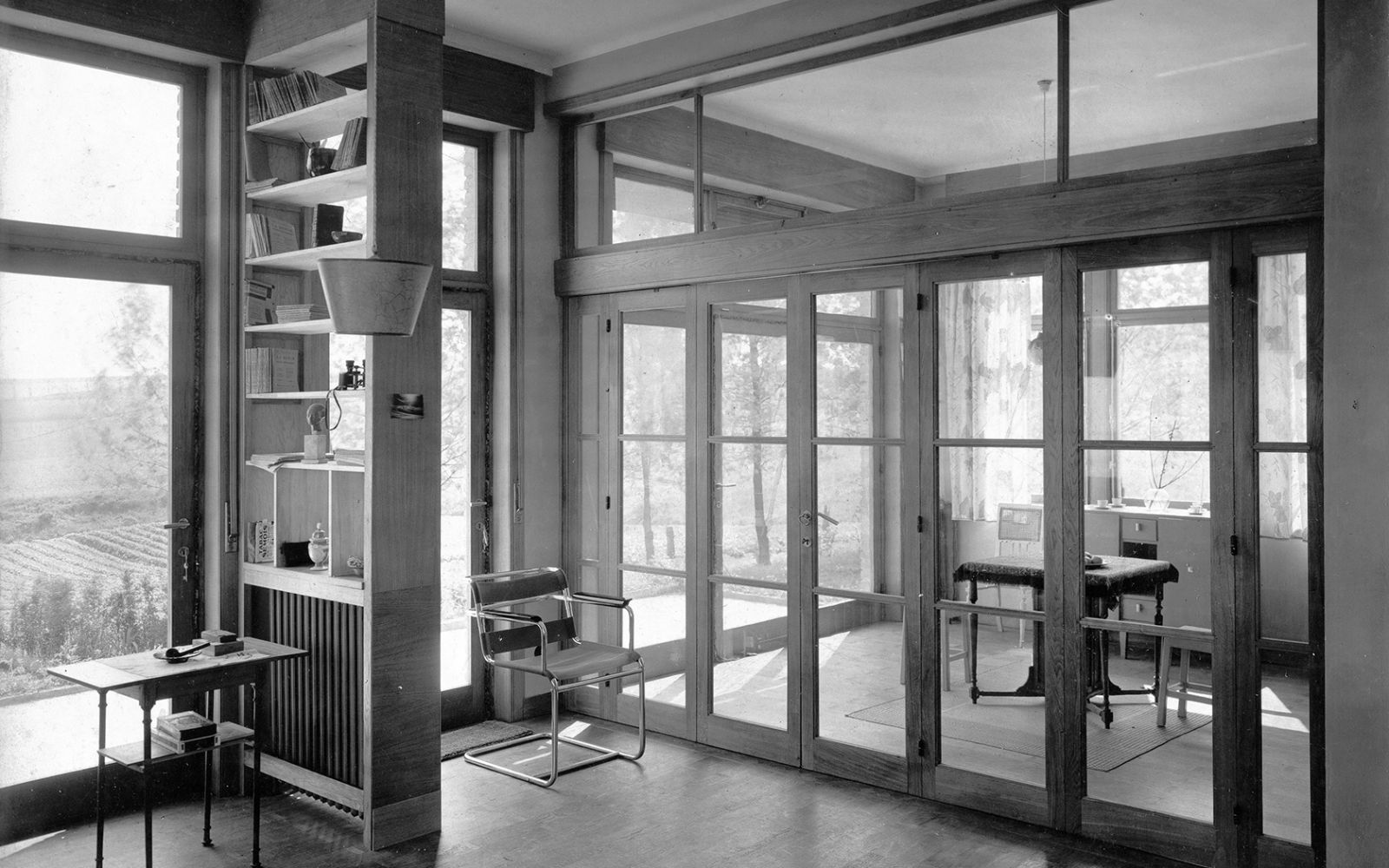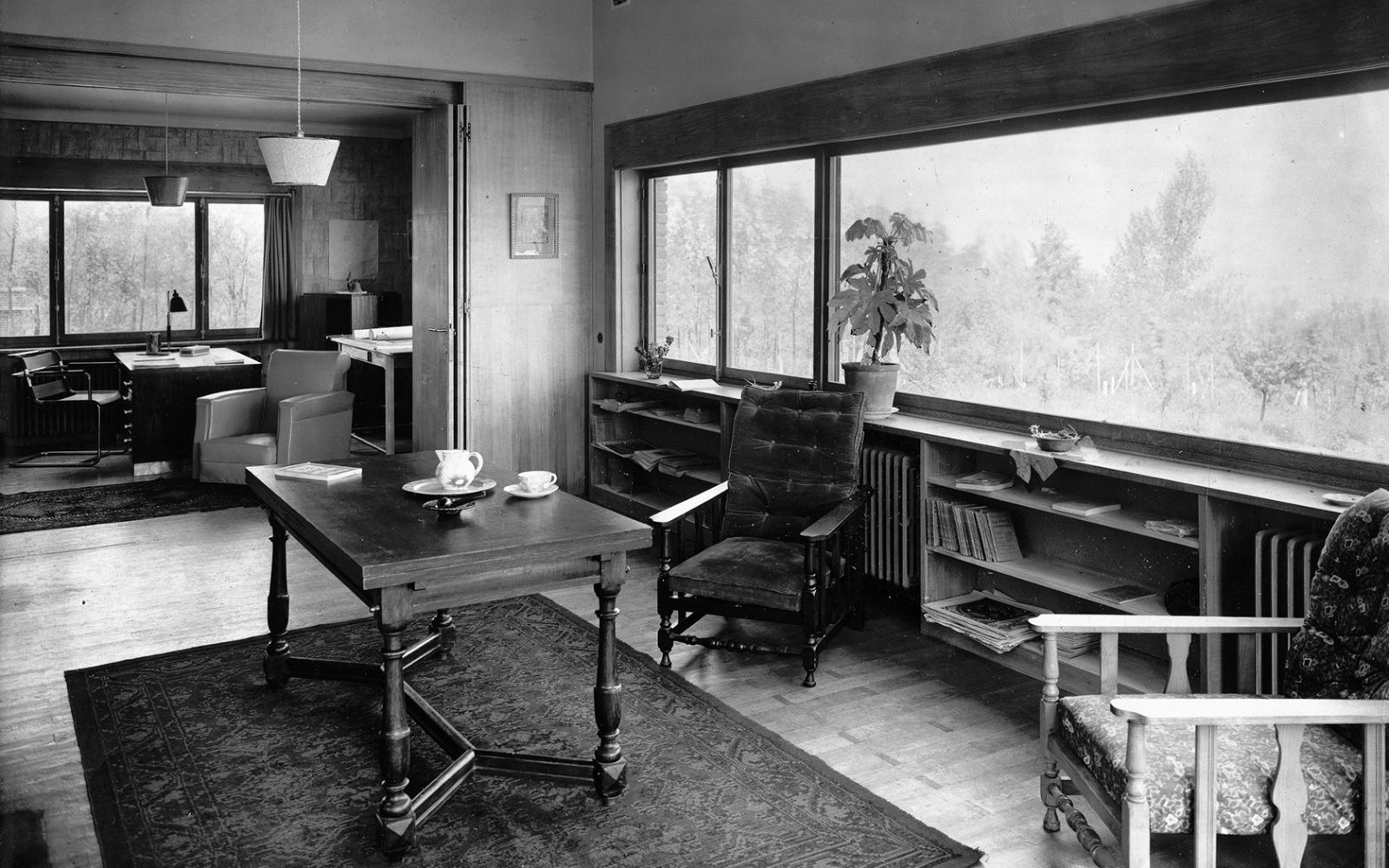 Aerial view from the southwest.
The house seen from the north. The panoramic window of the living room views the Dyle valley situated at the north side.
Northwest side.
Westside.
Southeast side.
Eastside.
Living room looking in northeast direction.
View through the glazed wall to the dining room looking south.
Living room looking in northwest direction.
Aerial view from the southwest.
The house seen from the north. The panoramic window of the living room views the Dyle valley situated at the north side.
Northwest side.
Westside.
Southeast side.
Eastside.
Living room looking in northeast direction.
View through the glazed wall to the dining room looking south.
Living room looking in northwest direction.
Architect's House Paul Stevens
The house that Paul Stevens built for himself and his family in 1933 is one of the early modernist houses built in Belgium. It dates from the same time as the house of Leon Stynen in Antwerp and the Dotremont house by L.H. De Koninck in Uccle. It is a house that is strongly related to the landscape and that recognizes various early modern sources of inspiration: elements from Frank Lloyd Wright, Auguste Perret, Le Corbusier, Richard Neutra and the traditional Japanese interior. However, these influences also personally synthesized within a carefully detailed brick construction, so typical of the Belgian building tradition.
The exterior of the house does not appear in any way as a smooth functionalist box. It shows a complex switching of volumes, cut away with large horizontal windows. It has spacious terraces with typical parapets in tubular steel profiles and is crowned with an intriguing semi-glazed porch that provides access to the roof terrace.
The floor plan consists of a clustering of rooms that grow out in different directions from the central hall. This results in an L-shaped volume with numerous joints, right at the entrance, at the back of the kitchen and the bedrooms. And due to the different ceiling heights, there are also vertical distortions, between living room and office, between the main volume and the bedroom wing added in 1937. Because of all this, the house has a very varied appearance for those who walk around it.
Architectural Highlights
The house is situated on a hill and is fully aligned with its park-like garden and the surrounding landscape. The living space rises 9 steps above ground level and looks out with an elongated horizontal window on the northern valley: below the village and on the horizon the skyline of Mechelen. On the east side, the living room offers access to the terrace through 3 glazed doors and communicates with the south-facing dining room via a wall of glass-covered harmonica doors. On its west side, the living room is shielded from the desk by a wooden harmonica wall, a room with a lower ceiling. When both harmonica walls are slid open, the living room becomes a large L-shaped space where the sun penetrates in at all times of the day. The living room is equipped with fixed storage furniture: under the elongated horizontal window extends an equally long bookcase (a typical F.L. Wright detail) and the 3 terrace doors are articulated with 2 vertical cabinets that extend from floor to ceiling; cupboards in which visible, as sculptural elements, radiators were incorporated. In the summer, the living space extends to the 3 m wide terrace that extends on its north and east side. The east side overlooks a piece of formal landscaping, a pond with a classical column, designed by René Pechère.
Paul Stevens built this house at the age of 30, at the start of his career. He had studied architecture and art history in Ghent at the same time, he had attended Gustave Perret in Paris, he had taken a strong interest in Japanese architecture and studied it locally. In Los Angeles, he was introduced to Richard Neutra and his immaculate architecture of floating floors and flowing spaces, closely related to nature. He also had a study trip to Greece to get acquainted with the ancient temple construction. Stevens synthesized all this in a personal way in his home, but rather in the character of the space and the forms than with literal quotes. The living space has something Japanese, without any Japanese detail. It is also reminiscent of the flowing spaces of Wright or Neutra, but this is achieved by the judicious placement of the windows and the furniture within a solid brick construction, a construction that ties in with the Flemish building tradition.
Saved from demolition
The Stevens home was protected through the intervention of Minister Geert Bourgeois, responsible for Immovable Heritage. The provisional protection, which prevented the demolition, dates from April 2013. The definitive protection dates from 4 April 2014.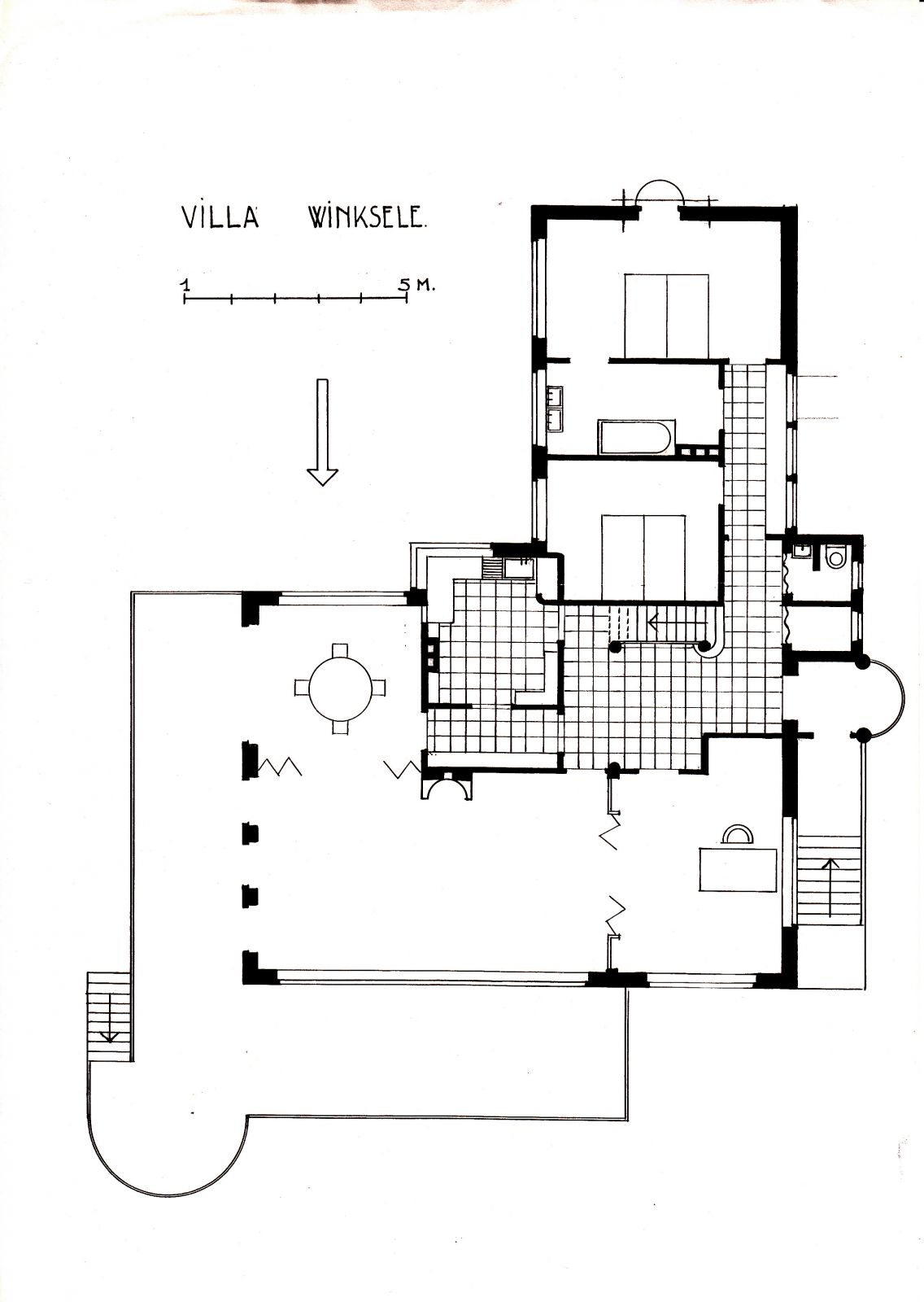 Ground floor plan.
---
Paul Stevens (1903-1973)
Born in Leuven on July 12, 1903, died in Winkele on Sept. 6, 1973.
Son of architect Alfons Stevens (1866-1944), brother of architect Jacques Stevens (1904-1978). He completes his architecture studies at the Academy of Fine Arts in Ghent, and simultaneously studies art history and archaeology at Ghent University. Follows the Auguste Perret course in Palais de Bois in Paris in 1926.
He gets his doctorate in art history and archaeology at Ghent University in 1929.
Takes a strong interest in ancient Japanese architecture, in particular housing, and in 1929 obtains a grant from the Ministry of Sciences and Arts to study the Japanese building tradition on site. After Japan, he travels via Korea and China to the United States where he meets Richard Neutra in Los Angeles, with whom he becomes friends. Neutra would visit him several times later in Winksele. Back in Belgium, he holds the position of advisory architect for the Japanese section of the Liège Exhibition (1930).
Member of the Belgian CIAM. Participates in 1930 at the 3rd CIAM congress that takes place in Brussels.
Establishes his studio at Maria Theresiastraat 100 in Leuven.
Builds his own home in 1933 in Winksele, one of the early modernist homes in Belgium, published in La Cité, December 1934.
Marries in 1935 with Suzanne Regnier. They have 4 children.
Overview of Paul Stevens' work in Belgium
House in art deco, 1926, Bondgenotenlaan 106, Leuven.
Villa 'Les Buissonnets', 1928, Maria-Hendrikalaan 7, Den Haan.
Retail building with apartments Jousse, 1932, Ghent.
Private house, 1933, Nieuwe Steenweg 10, Winksele, expanded with 2 bedrooms in 1937.
Artois pavilion, Café restaurant 'Au Gros Tilleul', 1934, Laeken, Brussels (disappeared).
Civic home, 1935, Redingenstraat 114, Leuven (symmetrical facade construction).
Cinema 'Actual', 1936, Veldstraat 94, Ghent (disappeared).
Renovations at the Municipal Museum of Leuven, 1937 (disappeared).
Corner building 'Klein Tafelrond', restoration of a 17th century building, 1940, Grote Markt 4, Leuven.
High milling mill Hungaria, 1940-41, Vaartkom 29-35, Leuven (in collaboration with Jacques Stevens).
Loading and unloading installation Hungaria, 1942, protected by M.B. from 13.11.2002.
Small apartment building, 1941, Constantin Meunierstraat 32, Leuven.
Renovation of a 17th-century building into a shop 'De Clyne Librije', 1941, Boekhandelstraat 5, Leuven.
Artois Breweries, 1947-48, Vaartkom 8, Burchtstraat 32, Leuven.
House, 1949, Family de Bayostraat 73, Leuven.
Residential building, 1951, Paul Lebrunstraat 5, Leuven.
Corner building, café 'In de Ton', restoration of 19th century building, 1951-52, Grote Markt 1, Leuven.
Albomen Residence, social housing, 1954, Tessenstraat 13-15, Leuven.
Early 19th-century house converted into retail premises, 1960, Naamsestraat 65, Leuven.
Opel garage, Brusselsesteenweg, Winksele, 1960 (now rebuilt).
Undated:
Dental clinic in Leuven (disappeared).
Villa in Ronse (address and condition unknown).
Text & photos: © Francis Strauven
Peviously published by Docomomo Belgium:
http://docomomo.be/wp-content/uploads/2013/03/201303_woning-Paul-Stevens_atrisk.pdf
Thanks to a gift from Korei guided tours in Brussels, we were able to present this Saved Icon.
Would you also like to adopt an Icon at Risk or Saved Icon?
Make a donation today via this link.
With your support, we can continue our research and provide information on important modern homes in danger of being lost.
Paul Stevens House
Paul Stevens
1933, Belgium