Vann Molyvann's House
Architect: Vann Molyvann
Year of completion: 1970
Location: Phnom Penh, Cambodia
Threatened with deterioration
Latest update 12 December 2019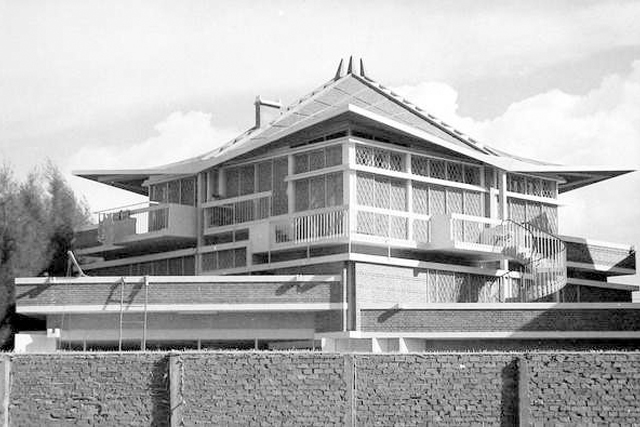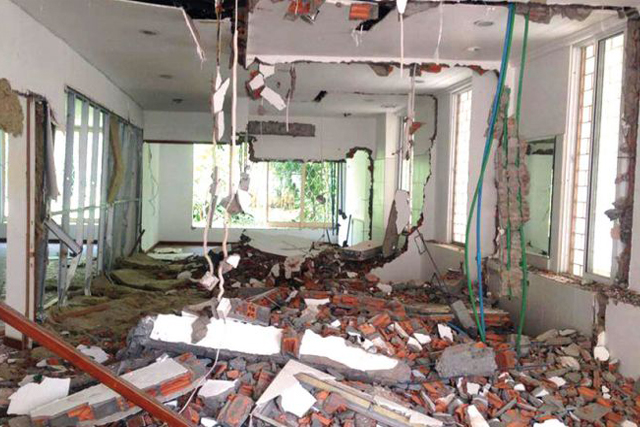 Van Molyvann's House
They call it New Khmer – the idiosyncratic modern architecture that developed in Cambodia between the departure of the French in 1953, and the outbreak of civil war in 1970. Modern, yet drawing on Cambodia's architectural heritage, New Khmer is exemplified by Van Molyvann.
Born in Ream, Kampot province in 1926, Vann Molyvann obtained a scholarship to pursue his studies in Paris, France. After one year of law, he switched to architecture at the School of Fine Arts in Paris (Ecole Nationale Supérieure des Beaux-Arts) and returned in 1956, the first fully qualified Cambodian architect, keen to put his talents to use. He was promptly appointed Head of Public Works and State Architect by Sihanouk. During the Sangkum Reastr Niyum regime (1955–1970) Prince Norodom Sihanouk enacted a development policy encompassing the whole kingdom with the construction of new towns, infrastructure and architecture.
Vann was the foremost of a generation of architects who contributed to the unique New Khmer architecture developing at that time. In 1970 the Sangkum Reastr Niyum came to a brutal end with the coup d'état led by General Lon Nol. Vann relocated to Switzerland with his family. He worked for the United Nations Human Settlements Programme for ten years before eventually returning to Cambodia in 1991 where he served as President of the Council of Ministers, Minister of Culture, Fine Arts, Town and Country Planning.

The Vann Molyvann family is exploring ways to preserve the private house Molyvann designed for the family in 1966, while also opening it to the public. When Vann Molyvann returned to Cambodia in 1991, he found his house serving, of all things, as the office of the national land-registration administration. ''It was completely neglected,'' he says, ''in a shocking state.'' He applied to the government to have his house returned. Amazingly, it was. But the house still faces difficulties: Cambodia is developing country with limited cultural and social institutions, and no local model of an iconic house to look to for guidance.
To learn more about the architect and his work, see the website of the Vann Molyvann Project www.vannmolyvannproject.org
Threat
'Though he spent much of his life away from it, Molyvann built a characteristically elegant and meticulously designed home on Phnom Penh's Mao Tse Toung Boulevard. A concrete and brick structure, architects speak of its crowning achievement as its roof – a double roof, like so many of his buildings, but this time so widely spaced that "one man can actually walk through", in his own words. Built in 1966 with the money he earned from private commissions, his time there was initially short-lived, with the family moving to Switzerland for safety in 1971. When they returned in 1991 it had, somewhat ironically, been taken over by the national land-registration administration. It was also "completely neglected", Molyvann said in a 2005 interview, but the couple were soon given it back and made it their home again until moving to Siem Reap in 2014.
The ground floor is now occupied by an office supply showroom — meaning that visitors are free to nose around what was once Molyvann's studio, look onto the modest garden framed with bamboo stalks, and walk around the driveway to see the building's famed roof up close. Upstairs, Post Weekend found employees for Filipino design company Mushroom during their first week as the building's new occupants. The open-plan office is spacious and airy, with Molyvann and his wife's books and memorabilia replaced by rows of desks, but still loomed over by the dark and ruddy wooden roof gently sloping at various angles. "I was the most experimental I ever was, you see," he said of the house during a Post interview in 2013. "I did not dare to impose crazy ideas on any of my government projects or for clients. It was a chance for me to play, but I was a little afraid." He continued: "I wanted to see if this roof would be possible, if you could live inside a very modern, complex structure in Cambodia while keeping traditional features – such as the ventilation in the roof, and the lighting." Find it: Mao Tse Toung Boulevard and Street 163."
Source: article The Pnom Penh Post, 6 October 2017.
Vann Molyvann's House
Vann Molyvann
1970, Cambodia