Von Sternberg House
Architect: Richard Neutra
Year of completion: 1936
Location: Northridge, CA, USA
Demolished: 1972
Latest update 29 July 2019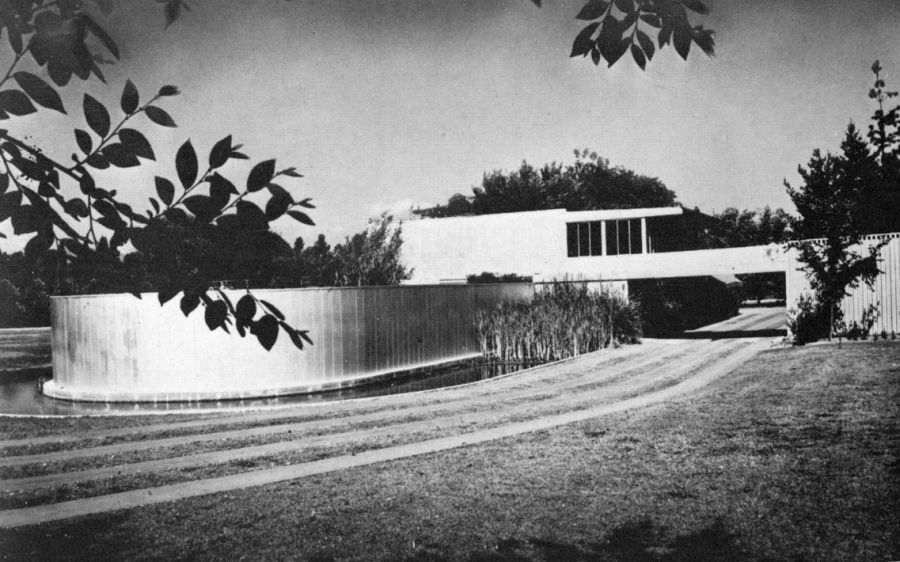 About the House
The Von Sternberg House was a mini-mansion designed by the architect Richard Neutra. With only one bedroom, plus bedrooms for servants, it was built in 1935 at 10000 Tampa Avenue, Northridge, on a plot of 13 acres (5 hectares) in California's then-rural San Fernando Valley for the movie director Josef von Sternberg.
After passing through several owners including Lou Bach, author Ayn Rand bought the house with her husband, Frank O'Connor, and lived there from 1943 to 1951 when they moved to New York. She called it 'unbelievably wonderful.' She wrote much of Atlas Shrugged here. Rand rented the house in 1951 to Ruth Beebe Hill, which continued under the new 1963 owner, Kathryn Houchins, who also owned an adjacent horse farm. When the Hills decided to move, Houchins decided, out of a fear of 'hippies' moving in, to destroy the house immediately. The house was demolished in 1972 and later the land became a housing development.
Destruction (Neutra / Von Sternberg House Being Demolished). Video of the destruction courtesy of Andy Moore, Hill's neighbour, friend and the house's part-time groundskeeper and caretaker. He shot this film when he was 15.
Architectural Highlights
The design of the house contrasts with most typical homes. It had a very small number of rooms and a relatively small square footage. While it did have a few features of ostentatious display, such as a separate, larger and higher garage bay for a Duesenberg in addition to the two other garage bays for lesser automobiles (in an era where even rich homes had only one or two garages) most of its characteristics were original and discreet, showing Neutra's attention to the integration of custom details, such as the surrounding moat.
The exterior appearance of the house and of its landscaped surroundings was made of sinuous lines, yet the interiors were orthogonal, making furniture placement simple and easy. As in many others of his domestic designs, Neutra made heavy use of industrial windows and sidings, fulfilling both aesthetic and practical functions, such as making privacy screens and windbreaks.
Neutra was mindful of his customer's desires even when he found them absurd. He would later regale his friends with the story (among others) of Sternberg asking that none of the bathroom doors should have locks, in order to prevent his party guests from locking themselves in and threatening to commit suicide. As a movie director, Sternberg was well acquainted with the theatrical behavior of many Hollywood actors, while Neutra had a social life which kept him in touch with artists in other domains.
Source: Wikipedia
Von Sternberg House
Richard Neutra
1936, USA