Furniture
Mart van Schijndel designed not only buildings, but also furniture and utensils. His product-design oeuvre is equivalent to his architectural work. In his eyes, a design for a building was unfinished unless he had also shaped much of the interior design and the furnishings – as is certainly the case in his own home. In addition to the design of the kitchen and bathrooms, many lighting fixtures, tables, chairs and utensils were designed and produced especially for this house. In many cases, these designs were not made in advance, but emerged in the early years of Van Schijndel living in the house.
Delta Vase
The vase Delta is the most famous example of Van Schijndel's preference for the triangular shape. The minimalist simplicity of the many pirated Delta Vase brought him international recognition. This design from 1981 is a true Dutch design classic. Unlike all other glass vases, this vase is not made from blown glass, but composed of three glass plates, glued together with silicone. The vase is now part of several museum collections, including those of the Stedelijk Museum in Amsterdam and Rotterdam Boijmans van Beuningen.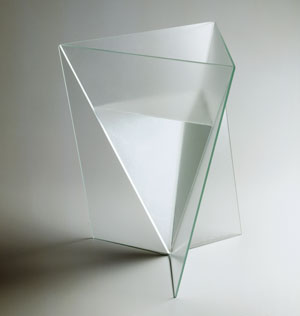 Bookshelves
The bookshelves are formed from 3 mm-thin, clear anodised aluminium panels. Because they are folded both downwards and upwards, they have more than enough stiffness to carry a row of books. They are relatively large in area. The supporting strength of one of the walls in the office was limited, which would tear ordinary bookshelves loose, but thanks to the large vertical pressure surface here the forces can be spread over a larger area. The folded-over, triangle- shaped raised profiles provide a continuous pattern on the wall through which unity is established.