Celeste Adams, Frank Lloyd Wright Trust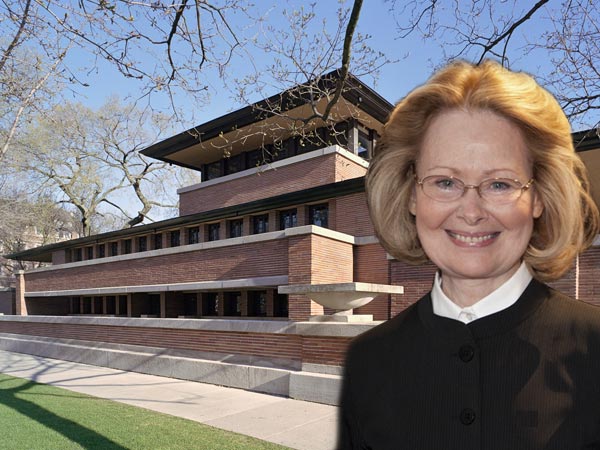 Celeste Adams is President & CEO, Frank Lloyd Wright Trust in Chicago that operates the Frederick C. Robie House and the Wright's Home and Studio in Oak Park and the Emil Bach House.
The Frank Lloyd Wright Trust recently expanded its website and it includes information about their Chicago sites and links to all other public Frank Lloyd Wright sites across the country.
Tell us a bit about yourself
My career has been in art museums and I have graduate degrees in American and East Asian art history. I worked at the Fogg Museum while at Harvard and then at the Museum of Fine Arts, Houston, where I was involved in strategic planning and architectural expansion. As a museum director in Michigan, I built a new art museum with a young architect trained by Tadao Ando. I joined the Frank Lloyd Wright Trust in Chicago three and a half years ago.
We ask Celeste our five questions.
What's your relation to iconic houses?

Frank Lloyd Wright established his reputation through his design of houses, the largest concentration of which is in the Chicago area. It was here that he created Prairie style, the first uniquely American style of architecture. The Trust operates at five Frank Lloyd Wright sites, three of which are historic houses: Wright's Home and Studio, the Frederick Robie House, and the Emil Bach House. Our two other sites are public buildings, Unity Temple and The Rookery, where our central offices are located.
In telling the story of Wright's Chicago Years, the Trust provides visitors with an authentic experience of his architecture and presents programs that focus on other dimensions of Wright's career – his place in the international Arts and Crafts movement, his furniture and leaded glass designs, and his fascination with Japanese Art and Architecture, first at the World's Columbian Exposition here in 1893 and on subsequent trips to Japan, beginning in 1905.
Wright is an exalted figure in American Architecture and Design. Placing him on an international stage and comparing his houses to those of other great architects around the world brings a more distinct understanding of his achievement. That is why we are so pleased to be part of Iconic Houses.
What's your favourite house?
Because my parents lived in Virginia, I have to say that Monticello was and is my favorite house. My mother and I visited many times and were drawn to the story of the house, its setting, and Jefferson's personal and intellectual life that the house portrays. Monticello tells an American story that includes all aspects of our national psyche – a self-educated sense of purpose, ingenuity, a work ethic, and love of unspoiled nature, characteristics also associated with Frank Lloyd Wright.
What's your biggest challenge right now?
Renewing Wright's vision for a new generation and engagement with neighborhoods are two of our challenges. Recognizing the ways in which young people learn has shifted our focus in new directions. We are beginning to explore new technologies that can be introduced to house museums, for example allowing visitors to gain resource information on their cell phones. We are also developing programs related to the neighborhoods in which we have historic houses, working with schools, libraries, and community centers. Chicago is often called a city of villages. The presence of a Frank Lloyd Wright house can be a uniting and energizing focus of neighborhood volunteerism and pride. The preservation of significant historic houses is inseparable from neighborhood vitalization.
What's next?
2014 is the Legacy Year at the Trust. The Home and Studio is 125 years old and is the oldest public Wright site in the world. We are celebrating with a series of events through the year. We have just launched a new website flwright.org where our Legacy Year programs are featured.
Which 21st century house is an Iconic House of the future?
Tadao Ando's first American commission is a house in Chicago (1998). It is a private home and Ando's design is a quiet street presence with an interior that includes a reflecting pool viewed through a wall of glass spanning the length of the home's main level. It is executed in the highly refined architectural concrete for which Ando is known. Wright's first concrete building, Unity Temple designed in 1905, is in Chicago. The evolution of concrete architectural design in the 20th century begins with Frank Lloyd Wright and Tadao Ando elevated the medium to a new level.
The Frank Lloyd Wright Home and Studio and Frederick C. Robie House can be found on the Iconic Houses map.

Ando's Chicago House, 1998