Patrick Weber on Discovering an Unknown Icon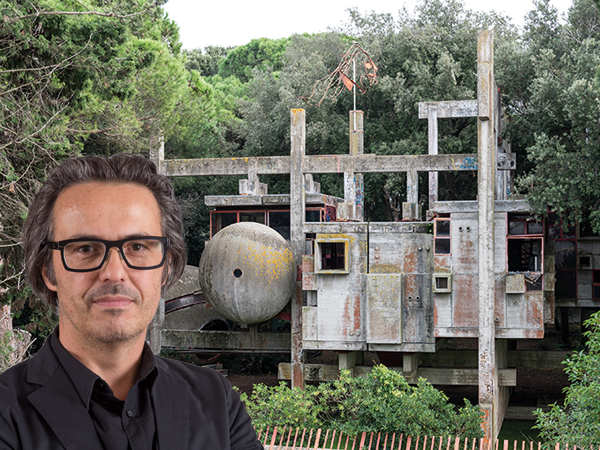 Patrick Weber is associate professor at the Bartlett School of Architecture, London. We ask him about researching the mysterious Casa Sperimentale with his partner Sabine Storp and Bartlett students – plus other unknown icons.
Can you tell us about your research on Casa Sperimentale?
We came across Casa Sperimentale (1968-78), also known as the Casa Albero – 'the Treehouse' – in 2014, on an Instagram post by a fashion photographer. We were intrigued because we didn't know it and no one else had heard of it. Initially we just wanted to find out what it was. But it seems the longer we research it, the more opaque the building's history becomes. We're certain the research project has just begun.
What approach and methods are you using?
We're currently collecting different aspects of the building's history. Very little scholarly research been undertaken, most of the published stories are just made up. Our research collects first-hand stories through interviews, we are building up an archive of information for further research, and we are working with 3D scanning to document the current state of the structure, which is very fragile. The 3D scanning can form the basis of an immersive VR dataset allowing a virtual visit to the building without putting more strain on the actual structure. We are also working on a speculative project exploring the ideas behind it.
What would you like the outcome of the documentation to be?
Ideally, we would like the building to be saved and made accessible to the interested public.
Too many stories around the Casa Sperimentale are just not correct –they are often based on speculation or misinformation. We would like to set up an online archive to collect all information around the building, the architects and the wider social and cultural context that led to its creation.
| | |
| --- | --- |
| 3D scan of Casa Sperimentale by StorpWeber. Architects Giuseppe Perugini, Uga de Plaisant and Raynaldo Perugini. | |
In general, what role can universities play in heritage house preservation?
Fortunately, the Bartlett allows us to pursue our own research interests. It helps to draw on the resources of the institution to explore different aspects of the history of the building.
Why is Casa Sperimentale so important?
Our research has shown that the Casa Sperimentale is first of all not a Brutalist building – it is quite the opposite. It was conceived as an experiment to explore design ideas developed by Giuseppe Perugini and his former teacher Bruno Zevi. Our research seeks to correctly situate the building in the correct place in post-war Italian architecture.
The nature of the experiment was to explore different ways of design – its importance is in the way it was created.
What's next for you in terms of iconic houses? Are you planning more documentation projects like this one?
The Casa Sperimentale is one of our 'pet projects' – something we work on as a hobby. The other one is the relatively unknown Unité by Le Corbusier in Briey – the one they never publish. This project is a building that has been at risk, having been under threat of demolition in 1987. Since then the residents have transformed it into a collection of homes, very few following the Le Corbusier lifestyle.
Since being involved with the building many more 'unknown' structures have suddenly popped up on our radar, many of them located in Italy.
Maybe there is something about experimental buildings, and buildings that on the surface appear to be failures, that resonates with us.
Do you have a favourite example of a young (post-1965) heritage house?
Our favourite house at the moment isn't a house yet, and it might never be one. We visited Keisuke Oka's Arimaston House, an experimental concrete project, in Tokyo last year. He has been building it for the last 15 years – much like Casa Sperimentale – in an organic way with little or no plans, just following his intuition. This will be a building to watch out for in the future.
| | |
| --- | --- |
| Arimaston Building. Photo: Ryudai Takano. Courtesy Yumiko Chiba Associates Zeit-Foto Salon. | |
What are the biggest threats to iconic houses right now?
Talking about the Casa Sperimentale over the last couple of years has shown us how little it is known by fellow architects. And the ones who know it do not know any of the background behind its creation. Owning an iconic piece of architecture can be a blessing but it can definitely be a burden. The financial impact of the upkeep of an icon is challenging. An effort to list a building to preserve it for the future can have a detrimental impact on a project, as it affects the ability of the owner to make it work for them and to earn its upkeep. As usual it is not just enough to list something, it needs a carefully considered approach.
What are the biggest opportunities for museum houses right now?
Safety is always in numbers, in getting organized, in pooling resources. The Iconic Houses network is a fantastic opportunity and an important platform for buildings that are at risk.
You found Casa Sperimentale on Instagram. Any thoughts on social media?
Sadly, the longer we work on the project the more we have to conclude that Instagram geotagging is detrimental to it, it attracts more visitors all looking for the Instagram shot for their followers. Are we part of the problem?
Patrick recommends watching the trailer of BUTOHOUSE - a film by Ilya Bêka & Louise Lemoine.
Jane Szita
Updated 22 March 2021