Wessel de Jonge on Dutch Icons at Risk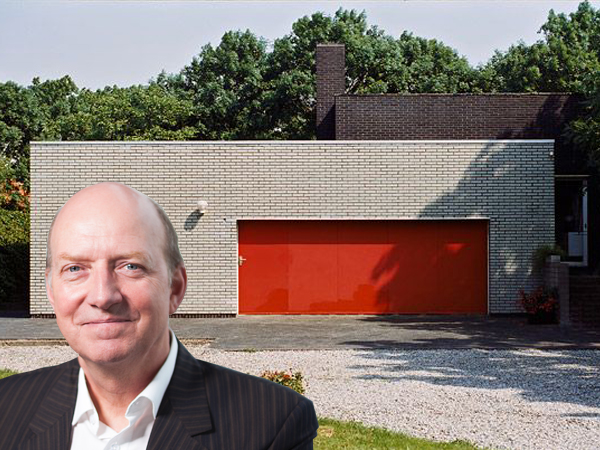 In the run-up to Pioneers of the Dutch Modern House, our Iconic Houses online event in September, we talk to leading authorities on architecture in the Netherlands about the Dutch reinvention of the house in the 20th century. Wessel de Jonge is Professor of Heritage and Design at TU Delft, runs an architecture office specializing in the reuse of existing buildings, and is an advisor to the Getty Foundation's Keeping it Modern grant initiative. We ask Wessel about Dutch icons at risk from an international perspective.
How is the Netherlands doing in Modern heritage?
Generally speaking, I believe the Netherlands is doing quite well when it comes to Modern heritage. Early Modern architecture, like the works of Rietveld and other members of De Stijl started to be appreciated again by a wider audience by the mid-1980s and the position of Modern heritage has certainly benefitted from that. Around 1992, when the Dutch government ratified the World Heritage Convention and decided to organize future nominations according to three main themes, one of those was Modern architecture (the other ones being the Dutch battle against the water and the Golden Age). At the time that was quite remarkable, as the number of 20th-century properties on the World Heritage list was less than a handful. In the Netherlands, a substantial number of Modern buildings and ensembles had already been nationally listed, and many have followed since then. But that doesn't mean we don't face challenges.
Can you tell us about getting the Van Nelle factory on the World Heritage list, and the current status of the Rijswijk 'om-en-om-woningen' (front-to-back-houses) by Rietveld? What do these show us about the Dutch situation?
The tentative nomination of the Van Nelle Factory was announced when our Ministry of Culture ratified the World Heritage Convention in 1992. Together with the Rietveld Schröder House and the former Sanatorium 'Zonnestraal', the factory represented the Modern architecture track. Therefore, the actual nomination was well anticipated, but it wasn't a runaway race. Firstly, we had a Dutch member in the World Heritage Committee and our government decided to put all nominations on hold for years. Then they felt the initial tentative nominations should be reviewed and we had to prove our case again. As an example, we were recently shocked to learn that the Minister of Culture is planning to remove Sanatorium 'Zonnestraal' from the tentative list – after over 25 years of preparation. But back to Van Nelle, even in the last resort, during the 2014 World Heritage Convention meeting in Doha we couldn´t be sure, since nominations from Western countries are critically reviewed by non-Western member states. But we made it.
As an advisor to Keeping it Modern (Getty), how would you say that this organization can help?
The Getty Keeping it Modern programme has been a great catalyst for Modern heritage in many countries where this is far from self-evident – think Armenia, Taiwan or Mozambique. It has helped put Modern heritage on the map. In the Netherlands we have successfully applied three times so far, for the Rietveld Schröder House, the social-housing museum Het Schip, and last year for the 1966 Aula building at TU Delft. Like most of the Getty grants the money for these projects is given for preparatory research and planning that is part of the look-before-you-leap approach that they promote, which is not so self-evident for recent heritage buildings that are often economic assets at the same time. For administrative reasons, the Getty grants are restricted to non-private properties, so when it comes to iconic houses these need to be owned and managed by non-profits. That proved to be a prohibitive condition in some cases. Anyway, it's a pity that the Keeping it Modern programme will come to a close next year. We have one final round to go.
What issues in the Netherlands are putting heritage at risk? What are the causes, and what can be done to solve them?
The main challenge in the Netherlands is the sheer amount of recent-heritage buildings. Of course, they are often economic assets at the same time, owned by private companies and real-estate investors and it is not always easy to argue about their uniqueness when – as it seems – there is a similar building just a block away.
In the Netherlands, the issue of Modern social-housing estates is also problematic. Housing corporations claim that their main responsibility is providing affordable dwellings – which is correct – but they seem to forget about their own history. In Reeuwijk, Rietveld built one of his few social housing projects, involving 52 single family homes with alternating fronts and backs. As far as I know, this is the only realized example of this typology. Now, a few decades later, such dwellings can never meet present energy standards. Aspects of social cohesion and public appreciation don't make it to the spreadsheets of financial management, and the Reeuwijk houses faced demolition and replacement. Apparently, now the housing corporation will no longer pursue this plan due to lack of resources. Saved by the bell!
What worries me a lot is that sustainability arguments are misused to disqualify heritage buildings and to do away with them. Embodied energy, CO2 and nitrogen could already cast another light on the true performance of these buildings when understanding that their lifespan will be prolonged as a result of heritage listing. But those boxes can't yet be ticked in the managers' manuals. One day, we'll regret this.
Why is it important for TU Delft to have the Heritage and Design course? What can it contribute?
The master´s course in Heritage and Architecture at TU Delft is addressing all the issues that I have brought up. Together with the chairs of Heritage and Values and Heritage and Technology we teach students to analyze and understand heritage buildings before – guided by my chair of Heritage and Design – proposing conservation strategies and interventions for their adaptive re-use. The issue of adaptive re-use of heritage buildings is highly relevant right now. In Europe, more than half of all architectural commissions concern existing real estate and, also in real-estate investments, heritage buildings are the first ones to stand out for preservation. No wonder that around 25 per cent of all architecture students at the faculty in Delft graduate from Heritage and Architecture. Our master´s programme involves courses on 20th-century heritage at every level, so students who want to focus on that can do so. We find that many Asian students are also attracted to recent heritage, as it becomes increasingly topical in their home countries.
What issues are you looking forward to discussing at the Iconic Houses online event?
I believe that the whole issue of private versus public ownership, and the related regulations regarding sustainability and public access, remain a top priority. That means I will also focus on how to involve a next generation of dedicated young professionals in this field.
Do you have a favourite young heritage house (1965 or younger), and why?
I'm going to tamper with your cut-off date here, because one of the most special young-heritage houses I have ever visited is the Schaffer Residence in Los Angeles, designed by John Lautner in 1949. That's where Tom Ford shot his movie A Single Man. It's privately owned so alas, not on the Iconic Houses register. Another one is Rietveld's House Van den Doel, built in 1958 and also privately owned. It's a real masterpiece. I believe it will be included in the post-conference tours – perhaps a once-in-a-lifetime opportunity to see that house!
What are the most hopeful circumstances for heritage homes currently?
There is a broad and growing appreciation for Modern heritage homes. A large number of such houses are being embraced and cherished by a new generation of aficionados. Even if that means that such houses may not be publicly accessible, the most important thing is that they survive.
| | |
| --- | --- |
| The Midcentury Modern Schaffer Residence by architect John Lautner in Glendale, CA, USA, 1949. Photo Matthew Letcher. | |
| | |
| --- | --- |
| Om-en-om woningen, Gerrit Rietveld, Reeuwijk, The Netherlands, 1959. | |
| | |
| --- | --- |
| Recently restored Private house Van den Doel, Gerrit Rietveld, Ilpendam, The Netherlands, 1959. | |
Jane Szita
Updated 22 March 2021