Christen Obel, Utzon Foundation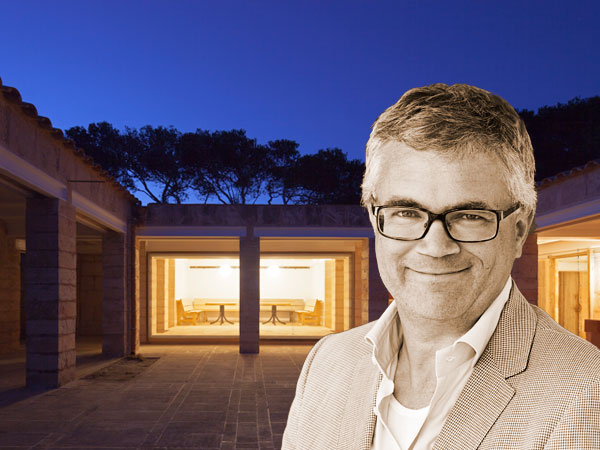 Christen Obel is an economist by training. He is chairman of the Utzon Foundation which in 2010 purchased Can Lis (in Porto Petro, Mallorca), the first house built by Sydney Opera House architect Jørn Utzon, from Utzon's son Kim. With the intention of opening the house to the public in a controlled fashion, the foundation began planning month-long, work-related residencies for architects, artists and others, as well as hosting student visits and open days for the general public. The house hosted its first resident in April 2012.
Christen Obel is also chairman of the Obel Family Foundation, which funded the purchase of Can Lis as well as a large part of the Utzon Center in Aalborg, Denmark, the architect's last building (designed with his son Kim and completed in 2008). The Utzon Center incorporates three exhibition halls, a library and large model workshop for architectural students, a small conference centre and a restaurant on the waterfront in central Aalborg. Jørn Utzon had been raised in Aalborg and although his career took him far away, he always maintained strong links to the city where he grew up.
At the Iconic Houses Conference in Barcelona on 25 November, Christen Obel will discuss some of the considerations involved in renovating and running Can Lis.
Tell us about your work with significant houses
Actually I have none, besides being professionally involved with and responsible for the heritage of Can Lis, Jørn Utzon's house on Mallorca. The Obel Family Foundation got involved with Utzon because it is based in Aalborg and helped to fund the Utzon Center. The idea for the Utzon Foundation grew gradually after Kim Utzon approached me and I realised that he was determined to sell Can Lis. I felt that an Utzon Foundation would be a good and safe construction to guarantee the house's future.
Do you have a favourite house?
There are many wonderful houses and it's impossible to choose just one. However, a very personal favourite would be my own summerhouse, which is a wooden construction on the coast north of Copenhagen, completed in 2011. The house is based on the same site-specific principles as the Sea Ranch Condominium in California by MLTW Architects (Moore, Lyndon, Turnbull, Whitaker) from the mid-1960s, and built using similar materials.
If I might choose a museum rather than a private house, I'd point to the Museum of Modern Art in Aalborg by Alvar Aalto and Jean-Jacques Baruël from 1974, which is currently undergoing major renovations. The building is wonderful and very consistent architecturally, but as a modern museum it poses many practical problems and challenges. Some of the challenges are similar to the ones we experienced in Can Lis.
What's the biggest challenge Can Lis faces right now?
To make the house available to the public, meeting the huge interest in a manner that does not compromise the house. Obviously, a small private house can only handle a very limited number of visitors.
What do you hope will emerge from the upcoming Iconic Houses conference in Barcelona?
At the Utzon Foundation we have no organisation of our own and a very narrow focus on the two buildings we own ourselves, so we need to consider how we can put them – or us – into a bigger context. I expect to get a lot of inspiration from the conference.
What 21st-century home deserves to be an Iconic House of the future?
I have a very limited overview of what goes on, but I was recently exposed to the ideas of the Japanese architectural firm Atelier Bow-Wow. I find them quite fascinating, as their work is unspectacular and yet quite unique. Split Machiya (a machiya is a townhouse) is an urban home in which every family function is considered, including even a contemplative garden, yet which remains both minimal and a part of the local context. I'm sure that this kind of thinking will be an important factor in the 21st century.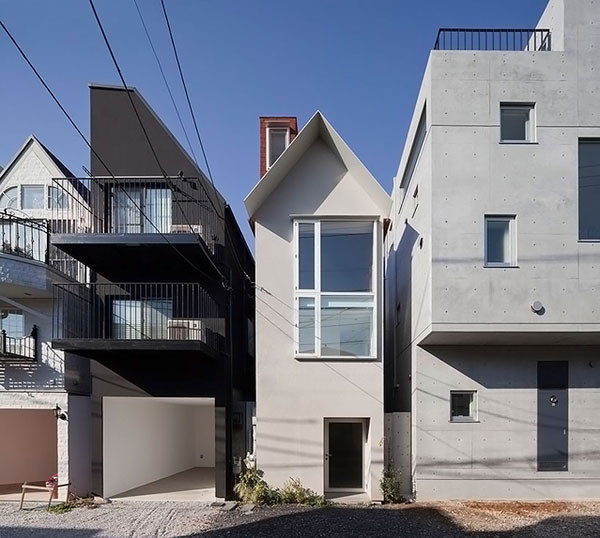 Photo Manuel Oka
Japanese practice Atelier Bow-Wow has created 'split machiya', a private home for a couple and a single woman in Tokyo, Japan. Sited within a densely populated neighborhood, the dwelling is composed of two mirrored structures, loosely connected by a lush central courtyard. This 'split' machiya is a house split into two. It is made up of two tiny houses 29sqm each, one three storey high and the other two storey. There is a concrete foundation on the ground level that acts as a retaining wall to the garden which is raised slightly from the street level. The two houses are connected by a giant bench which is essentially an exterior corridor. The left house has a kitchen but no bathroom and the right house has bathroom but no kitchen. Therefore the two have to rely on each other to function though they are separate structures. The central garden space connects the two volumes and also provides sun and wind into the house.