news
Winy Maas on the Green Dip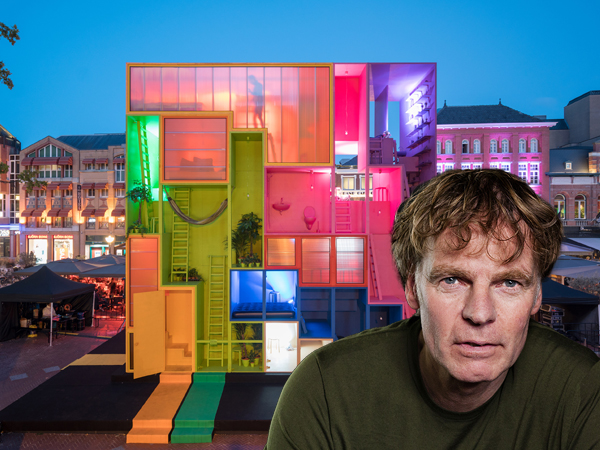 In the run-up to Pioneers of the Dutch Modern House, our Iconic Houses online event in September, we talk to leading authorities on architecture in the Netherlands about the Dutch reinvention of the house in the 20th century. Winy Maas is an architect, professor, urbanist and a cofounder of the highly influential office MVRDV, which has been producing a steady stream of cutting-edge residential projects since 1993. He also heads The Why Factory think-tank at the TU Delft. MVRDV's conceptual approach to living is very much in the spirit of the iconic architects of the past which makes him the perfect expert to share with us his ideas for future living.
MVRDV is known for rather visionary housing projects. What inspires you about the visionary homes of the past?
Architecture deserves experimentation. So, among the enormous variety of buildings from past architects, the ones I value most are those that had the courage to innovate, from Mies van der Rohe to Frank Lloyd Wright to Hundertwasser - it's a huge list. For me it all comes down to the courage to take risks, often on the part of both the architects and their clients.
| | |
| --- | --- |
| Hundertwasserhouse in Vienna. Online source: KLM.com. | |
Does experimentation always equal innovation?
It's hard to invent when there's so much new stuff all around us already. Architects and clients want unique pieces, but it makes more sense if we – just like the medical profession, for example – build on previous research, mastering the gaps within it. With The Why Factory, we made the book Copy Paste which is about referencing things while upgrading them – there's lots of room to improve on existing things. I think we should optimize what's already there, building on the past, rather than always try for the new.
What copy-pasting are you currently doing with MVRDV?
Green architecture – buildings that incorporate plants – already exists, we don't need to invent it as an idea, and it is something we're building on. With the Why Factory, we will soon release the book, The Green Dip, which is about how to 'dip' architecture fully, our buildings and cities, in nature. In the research behind the book, we've investigated all the different kinds of biomes on our planet, and the plant species that thrive in each one, as the basis for greening our cities. Then we look at how such a greening would help with the climate crisis. Plants and trees can help us to offset CO2 emissions, cool our cities, and promote biodiversity. The results of our research are stunning: with the Green Dip, we could achieve a cooling effect of 0.75 degrees globally. That is substantial.
How does this translate into your own architecture?
We are taking the next steps towards the Green Dip with buildings like our Green Villa in Sint-Michielsgestel, which essentially replaces the façade with rows of plant pots on shelves, and with our new mixed-use building for Amsterdam, The Valley, which is largely constructed out of terraces. Then there's our Depot building in Rotterdam, which will have a rooftop forest consisting of big birch trees. The next step will come from studying how plants react to growing in such vertical locations. Further down the road, when we vegetize our buildings, we will create more room for wildlife – leading to greater biodiversity in our cities. And in the future vegetation will also be part of our interiors. Eventually, we'll be making our buildings out of vegetation itself.
| | |
| --- | --- |
| Green Village. Photo: courtesy MVRDV. | |
How do you see the iconic house of the future?
There can be many of them – representing the enormous architectural variety of today. Buildings that can transform, change, grow – these will be the real icons of tomorrow.
What makes you optimistic about the future?
There is a lot of energy for change. If I get depressed – which is rare – it's because of the slowness of governments and developers in reacting. We need to work quickly and collectively on creating healthy, balanced environments and on ending conflicts.
What is the role of the architect in this?
Architects can help generate a political understanding of our world and inspire our future planet – architecture can stretch the imagination on that level. It's a huge responsibility – consider that our buildings may last 50 years or more, our cities even longer.
Where do you find inspiration?
The Club of Rome – because that was the first time (recently) that people said that things have to change massively.
| | |
| --- | --- |
| Didden Village. Photo: courtesy MVRDV. | |
Jane Szita
Curious about the Iconic Houses Online Event 2021?
Check out the program of lectures and a series of thematic videos about the Pioneers of the Dutch Modern House HERE.
Or register right away HERE.
Updated 22 March 2021