Latin America Special – Focus on Mexico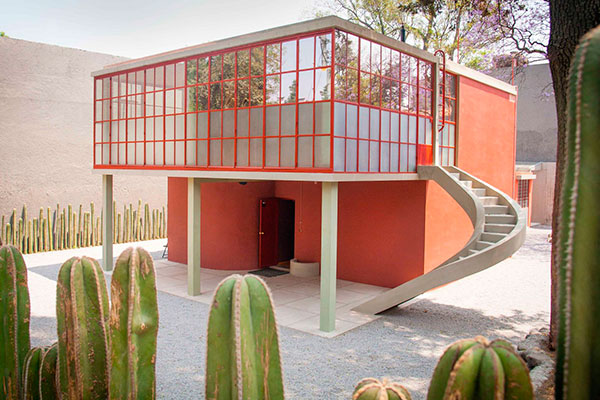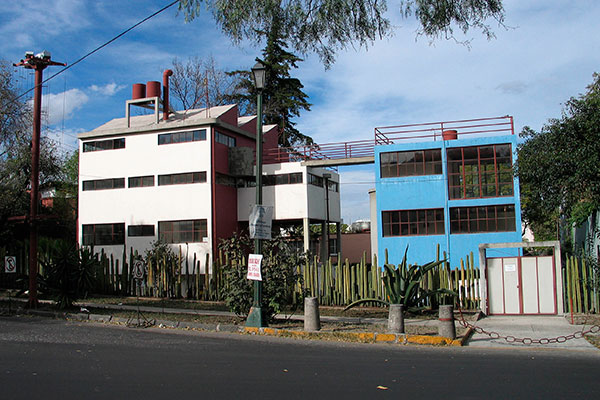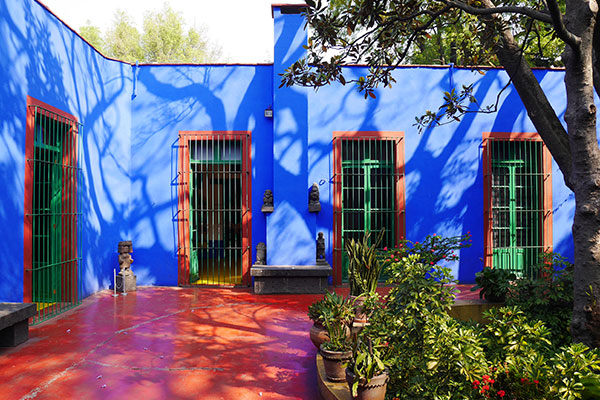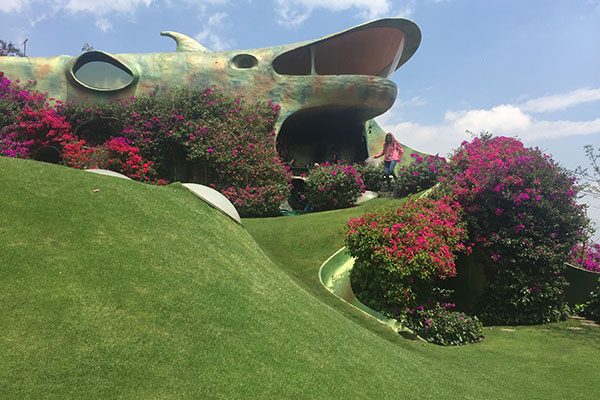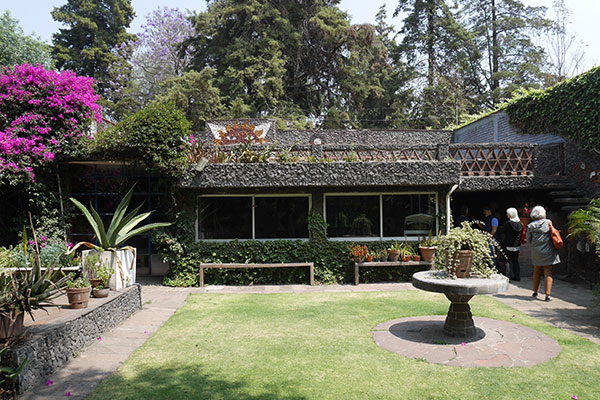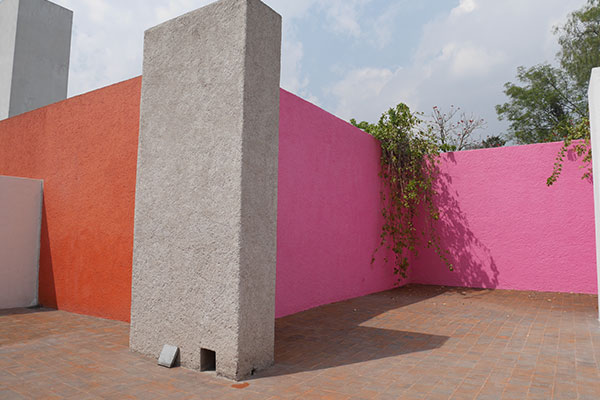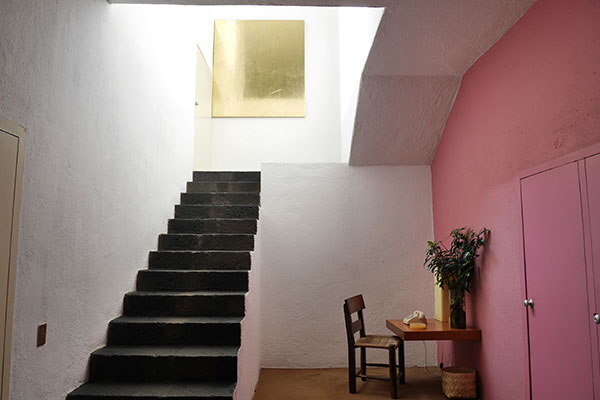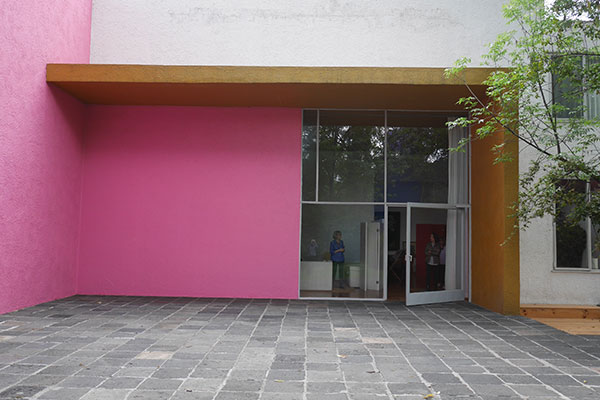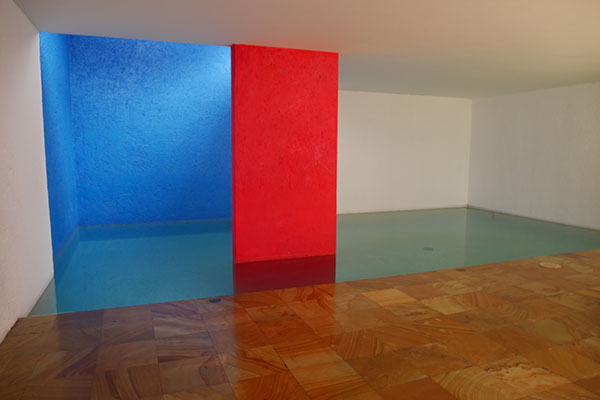 Casa Estudio Diego Rivera Frida Kahlo, 1931. Photo Hans van Heeswijk
Casa Estudio Diego Rivera Frida Kahlo, 1931.
Casa Azul/Frida Kahlo Museum, 1904.
Casa Orgánica, Javier Senosiain, 1985.
Colon Nancarrow Home, Juan O'Gorman, 1940.
Casa Estudio Luis Barragán, Luis Barragán, 1947.
Casa Estudio Luis Barragán, Luis Barragán, 1947.
Cuadra San Cristóbal, Luis Barragán, 1966-1968
Casa Galvez, Luis Barragán, 1954-1955.
Casa Gilardi, Luis Barragán, 1976.
Casa Estudio Diego Rivera Frida Kahlo, 1931. Photo Hans van Heeswijk
Casa Estudio Diego Rivera Frida Kahlo, 1931.
Casa Azul/Frida Kahlo Museum, 1904.
Casa Orgánica, Javier Senosiain, 1985.
Colon Nancarrow Home, Juan O'Gorman, 1940.
Casa Estudio Luis Barragán, Luis Barragán, 1947.
Casa Estudio Luis Barragán, Luis Barragán, 1947.
Cuadra San Cristóbal, Luis Barragán, 1966-1968
Casa Galvez, Luis Barragán, 1954-1955.
Casa Gilardi, Luis Barragán, 1976.
In a terrible irony, just as we were preparing this report on our March visit to Mexico, the country hit the headlines for the worst possible reason. In the wake of last week's catastrophic earthquake, we were relieved to hear from Lourdes Monges that everyone we met in Mexico City is safe and that the museums and houses we visited remain undamaged. However, the colourful and creative Condesa neighbourhood, where we stayed in March, was hit badly, as it also was in the 1985 earthquake.
This year, Iconic Houses is focusing on expanding its network of house museums in Latin America. Currently, most of the modernist house museums appearing on our world map are located in Europe or North America. Through our network, however, we know that there are many more potential members in Central and South America. Therefore our goal is to visit as many house museums as possible in that region, meeting with the directors and curators who run them.
Thanks to a contribution from the Annenberg Foundation Trust at Sunnylands, Iconic Houses was able to visit two Latin American countries in the first quarter of this year. We chose to strengthen our relationship with Rio de Janeiro and São Paulo in Brazil, and Mexico City in Mexico.
For our working visit to Mexico City in March, we had the benefit of some amazingly good preparation by Maria de Lourdes Monges Santos, who is director of the Antonio Haghenbeck Foundation and Museo Casa de la Bola in Mexico City, and also chair of ICOM Mexico. She also serves on the board of DEMHIST International, the international committee for historic house museums. Lourdes Monges initiates and coordinates monthly meetings with her colleagues from other house museums in Mexico City which constitute the Mexican working group of ICOM's International Committee For Historic House Museums. The group regularly organizes study days.
During our visit there was a strong emphasis on the impressive houses designed by legendary Mexican architect Luis Barragán (1902-1988), winner of the Pritzker Prize in 1980, whose own house and studio was listed as a World Heritage Site in 2004. Almost equal attention was paid to the studio homes of Diego Rivera and Frida Kahlo, and their lifelong friendship with modernist architect Juan O'Gorman, who introduced modern functionalist architecture to Mexico City with his 1929 houses at San Ángel. Our programme was packed with house visits, too many to highlight all of them for you here, but we hope you enjoy our selection.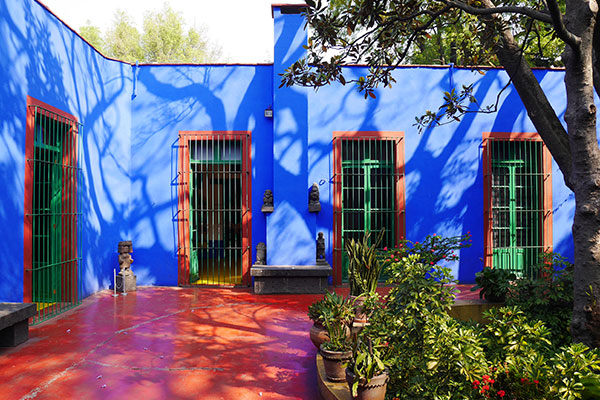 Casa Azul/Frida Kahlo Museum, 1904.
Frida Kahlo Museum - Casa Azul
We started in the suburb of Coyoacán with a visit to the house where Surrealist painter Frida Kahlo was born and died (1907-1954). Ximena Jordan, responsible for projects and sponsorships at the Frida Kahlo Museum, which is a member of the Iconic Houses network, gave us an insightful tour of the house and its collection. The house is incredibly popular. Kahlo's life was tragic and full of pain, both physical and mental. For Mexicans, it seems that the lives and love story of Frida Kahlo and Diego Rivera have almost the status of royalty in other countries. It is intriguing to see how strong Kahlo must have been to leave behind such an impressive oeuvre despite her physical sufferings. Her birthplace (the Casa Azul/Blue House), originally constructed in 1904 in the French style, was adapted later with a design for her studio by O'Gorman (1905-1982) in 1941. Following the death of Kahlo's father, she and Rivera created a bigger garden and gave the house brighter colours, including the blue-painted walls that can still be seen today. The Frida Kahlo Museum is one of the most visited museums in Mexico City: thousands flock there every year for an insight into the extraordinary life of one of the most celebrated artists of all time.
For more information visit the Frida Kahlo Museum on our map.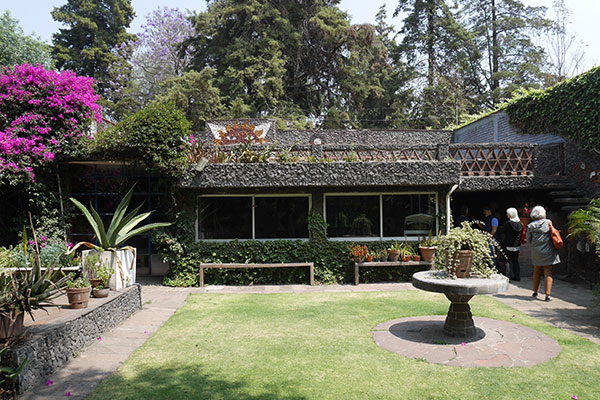 Colon Nancarrow Home, Juan O'Gorman, 1940.
Icon at Risk: Conlon Nancarrow House-Studio
Our colleagues at the Getty Conservation Institute informed us about the former home of the great experimental composer Conlon Nancarrow (1912-1997) in Mexico City. His widow, Yoko Sugiura Nancarrow, must sell the property, whose conjoined structures were decorated and in part designed by the Mexican architect and painter Juan O'Gorman. A buyer on the regular market is likely to tear down the complex and build a modern luxury home. Yoko Nancarrow hopes to sell the property to a person or institution that will preserve the house, studio, and library as a study centre or artist's residency. Nancarrow's son David, an architect, and Adriana Sandoval – who is a professor and researcher of Mexican art and architecture and a specialist in the work of Juan O'Gorman – gave us a tour of the house and music studio. Since Iconic Houses also aims at bringing together supply and demand in the field of historically significant houses, we asked Adriana Sandoval to write an article for us to explain the importance of saving The Nancarrow House-Studio. We hope the house finds the right buyer, who values it as Mexican heritage and who is able to preserve it for the future.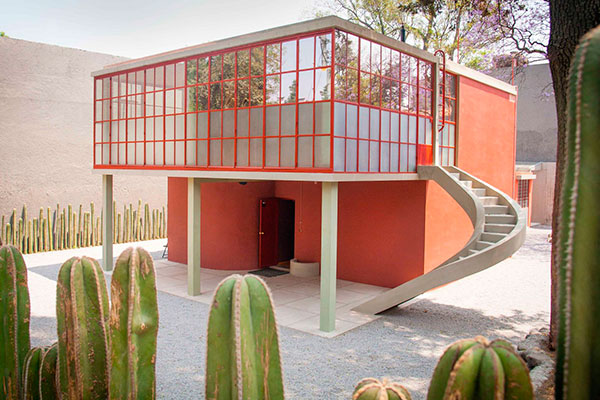 Casa Estudio Diego Rivera Frida Kahlo, 1931. Photo Hans van Heeswijk
Museo Estudio Diego Rivera y Frida Kahlo
The House-Studio of Diego Rivera and Frida Kahlo is one of the most important cultural landmarks of Mexico City, both for being the place of residence and studios of two of the most important Mexican artists of the twentieth century, as well as being the first construction of the modern movement on the continent of South America. The work caused a heated controversy in the 1930s by combining organic Mexican architecture and architectural murals with functionalism. Juan O'Gorman, a personal friend of Diego Rivera, was in charge of the project. The history begins when O'Gorman buys two plots. To show the place to Rivera, the architect offered to sell it at the same price as he had purchased the buildings of his home and studio. Diego Rivera agreed and also made it a home for his wife, Frida Kahlo. We met with director Luis Rius Caso and deputy director Alan Rojas Orzechowski gave us a tour. In December we will publish his article on the recent restoration of the houses. We're happy to welcome Museo Estudio Diego Rivera y Frida Kahlo to the Iconic Houses network as a new member!
For more information visit the Museo Casa Estudio Diego Rivera y Frida Kahlo on our map.

Cuadra San Cristóbal, Luis Barragán, 1966-1968.
Cuadra San Cristóbal
On our way to Cuadra San Cristóbal, the equestrian club that Barragán designed in 1966-1968 north of Mexico City, we're passing the five sculptural towers, Torres del Satélite, by Luis Barragán and sculptor Mathias Goeritz. In 1958, the Satellite Towers were inaugurated as the symbol of the new-born and modern Ciudad Satélite. In the late 1960s, Luis Barragán was commissioned to create an equestrian compound with stables, a four-bedroom main house, riding paddocks, and a shallow pool for horses to refresh themselves. The club is no longer, but the home has been rigorously maintained by the family that commissioned it. Five years ago, they put the property on the market The owners are looking for a buyer who's willing to preserve the home or repurpose it in such a way that the integrity of the design remains intact. Although the house is still privately owned, the ranch can be visited by appointment. We talk with the owner about Jill Magid's extreme art installation 'The Proposal' (view trailer here) in which a two-carat diamond, grown from the cremated remains of Barragán's body and set into a ring, is offered to the Swiss furniture company Vitra in exchange for the return of Barragán's professional archive, that was purchased by the company in 1995 and has been publicly inaccessible, housed in a bunker at Vitra corporate headquarters.
For more information visit the Cuadra San Cristóbal on our map.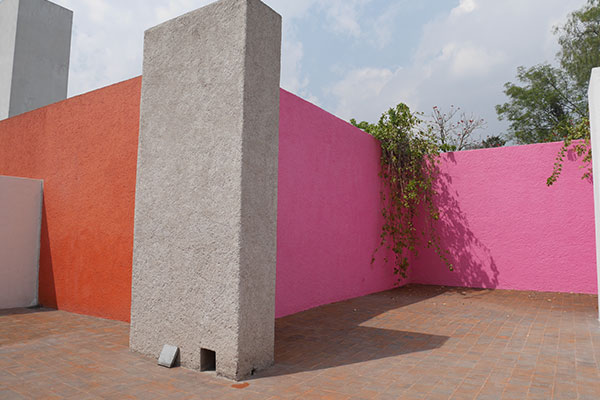 Casa Estudio Luis Barragán, Luis Barragán, 1947.
Casa Luis Barragán
Although the whole city was buzzing of architects because of the Mextropoli architecture festival, Catalina Cabezut who is director of Casa Estudio Luis Barragán since 2001, took the time to show us the house in all details. Built in 1948, the residence, in Mexico's Tacubaya neighbourhood, is one of the most significant works of Mexican Pritzker prize laureate architect Luis Barragán (1902-1988) and since 2004 inscribed on UNESCO's World Heritage list. Barragán's work integrated modern and traditional Mexican vernacular elements into a new synthesis, which has been greatly influential, especially in the contemporary design of gardens, plazas and landscapes.
For more information visit the Casa Estudio Luis Barragán on our map.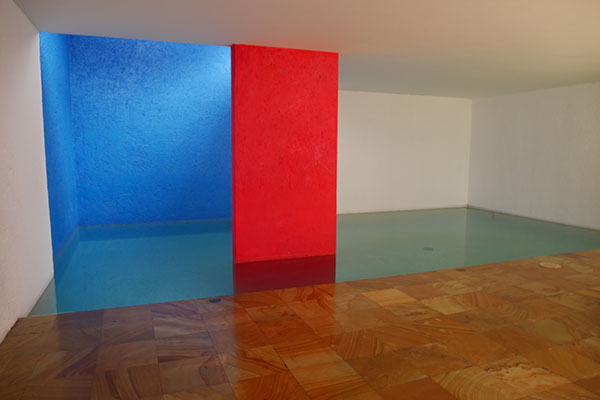 Casa Gilardi, Luis Barragán, 1976.
Casa Gilardi
We were welcomed by Martín Luque, son of the original client/owner. He is trained as an architect and now responsible for the upkeep of the house. A good publication on Casa Gilardi and its history appeared at Dezeen, with the announcement of a new episode for design video channel Nowness' 'In Residence'. This film gives a tour around Luis Barragán's last house – a bachelor pad turned family home in Mexico City. Barragán came out of retirement to design Casa Gilardi for Pancho Gilardi and Martín Luque, who owned an advertising agency in Mexico City. Completed in 1976, it was the last project that the architect oversaw in its entirety before his death in 1988. The Luque family still lives in the house, although it didn't quite meet their needs when they first moved in. Casa Gilardi can be visited by appointment. Reservations can be made for Sunday and Monday 9:00 am to 1:00 pm and 3:00 to 6:00 pm (there is a tour every hour).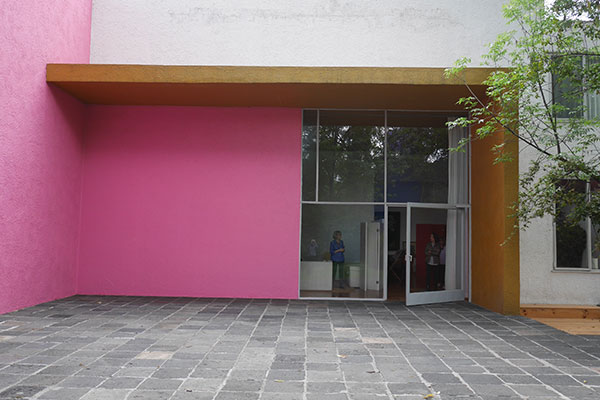 Casa Galvez, Luis Barragán, 1954-1955.
Casa Gálvez
Casa Gálvez, built in 1954-55, is a private house which is still in use by the Gálvez family. We were warmly welcomed by the daughter Cristina Gálvez, former director of the Tamayo Museo. The house is still in pristine condition and it is remarkable how the clients of Barragán all live in a way with characteristic features, such as the huge terracotta vases, the mirroring bowls and the colour pattern with the original 'Barragán pink'. The large clay pots, characteristics of Mexican culture, although decorative, become part of the architecture of the house, serve to define the character of it. They are located in the two courts by contrasting their voluptuousness and colour drawings and colour the walls of the building. The use of large windows made only on the windows overlooking the inner garden, since Barragán condemned the use of glass to the outside because it decreased the degree of intimacy of a house.
Conjunto Miguel Aleman
After the visit of Copan in Rio de Janeiro (see our report on Brazil), we set of for another grand scale collective (social) housing project in Mexico City, designed by Mario Pani 1948. This is the first project in Mexico where Le Corbusier's principles of the Ville Radieuse were applied. The buildings are on stilts, there is a communal pool, there are 'streets on higher level'. One of its inhabitants is Juan Carlos Tello, architect/teacher and initiator of Residential Archaeology.
The project consists of drawing the houses of several architects, like Luis Barragán, Lina Bo Bardi, Charles and Ray Eames and many others. Thanks to a few fellowships Tello could draw in a near archaeological way all of the objects in the houses as well as the spaces that they occupy. Arquología Habitacional began in 2013, when Tello drew the
housing projects of internationally recognized architects. These included Mario Pani; CUPA (México), Mies van der Rohe; Lake Shore Drive (USA), Oscar Niemeyer; Hansaviertel (Germany) and Copan (Brazil). Its aim was to see how the housing structures had been modified by their current inhabitants. With the second grant, he is drawing the spaces that architects built for themselves: Luis Barragán's house, Lina Bo Bardi's Casa de Vidro and Charles and Ray Eames' house. This project in progress has already been featured in Arquine.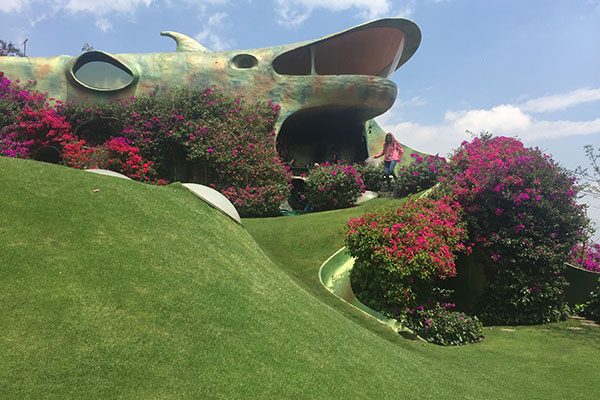 Casa Orgánica, Javier Senosiain, 1985.
Casa Orgánica
We visited the fantastic (in two meanings) organic home of architect Javier Senosiain (Mexico 1948) and his wife Paloma. Since their children study an hour from home they live closer by the city centre now, which gives them the opportunity to open up their house by appointment.
We are happy to welcome Casa Orgánica to the Iconic Houses network as a new member!
For more information visit the Casa Orgánica on our map.
Office of Architect Agustín Hernández Navarro
In Bosques de Las Lomas we visited the studio of architect Agustín Hernández Navarro (1924), known for his sculptural architecture, and who designed famous structures such as an office building with as nickname La Lavadora (the washing machine). His futuristic and sophisticated architectural work seems to come from James Bond movies. Hernández' architecture is always inspired by pre-Columbian architecture but reinterpreted through modern constructions which result in buildings loaded with a deep spiritual feeling and spectacular technological tricks. Casa en el Aire and Casa Amalia Hernández, that he designed for his sister, ballet choreographer and founder of the world-renowned Ballet Folklórico de México, for instance are like monumental and provocative ultra-modern sculptures, but are in fact avant-garde family houses. His son Roberto Hernández gave a tour through the studio. A visit of the houses will hopefully be part of a next visit.
Final visits and drinks in style
After a visit of the Anahuacalli museum, which houses the magnificent collection of Diego Rivera's ancient sculptures, we met with Louise Noëlle Gras. Louise Noëlle is president of Docomomo Mexico and author of many books, among which a monograph on architect Hernández. Gras showed us around at the University Complex and Espacio Escultórico and the Collegio de Mexico by Gonzalez de Leon, and concluded in style with a drink and bite in the former house of engineer and notable architect Francisco J. Serrano, which is now Restaurant Azul Condesa on Avenida Amsterdam. As charming as its surroundings in the Condesa neighbourhood, Azul Condesa boasts a garden setting that's a buffer from the street noise. Serrano (1900-1982), was one of the main promoters of Art Decó in Mexico, who through his work faithfully represented the architecture of the moment, of which he was one of the authors of the construction of the Colonia Hipódromo in Condesa.
New members joining the museum network
Our goal with the Mexico visit was to strengthen the international connections between 20th-century house museums. The earliest results of our efforts are the new memberships of Museo Estudio Diego Rivera y Frida Kahlo, the Frida Kahlo Museum and Casa Orgánica. In addition there will be a lecture about Mexican House museums in our May 2018 conference in New Canaan where we will focus on one of our lecture days on the Latin American house museums. Conversations with potential new Iconic Houses members are underway and we are looking forward to even more positive Mexican cooperation in the future!
Thank you
The Annenberg Foundation Trust at Sunnylands was founded in 2001 to address important issues facing the nation and the world. The Trust established The Annenberg Retreat at Sunnylands, one of our Iconic Houses designed by A. Quincy Jones in Rancho Mirage, Palm Springs, to serve as a sanctuary for generations of high-level national debate and world leaders seeking the privacy, the peace, and 'the pause' needed to address the most pressing issues of the day. Walter and Leonore Annenberg directed a portion of their philanthropy toward funding (and in some cases hosting) meetings and retreats at Sunnylands: ten directors of Iconic Houses have been generously hosted for a day-long meeting on communications, programming, funding, governance and the preservation issues of modern historic houses at Sunnylands in 2013. And this year they made it possible to reach out to our colleagues in Brazil and Mexico. A report on the working visit to Brazil was included in our June newsletter.
Publication date 28 September 2017