Inside Iconic Houses tours Roland Reisley's Usonian Frank Lloyd Wright House
Click on image to watch the Reisley House Teaser and find the possibility to join the tour in our WEBSHOP.
Join us for the first 2022 Inside Iconic Houses tour! We visit Roland Reisley's Usonian House in Pleasantville, New York, with Kirstin Stone, owner of The Pasadena Tour Company. At the age of 26, Reisley found himself – completely unexpectedly – the client of Frank Lloyd Wright when, having bought a plot in the new Usonian community of North Westchester, the famous architect offered to design his house. Over 70 years later, Reisley is the last living client of Frank Lloyd Wright and still living in his Wright designed home.
Thursday, 24 February 2022- Online House Tour with Live Q&A
09:00 – 10:00 a.m. PDT-LA
12:00 – 01:00 p.m. EST-NY
06:00 – 07:00 p.m. CET-Europe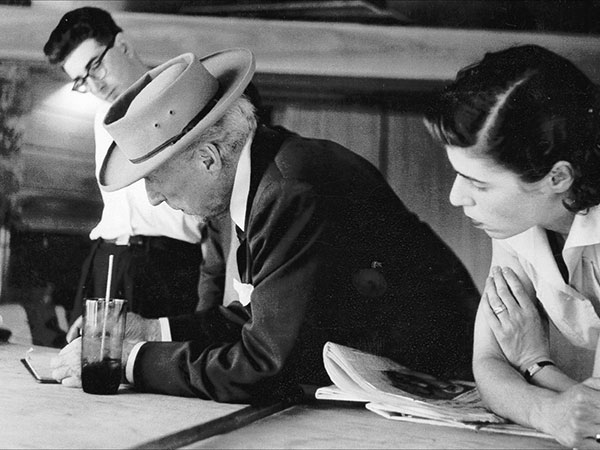 | | |
| --- | --- |
| June 1952. Frank Lloyd Wright at the house with Roland and Ronny Reisley. Photo by Pedro Guerrero. | |
After purchasing your ticket in our WEBSHOP you will receive by email a registration link for the event.
Registered users will receive a reminder an hour before the start with a link where they can sign up for the online event.
At the age of 26, Roland Reisley found himself – completely unexpectedly – the client of Frank Lloyd Wright when, having bought a plot with his wife in the newly formed Usonian community of North Westchester, the famous architect offered to design their house. Over 64 years later, he still lives there and still has no plans to move. Our 2018 conference included a visit to his house and we're glad to be able to revisit the house and its owner four years later, but now online, which allows us to share this fascinating story with more fans of Frank Lloyd Wright.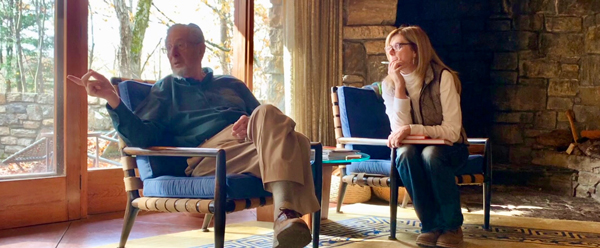 How was it being the client of Frank Lloyd Wright?
It wasn't easy – in that it was like talking to God! We would never have dreamed of approaching him, but he was supervising Usonia and it turned out that he was interested in designing our house. Now everyone 'knows' how arrogant and difficult he was, and this has unfortunately obscured awareness of his life and work, but with us he couldn't have been nicer. He said to us, "I'll redesign as often as I need to but you have to speak up about what you want." He was pleasant and friendly.
What advice would you give others having their house built?
When you choose an architect, you describe your needs and the architect will interpret them. You don't have to question their architectural decisions – I think that's where the bad stories about Wright come from.
How has the house changed over the years?
Very little! Initially it was very modest in size as we were newlyweds. Later we asked Wright to expand it as we had a growing family, and he did. We have not changed it since. It has needed very little maintenance.
What do you particularly enjoy about the house?
Recently I had an epiphany and I realized that thanks to this house I've seen something beautiful every day of my life. The way the light falls across the interior, the way the wood is joined – I notice some beautiful detail every day. Neuroscientists tell us that living with a sense of beauty reduces stress and increases our longevity. At 94, I'm in great shape and maybe it's because of my beautiful house.
Ever feel like moving?
Never. Over the years, life has changed but somehow this house has worked well for me for an entire lifetime. It works well, and I've always appreciated that.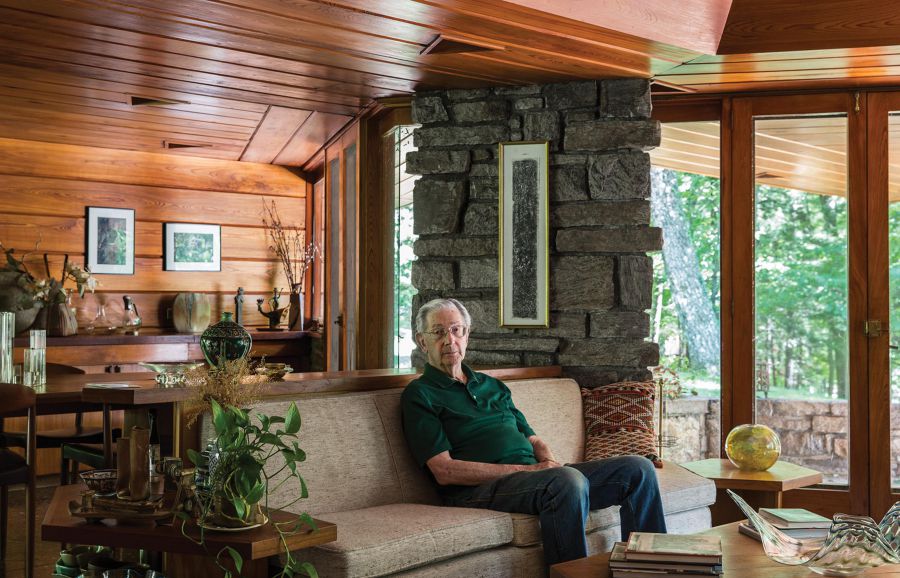 | | |
| --- | --- |
| Roland Reisley in his house. Source: Wall Street Journal online | |
How are you safeguarding the future of the house?
Currently I'm in the process of setting up a protection easement under the Frank Lloyd Wright conservancy – which I also helped to set up some years back – so that it will be protected from unsympathetic changes. I hope the house can stay in the family and that one of my grandchildren can live here.
What impact has living in a Frank Lloyd Wright house had on your life?
I've become interested and involved in architecture in ways I'd never imagined – I was a physicist who later worked in the electronic instruments business. Living here, I became interested in Wright's work and helped found the Frank Lloyd Wright Building Conservancy. I also wrote a book about the Usonia community. I've met many friends through the house.
How has the community changed?
It was like an extended family for the first 40 years. Now, I'm almost the last of the first generation. The community still functions though, we still have shared interests and values, although huge changes in society such as digitization have taken their toll.
How would you characterize Wright's contribution?
He profoundly understood the connection between people and the built environment. His buildings tried hard to make that clear. It's perhaps not very appreciated, and I wish there was more understanding of it so as to improve the general quality of life.
Roland Reisley recommends watching this teaser of a documentary that is now in production, USONIA - Frank Lloyd Wright's Suburban Utopia, that tells the story of Wright and the group of pioneering young idealists who toiled together to build their dream in Pleasantville, New York.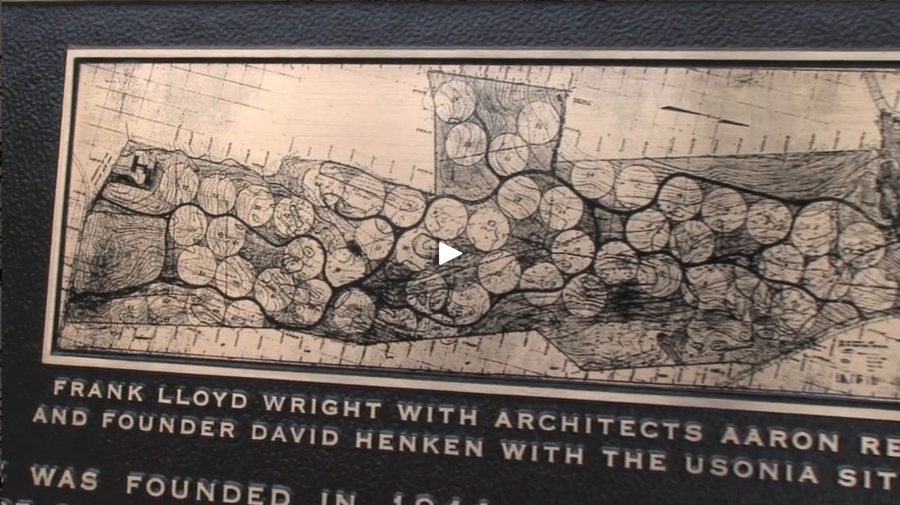 Jane Szita
Publication date 31 January 2022