Architect Hans van Heeswijk on The Pioneers of the Dutch Modern House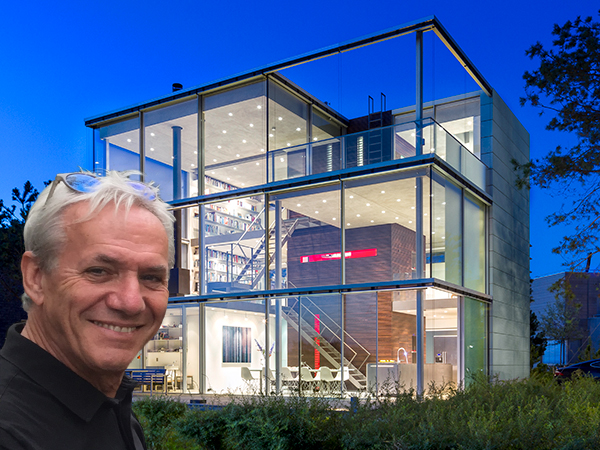 In the run-up to Pioneers of the Dutch Modern House, our Iconic Houses online event in September, we talk to leading authorities on architecture in the Netherlands about the Dutch reinvention of the house in the 20th century. Hans van Heeswijk is an Amsterdam-based architect whose highly regarded oeuvre includes museums such as the Hermitage Amsterdam. A Modern house enthusiast, he has visited hundreds of examples. A good reason to ask him about the influence of Dutch pioneers on the evolution of Modernism in Europe. Dutch architects like Berlage, Van Doesburg, Van Eesteren, Rietveld, Oud and Van der Vlugt played leading roles in the development of Modern architecture. We experience their legacy with tours to a number of houses in the Netherlands, Belgium and France.
How does Dutch Modernism fit into the global picture?
Architects from the Netherlands played a leading role in developing Modern architecture, especially after 1918. Among other ambitions, Modern architecture here had a social agenda, aiming at functional housing with lots of daylight plus hygiene facilities. These are features to note on the conference house tours, and they were new and experimental at the time.
Are you concerned about preservation in the Netherlands?
Modern architecture is vulnerable globally. We need to be vigilant to avoid losing significant buildings. Luckily, the most important ones in the Netherlands, at least those from the first half of the 20th century, have been carefully restored. More recent examples have unfortunately sometimes been carelessly modified. Hopefully, in the near future legislation will prevent this.
What's the picture like for newer, post-1965 heritage?
These buildings are now 50 years old and in need of major refurbishment or renovation. They have no legal protection, so they are dependant on the integrity and historic consciousness of their owners.
What issues do you think are important to address at the Iconic Houses Online Event 2021?
The laissez faire attitude of governments towards architecture and its preservation worries me. It's as if the custodianship of architecture isn't a cultural issue. In my opinion, we should try to get architectural custodianship onto the political agenda.
What's your favourite young heritage house?
I have many. For example, Paulo Mendes da Rocha's own house in São Paulo; the early houses of Richard Meier or the Maison à Bordeaux by Rem Koolhaas. They all are superb in their detailing, with a surprising spaciousness. Sometimes when you visit a house, the overall impression of space or the meticulous detailing is breathtaking.
What are the most urgent issue facing iconic houses?
Too many are at risk these days. All houses get older and need careful maintenance. There is too little legal protection to force owners to preserve them, so they run the risk of being demolished and replaced.
What gives you hope for Modern homes?
Buyers who love Modern architecture and preserve the integrity of a house when they refurbish it.
You built your own, rather wonderful, house (above photo). How do you hope to preserve it in the future?
When I can't live there anymore I hope to find a new owner who understands its qualities and ambitions, and will keep it in good condition.
What changes have you noticed in recent years regarding Modern homes?
Little by little, they are being rediscovered and restored, so the number that can be visited and that can join the Iconic Houses Network is growing. It takes time for interesting houses to be rediscovered, appreciated and looked after.
| | |
| --- | --- |
| Maison à Bordeaux, Rem Koolhaas/OMA, Bordeaux, France, 1998. Photo Hans Werlemann, courtesy OMA. | |
| | |
| --- | --- |
| Douglas House, Richard Meier, Harbor Springs, MI, USA, 1973. Photo James Haefner. | |
| | |
| --- | --- |
| Casa Butantã, PauloMendes Da Rocha, São Paulo, Brazil, 1964. Photo: source, ArchDaily. | |
Hans recommends watching this video on Villas around Paris in the 30s.
Jane Szita
Curious about the Iconic Houses Online Event 2021?
Check out the program of lectures and a series of thematic videos about the Pioneers of the Dutch Modern House HERE.
Or register right away HERE.
Updated 22 March 2021