Susana Landrove, Docomomo Spain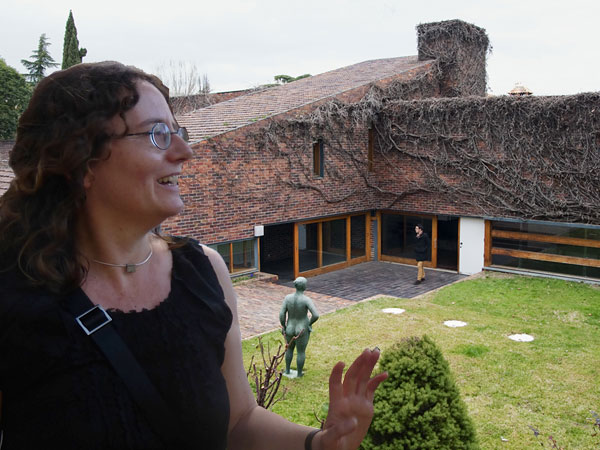 Susana Landrove is director of the Iberian DOCOMOMO Foundation, which studies and documents the architecture of the Modern Movement in Spain and Portugal.
She graduated from Barcelona's School of Architecture in 1993. Since 2000, she has been a member of the international specialist committee on registers at DOCOMOMO. She has worked on a number of exhibitions on modern and contemporary architecture, including at the Barcelona Museum of Contemporary Art, the Barcelona Centre for Contemporary Culture and the Frankfurt Museum of Architecture.
Landrove also participated in several research and cataloguing projects on 20th century architecture, including the Register of Spanish Architecture, 1920–2000 (Spanish Ministry of Public Works), Arquitectura española del siglo XX, for the 2000 Hannover International Expo, and the National 20th Century Heritage Plan (Spanish Ministry of Culture). She became director of the Iberian DOCOMOMO Foundation in 2009, having coordinated its programmes and research since 1995.
At the Iconic Houses Conference in Barcelona on 25 November, Susana Landrove will moderate the afternoon debate.
Tell us about your work with significant houses
Since 1994, the Iberian DOCOMOMO Foundation has conducted thorough research on the architecture of the Modern Movement in Spain and Portugal built between 1925 and 1965. This has resulted in a register of 1,715 buildings which be consulted both as an online database and in several extensive publications.
Housing plays a fundamental role in modern architecture. Often, significant houses are the test fields and showcases of modernity in which architects can experiment with proposals, shapes, materials and techniques. Thanks to the work of a wide group of experts, we have been able to reveal this heritage and bring it closer to the public.
Do you have a favourite house?
Bearing in mind the arbitrariness of highlighting some buildings rather than others, and restricting my choice only to the Iberian Peninsula, I would mention four favorites: La Ricarda/the Gomis House (1949-1963, Antonio Bonet Castellana), the Casa Ugalde (1951-1952, José Antonio Coderch and Manuel Valls), Casa Broner (1961, Erwin Broner) and Case Huarte, which is depicted above. (1965-1967, José Antonio Corrales Gutiérrez y Ramón Vázquez Molezún).
I think all these do justice to their architects who, overcoming the technical restrictions and the ideological context of their times, produced extremely valuable work in them. And we should not forget the clients who made this architecture possible and the owners (or institutions) who have preserved the original architectural values of the houses and, in some cases, granted access to them.
What's the biggest challenge DOCOMOMO faces right now?
The main challenge for DOCOMOMO Ibérico at the moment is to make the public and public bodies aware of the importance of this heritage, and the need to protect it. Other challenges include enhancing our research in criteria and techniques of conservation, chronologically extending our field of study, and using new technologies and media in order to reach a wider audience.
What do you hope will emerge from the upcoming Iconic Houses conference in Barcelona?
It should help us to share our experiences of dealing with house museums, improve our knowledge of certain 20th century icons and reflect on the discourse transmitted to the public through such examples. It should also help us to raise awareness, through these iconic buildings, of the importance of the wider Modern Heritage.
What 21st-century home deserves to be an Iconic House of the future?
I don't think the time has come yet to decide on the icons of the 21st century according to the Unesco definition of 'architectural works [...] which are of outstanding universal value from the point of view of history, art or science.' Our current intuitions will probably prove to be mistaken.
Some buildings were constructed with clear monumental intentions, but with the passage of time society has sidelined them. However, we can see how others that had no initial pretensions and were the result of an effort to resolve pressing needs have achieved the status of heritage buildings. Ultimately, reality and time must decide.