Virtual Tour of a Papaverhof Home in 3D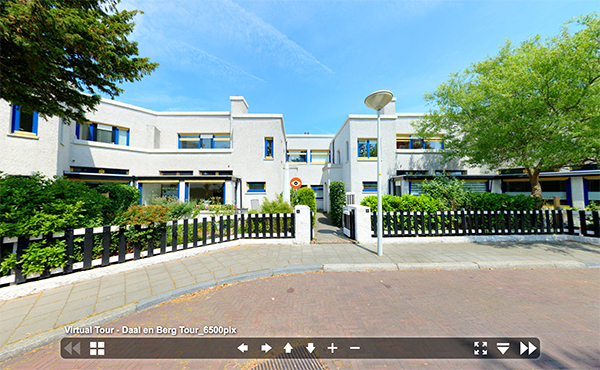 The Papaverhof is part of housing estate Daal and Berg in The Hague, designed by architect Jan Wils (1891-1972). It was built from 1919 to 1921 according to the ideas of De Stijl. The estate includes 128 middle-class homes that have a sleek cubist style with details in the distinctive primary colours, white, black, yellow and blue. The Papaverhof is the most striking part of Daal and Berg and is renowned for its distinctive double horseshoe shape, around a large sunken communal garden. It is on the list of hundred most important national monuments of the Netherlands and most recently restored in 2006. Besides the garden in the middle, each home has its own yard with enclosing wooden fence and cement flowerpots in matching architectural style.
Because of the 100th anniversary of Daal and Berg, residents of the Papaverhof have developed a virtual 3D tour of a model home -inspired by the 3D tour of the Anne Frank House- to relieve some residents of the visits that were made to several homes in previous years. Papaverhof is a popular stop on tours for architects and architecture students from the Netherlands and abroad. Residents however, live in the houses and cannot always facilitate a tour of the interior of their homes, especially not when groups count 30 people or more... A virtual 3D tour (with or without special VR glasses) of an interior visit can be enjoyed now independently from a real visit, even from your own living room. It is possible to get an idea of the layout of these homes and special details without interfering with the owners' lives. Watching the house in 3D first is also great preparation for your future walk. A tour of the exterior is still possible for groups.
A future ambition of the residents association is to also realize a device that shows a house by Jan Wils as it was in the 1920s. Because this involves a lot of research, they are looking for the help of a student of art history to make this happen.
Click the link below and walk through the house.
http://preview.dpi.nl/Papaverhof/VR/Papaverhof.html.
Instructions:
When you are on a laptop or PC, open the link and you can click the round orange eyes to move to that spot.
When you are on a laptop or PC, the link will open and you can rotate 360 degrees with your mouse in the area where you are.
When the link opens in a tablet or with VR glasses, you can watch for a few seconds the orange eye to move to a place.
When you open the link in a tablet, you can explore the house by moving the tablet 360 degrees.
When you open the link with VR glasses, you can look around just by turning your head by 360 degrees.
Publication date 28 November 2016