Scott Fellows and Craig Bassam on their Passion for Preservation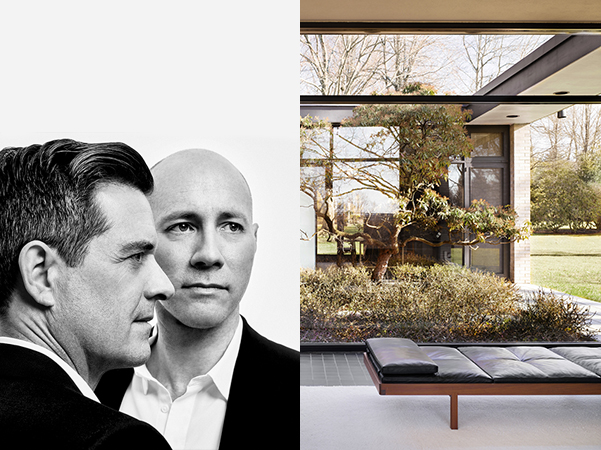 Photo Scott Fellows and Craig Bassam: Peter Hapak.
Architect Craig Bassam and creative director Scott Fellows are currently restoring Philip Johnson's Hodgson House in New Canaan – the latest in a series of projects for them. They also founded the acclaimed furniture and lifestyle brand, BassamFellows. They talked about their preservation work at our conference 15-18 May 2018. Their lecture can be watched in the (below) link.
| | |
| --- | --- |
| Preservation and Progress: Preserving a National Trust Landmark for Contemporary Living | |
You two are serial preservationists. How did it all start?
We were living in New York City and went for a weekend drive to New Canaan one afternoon in 1998. We stopped at a real estate office just for fun, and asked if they knew any locations of Modern houses. They told us about one on Ponus Ridge – which we knew was the same street as the Glass House. The Willis Mills House was incredible, but it was in total disrepair. On the drive back to the city, we decided to buy it and make it great again. We completely restored the house over four years, and then the house was added to the National Register.
What are you working on preserving now?
Our current house, the Philip Johnson-designed Hodgson House in New Canaan. It's listed on the National Register and is landmarked by the National Trust. We've embarked on a multi-year restoration, which is still in the early stages. The house was built in 1951 and needs major work.
We're also restoring the Philip Johnson designed Schlumberger Administration Building in Ridgefield, CT - his first commercial building, designed in 1952. It will be completed later this year, becoming the administration office, design studio, and showroom for our company, BassamFellows.
A third ongoing project is our Crombie Taylor-designed house in Rancho Mirage, CA.
Why is restoration so addictive?
We think truly great architecture is extremely rare – and when you experience it, it's incredibly uplifting and nourishes the soul. We want to use our skills and resources to preserve it – for us, for our clients, or for the future.
What are the challenges of preservation?
The challenges are mostly related to resources. Doing things the right way is usually expensive.
What inspired your BassamFellows design label? How does it relate to your work on houses?
We collected Classic Modern furniture from the likes of Mies van der Rohe, Charles and Ray Eames, Florence Knoll, Paul Kjaerholm, and others, but we wanted to mix those classic pieces with contemporary pieces of a similar quality and integrity in our interiors.
What advice would you give to fellow restorers?
It's important to start with a master plan prepared by an architect who has experience with Modern houses.
Do you have a favorite house?
Of those that we've lived in, we would say our favorite is our Crombie Taylor house in Rancho Mirage, CA. The steel and glass building is comprised of two twin pavilions separated by a pool courtyard. Crombie Taylor was a contemporary of Mies in Chicago and the house has a rigor and precision that is incredibly inspiring – every millimeter, every transition, and every detail is coordinated and highly considered.
Craig & Scott recommend watching this clip from The Fountainhead: A touch of the new, a touch of the old – quite relevant for the time (1948) – in which architect Howard Roark (Gary Cooper) is asked to add a classical touch to his modernistic building proposal.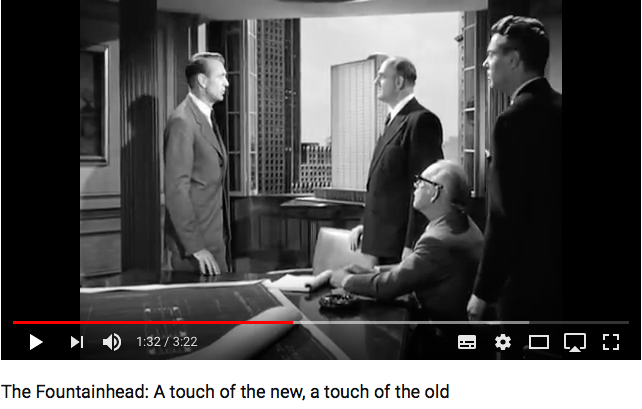 Jane Szita
Publication date 2 March 2018