Conference Program 25 November 2014
3rd International Iconic Houses Conference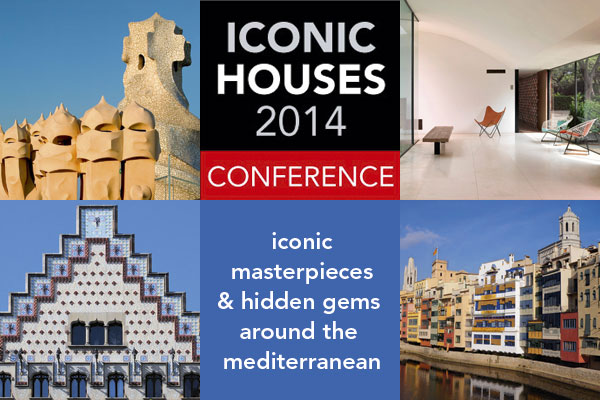 Iconic Masterpieces and Hidden Gems around the Mediterranean
The Iconic Houses Network and Fundació Catalunya-La Pedrera proudly announce the 3rd International Iconic Houses Conference taking place 25 November 2014 at La Pedrera in Barcelona, with pre-conference house tours from November 22nd – 24th. The conference focuses on architecturally significant 20th century house museums around the Mediterranean.
The Iconic Houses Conference is an opportunity for a high-level debate to take place about the cultural, technical and bureaucratic requirements of maintaining modernist heritage in the 21st century. The aim is to share good practices, solutions for the specific difficulties that all who are involved in running a 20th century house museum encounter. The event is also suitable for non-specialists, especially since it will feature talks about and access to iconic houses in the region, which are only infrequently open to the public.
Download the program HERE.
---
PROGRAM
9.00-9.30 Registration & Coffee
9.30–12.30 MORNING SESSION
Opening words and introduction to the theme
Natascha Drabbe, founding chair Iconic Houses Network; Van Schijndel House, Utrecht 1992 (NL)
La Pedrera, Antoni Gaudí, Barcelona 1906-1912
Marga Viza, cultural director Fundació Catalunya – La Pedrera, host of the conference (Spain)
KEYNOTE LECTURE: Setting the scene
Short history of Barcelona architect's house museums and its recent developments
Santiago Alcolea Blanch (Spain), director of Casa Amatller, Josep Puig i Cadafalch, Barcelona 1898
Unesco's take on 20th century domestic architecture
Jordi Tresserras, UNESCO consultant, academic focusing on cultural tourism and heritage (Spain)
10.40–11.40 Coffee / Tea Break
Casa Masó, Rafael Masó, Girona 1919
Jordi Falgàs, director of Fundació Rafael Masó (Spain)
E.1027, Eileen Gray, Roquebrune-Cap-Martin 1926-1929
Tim Benton, Professor Art History at the Open University London and writer of 'The Modernist Home' (UK)
Quartier Modernes Frugès, Le Corbusier, Pessac 1926
Cedrik Ferrero, president association Vivre aux Quartiers Modern Frugès (France)
Villa Girasole, Angelo Invernizzi a.o, Marcellise 1929-1935
How to turn Villa Girasole into a cultural center
Mirko Sgavarato, designer and construction site assistant at Villa Girasole (Italy)
Cases Singulars, organizers of the pre-conference house tours, Barcelona
Laura Pastors & Isabel Vallès (Spain)
12.30–14.30 Lunch Break
14.30–18.00 AFTERNOON SESSION
Casa Bloc, Josep Lluis Sert and Josep Torres Clavé, Barcelona 1932-1939
Rossend Casanova, curator of Casa Bloc and Design Museum Barcelona (Spain)
Icon at Risk: Casa Gomis at La Ricarda, Antonio Bonet, El Prat de Llobregat 1953-1963
Fernando Alvarez, architect. Since 1996 in charge of the restoration of the house (Spain)
Casa Broner, Erwin Broner, Ibiza 1960
Elena Ruiz Sastre, director of Museu d'Art Contemporani and Casa Broner, Eivissa (Spain)
Can Lis, Jorn Utzon, Mallorca 1971
Christen Obel, Chairman of the Utzon Foundation (Denmark)
15.10–16.30 Coffee / Tea Break
DEBATE
Participants: Josep Maria Montaner, architect and journalist; Manuel Ruisanchez, director
of culture at COAC - The Architects' Association of Catalonia -; Joan Roig, owner of Casa Moratiel, designed by Josep Maria Sostres
Moderator: Susana Landrove, director DOCOMOMO Ibérico (Spain)
Casa Vittoria, Oscar Tusquets, Pantellería island, Sicily, 1975
Oscar Tusquets, architect of Casa Vittoria (Spain)
Closing words
Marta Lacambra, General Manager of Fundació Catalunya-La Pedrera and Natascha Drabbe, Iconic Houses Network
18.00–20.00 Closing cocktail at La Pedrera
Moderator of the day: Jordi Falgàs, director of Fundació Rafael Masó
---
The conference is organized by





In cooperation with






Follow us on Facebook + Twitter @Iconic_Houses