Alice Roegholt on Amsterdam's Working-Class Palaces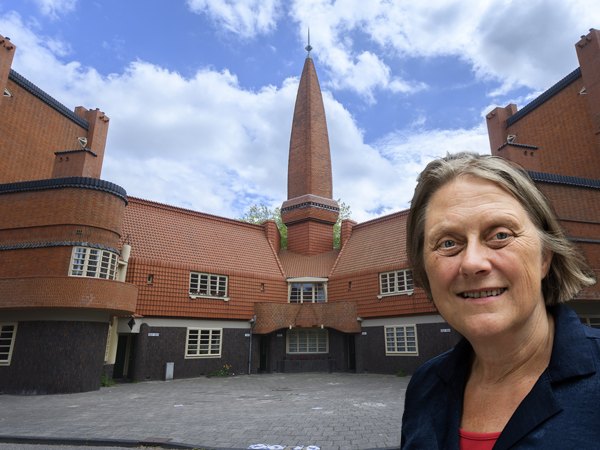 In the run-up to Pioneers of the Dutch Modern House, our Iconic Houses online event in September, we talk to leading authorities on architecture in the Netherlands about the Dutch reinvention of the house in the 20th century. Alice Roegholt initiated the interior restoration of Het Schip (1917-1920), a masterpiece of Amsterdam School social housing, 20 years ago, and has presided over its transformation into a museum. It's always inspiring to hear her talk about its innovative approach in adding beauty to the lives of workers.
You've played a major role in promoting the Amsterdam School. How did it all start?
In 1999, I was looking for a place to celebrate the centenary of the Dutch Housing Act, which was in 2001, and I happened to cycle past Het Schip. There was a post office there, and I went inside to buy some stamps. The interior was extraordinary but in need of restoration. I said to the woman behind the desk, 'This place is so beautiful, why don't you paint it?' She told me they were moving out, so there and then I decided to make a project of the place!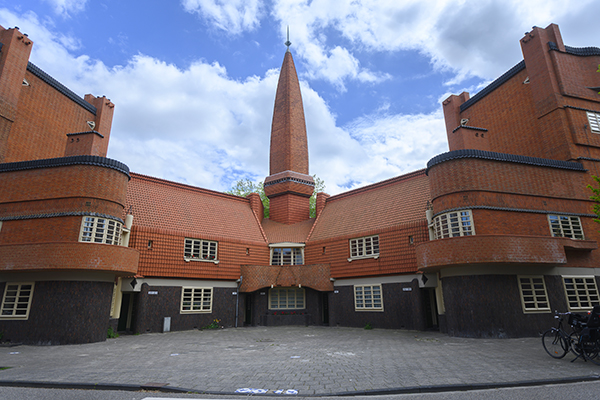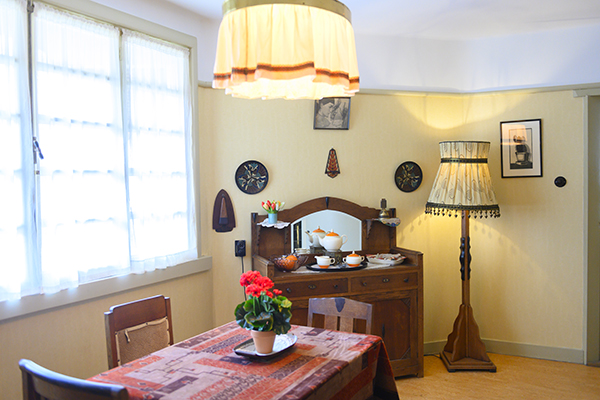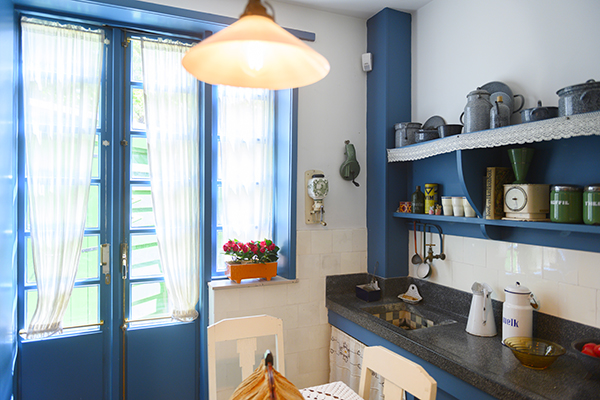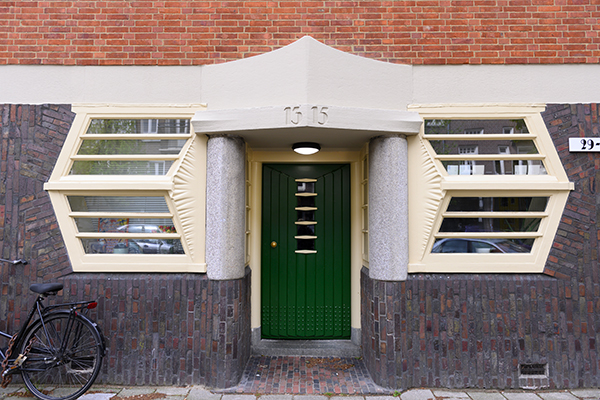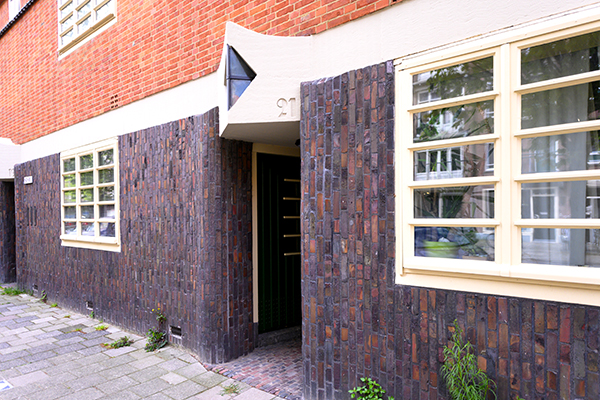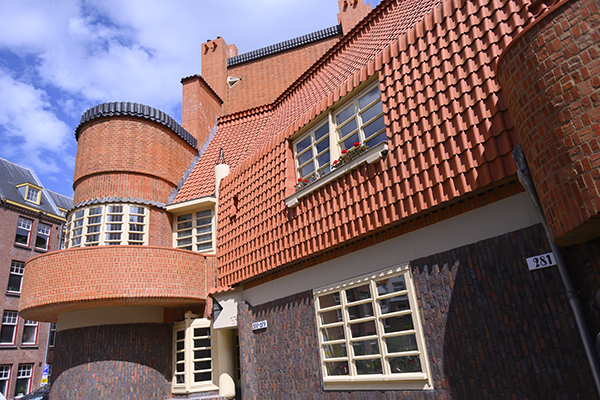 Photo: Els Zweerink
Photo: Els Zweerink
Photo: Els Zweerink
Photo: Els Zweerink
Photo: Els Zweerink
Photo: Els Zweerink
Photo: Els Zweerink
Photo: Els Zweerink
Photo: Els Zweerink
Photo: Els Zweerink
Photo: Els Zweerink
Photo: Els Zweerink
How did you go about turning Het Schip into a museum?
Het Schip had monument status from 1975, but interiors are not covered by that. Amsterdam City Council and the housing associations. The special thing about Het Schip is that it was built as workers' housing in 1919, so the next step was to develop a house museum: Amsterdam has long been famous for its approach to social housing, and Het Schip is an important early example. It was built to be really beautiful, exactly like a villa for rich people – a working-class palace. Het Schip became an icon, raising the standard for social housing in the Netherlands. Even the post office on the block was an important statement – workers were empowered to send letters, save money and make phone calls. Of course, we needed context in this situation – today, the house looks poor as there is no shower – instead there was a communal bath house. So we added a slum home in our presentation, one room in which a family, often with several children, did everything, as an example of what it was replacing.
| | |
| --- | --- |
| Slum home. Photo Jan Reinier van der Vliet. | |
What tips would you share for anyone trying to save an icon, as you did?
Go for it! Realise that it's a struggle, and that you'll be doing a lot yourself. You have to aim at saving your house for a longer future. In Het Schip, we developed a museum and the museum house is now a part of this museum.
What was most innovative about the Amsterdam School?
As a result of the Housing Act of 1901, the Dutch government could finance, as a loan, social housing at the request of a housing association. The government also demanded that architects to be involved in designing social housing. Up until then, architects had not built for the poor. Worker housing was built as cheaply as possible, by contractors. But now a young generation of architects stood up and decided to develop beautiful housing for workers. Michel de Klerk, Het Schip's architect, actually said that nothing was beautiful enough for the workers who had lived so long without any beauty. Beside workers' homes, these architects also made urban plans for the new city areas beyond the centre, and whole neighbourhoods were designed in the Amsterdam School style – luckily, much of these survive.
Architecturally, the Amsterdam School was about brick expressionism. Concrete was a later arrival and was more expensive. However, the way Amsterdam School architects used the brick was Modern. In the Netherlands, you cannot separate Modernism from social housing, because here social housing was a legal issue.
How did De Klerk approach Het Schip?
De Klerk was special in translating rather political ideas into housing. He developed this block as drawings in 1917: the year of the Russian Revolution. The idea that every citizen is equal was a major theme, so you might think, as an architect, that every worker should get the same house. But De Klerk made individual homes for everyone. Het Schip had 102 homes and there were 16 different floorplans. Even in the houses with the same floorplan though, there are unique details like oddly shaped windows. De Klerk saw every person as a unique part of a common society, his architecture stands up for the individual.
How does the Amsterdam School fit in with international Modernism?
Gaudí, Ragnar Östberg, Anton Rosen, Bruno Taut and Frank Lloyd Wright all shared the same ideology, although their buildings looked different. So the resemblance is in ideas, not aesthetics. In 1929, The London Herald published a story about Modernism, and you can see pictures of Gaudí's La Pedrera and De Klerk's Dageraad were featured together.
It's important for us to put the Amsterdam School into an international context, and we are now planning a travelling exhibition about the movement and its international connections.
What's the biggest threat for 20th-century heritage in Amsterdam today?
Definitely the privatisation of social housing and civic buildings. Although some of them are monuments, they are not protected in every detail. The interiors are especially difficult to protect.
What would you like visitors to notice about Het Schip?
The beauty of the building, the architectural wit, the imagery, the influence of many cultures – and that it was built for the workers!
Jane Szita
Curious about the Iconic Houses Online Event 2021?
Check out the program of lectures and a series of thematic videos about the Pioneers of the Dutch Modern House HERE.
Or register right away HERE.
Updated 22 March 2021