Melnikov House on Screen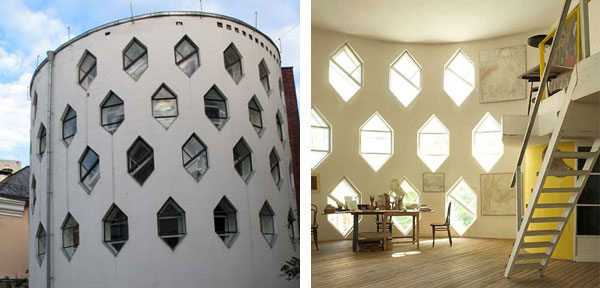 The Melnikov House – A Moscow Utopia
The World-famous architect Konstantin Melnikov (1890–1974) designed his utopian house, an icon of modern architecture, in the centre of Moscow in the late 1920s. When Joseph Stalin prohibited modern architecture in the Soviet Union, Melnikov was denied his right to work as an architect and was in practice placed under house arrest. This film tells the amazing story of the Melnikov House and the fate of an architect imprisoned in his utopian house. Prior to the documentary at the Van Schijndel House in Utrecht, Le Corbusier and Melnikov connaisseur Jean-Louis Cohen will lecture on Melnikov.
Lecture by architect and historian Jean-Louis Cohen
Jean-Louis Cohen (Paris, 1940) is Professor of the History of Architecture at the Institute of Fine Arts from New York University. His lecture at the Van Schijndel House about the House of Konstantin Melnikov can be viewed as videolecture at ArchiTV.
Phaidon published his latest book 'The furture of Architecture. Since 1889'. Cohen curated numerous exhibitions for the Pompidou Centre, Pavillon de l'Arsenal, Canadian Centre for Architecture, French Architecture Institute and Museum of Modern Art, and is the author of 'Le Corbusier and the Mystique of the USSR' (1992), 'Scenes of the World to Come' (1995), 'Casablanca: Colonial Myths and Architectural Ventures' (1998, with Monique Eleb), and 'New York' (2008). Cohen also curated 'Le Corbusier: The Secrets of Creativity between Painting and Architecture', that opened September 24, 2012 at the Pushkin Museum of Fine Art in Moscow.

Screening 'The Melnikov House – A Moscow Utopia'
Director Rax Rinnekangas, Finland, Bad Taste Limited, 2007, 58 min.
Van Schijndel House Utrecht, Netherlands
Sunday 13 January 2013, 4:30 pm
Spoken language: Finnish. Subtitles: English. Duration 58 minutes.
Watch the trailer here.
The film is part of 'Five Master Houses of the World', a series of five independent documentary films directed by the Finnish photographer, filmmaker and writer Rax Rinnekangas about outstanding private houses on different continents designed by the world's leading architects in the 20th century, the period of modernism. The films provide a perspective on the idiom and philosophy of major architects of the modernist era as manifest in these private homes, and on the role of the 20th century in the history of architecture as a whole.
1. The Melnikov House, Konstantin Melnikov, Moscow, Russia, 1927–29;
2. Villa Mairea, Alvar Aalto, Noormarkku, Finland, 1938;
3. Casa Estudio por Luis Barragán, Mexico City, Mexico, 1948;
4. Le Cabanon par Le Corbusier, Roquebrune Cap Martin, France, 1952;
5. The Koshino House / Tadao Ando, Ashiya, Hyogo, Japan, 1979 – 84.