SPECIAL – Iconic Housing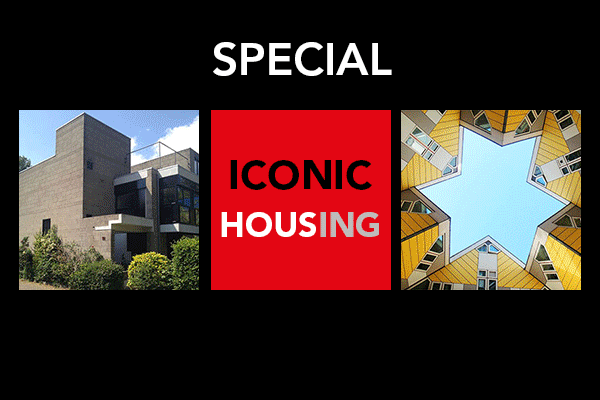 Iconic Houses isn't just about detached 20th-century villas and the ideal homes of individual clients. It's also about the experiments of avant-garde architects in designing idealistic housing for the masses. An increasing number of museums in developments like these operate as a historical 'show home' – a time capsule, displaying how factory or middle-class workers lived in the 20th century. These experiments in living were often progressive designs showing (mainly) improvements in sanitary and hygienic facilities. Later on, other ideals were added, as the examples below indicate. Each and every one of them is an idealistic design, intended to bring more joy as well as practical improvements to the lives of their residents.
We have listed the 16 housing projects that currently number among our total of 150 Iconic Houses, and all of them can of course be booked for a guided tour. So far, they are mainly in the Netherlands, Germany, France, Spain and the UK. Click for more information and to see where they are on our world map. They are arranged in chronological order.
We are always looking for new and inspiring examples. If you know of one, that can be visited (that's an important criterion), and has a website that we can link to, let us know!
Casa Milà - La Pedrera Apartment, Barcelona (1906-1912)
Gaudí was commissioned to build an apartment house, with the aim of turning the main floor into a family residence for his client and leasing out the rest of the dwellings. Casa Milà is popularly known as 'La Pedrera' (the stone quarry) in allusion to the resemblance of its façade to an open quarry. In 1984 UNESCO inscribed La Pedrera in its World Heritage List, for its exceptional universal value.
---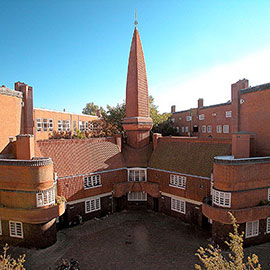 Het Schip, Amsterdam (1919-1921)
'Workers' palace' The Ship, by the Dutch architect Michel de Klerk, is renowned worldwide. The building contained 102 dwellings for the working classes, a small meeting hall, a post office and a school. It is built in the style of the Amsterdam School, a Dutch version of Art Deco. Besides looking like a ship, its appearance is unconventional from all angles.
---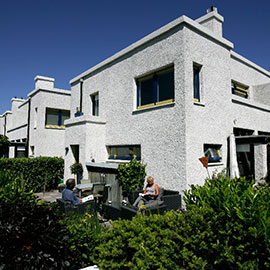 Papaverhof, The Hague (1921)
Papaverhof is a court with 128 middle-class homes laid out in a horseshoe-shaped ring around a sunken park that are part of residential complex Daal en Berg, which was built to a design by De Stijl architect Jan Wils. This listed complex is counted among the Top 100 of the Dutch monuments and is the only residential complex in the world, designed to the views of De Stijl.
---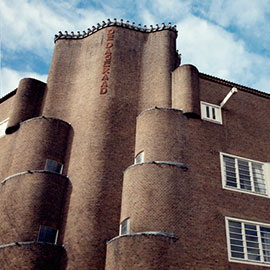 De Dageraad, Amsterdam (1922-1923)
Cooperative Housing Association De Dageraad (The Dawn), realised a social housing estate, designed by young high-profile architects Piet Kramer and Michel de Klerk. Since 2011, Museum Het Schip has a satellite visitors centre in a former shop in De Dageraad. The centre forms a home base for tours of the Amsterdam School in Amsterdam South.
---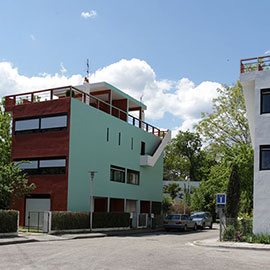 Quartier Modernes Frugès, Pessac (1924-1926)
Le Corbusier and his cousin Pierre Jeanneret, conceived this neighbourhood near Bordeaux on the garden city model, using standard housing to create houses both similar and varied. This urban utopia took up the challenge of modern housing for large numbers and is considered a revolution in terms of construction and aesthetics, as well as in comfort and social progress.
---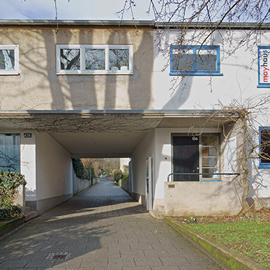 mayhaus, Frankfurt (1928)
The mayhaus is the model house of the New Frankfurt. It has been restored and returned to the condition in which it was first occupied around 1928. It thus exemplifies the political, economic and artistic reforms for which Frankfurt's mayor Ludwig Landmann received worldwide attention at the end of the 1920s when he commissioned municipal councillor and architect Ernst May to solve the housing shortage.
---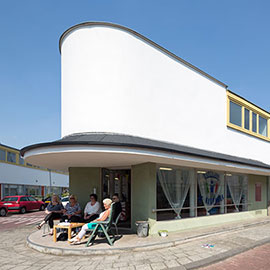 De Kiefhoek, Rotterdam (1928-1930)
The Kiefhoek is a housing estate to house workers of originally 294 family houses and several central facilities, designed by architect J.J.P. Oud according to the principles of the Modern Movement. Oud used a functionalist urban layout and an ingenious ground plan to create maximum living space in each dwelling, that can be experienced during your visit.
---
Taut's Home, Berlin (1930)
Travel back in time to Berlin's stylish 1930s accommodation at the UNESCO-World heritage site at the Horseshoe Estate. Suitable for up to four guests, Taut's Home is a cultural treasure with the character of a museum and a real-life experience of design history. This is probably the closest you can get to the spirit of emergent Modernism and the Golden Twenties in Berlin.
---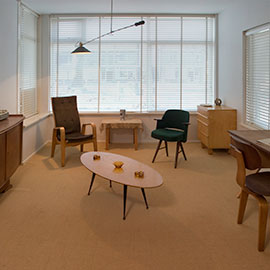 Robijnhof Model Home, Utrecht (1931)
Shortly after the Second World War, Rietveld designed almost six hundred dwellings in the Hoograven district in Utrecht. Robijnhof homes were meant for ordinary people: practical, affordable, with light and spacious interiors. Centraal Museum has furnished a home with pieces by renowned local furniture manufacturer Pastoe. A visit is like stepping back into the early 1950s!
---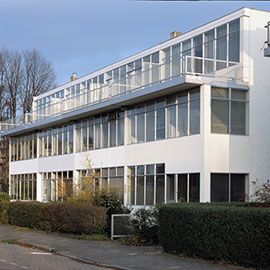 Erasmuslaan Model Home, Utrecht (1934)
The Rietveld Schröder House is not the only house that Gerrit Rietveld designed in Utrecht. Others include the nearby housing blocks on Erasmuslaan: a block of four townhouses (1931), followed by an apartment block (1934). In October 1931, Rietveld furnished one of the town houses to serve as a model home. The Centraal Museum has reconstructed this interior now to visit.
---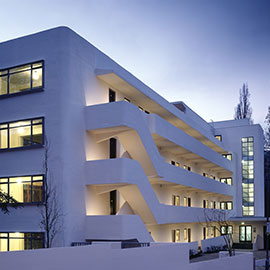 Isokon Building, London (1934)
The Isokon Building was a progressive experiment in a new way of living by architect Wells Coates, who was greatly influenced by Le Corbusier. The building soon attracted a great number of leftwing intellectuals and artists, and from 1935 no fewer than four Bauhaus teachers, among whom were Marcel Breuer and the very founder of the Bauhaus school; Walter Gropius.
---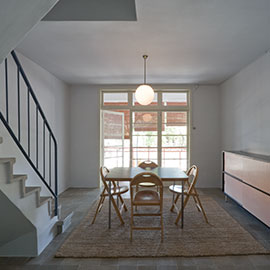 Casa Bloc, Barcelona (1932-1939)
The apartment building was initiated by the Catalunya Government with the objective to create quality modern housing that met the basic standards of living for workers in need. Designed by architects Josep Lluís Sert, Josep Torres Clavé and Joan Baptista Subirana. Built using ideologies of the GATCPAC, one of these apartments has now been restored to its original state.
---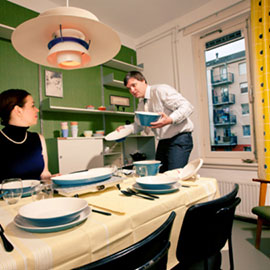 Van Eesteren Museum Apartment, Amsterdam (1952)
The apartment is located in Slotermeer, a typical post war suburb planned by Cornelis van Eesteren, member of the 'De Stijl' movement. Inspired by modernists Le Corbusier and Gropius, he developed in 1932 a plan to prepare Amsterdam for growth up to a million habitants. It had much influence on the discussion on modernism and functionalism in European architecture.
---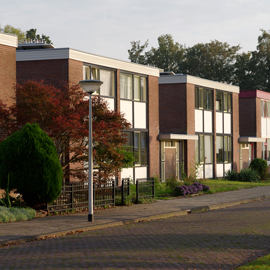 Polman House, Nagele (1956)
Nagele is the only 'flat-roof village' in the Netherlands and is an icon of the Dutch Nieuwe Bouwen style - the Dutch version of Modernist or Bauhaus architecture. It's also an early example of post-war social housing. For the first time, ordinary people could live in a semi-transparent house, designed by Lotte Stam-Beese and Ernest Groosman. In Polman House, the kitchen and living room were separated from one another by a partition wall made of glass, allowing the sun to shine right through.
---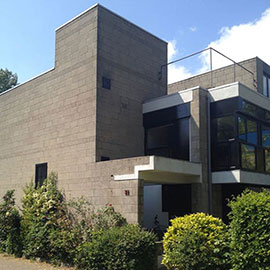 Diagoonwoning, Delft (1971)
The Diagoonwoning, designed by Herman Hertzberger and built in a suburb of Delft, was originally intended to develop an entire residential area. Eight experimental homes were built as prototype. The house is conceived as a semi-finished product to give people more influence over the design of their own homes. It is to be completed and extended by the residents themselves.
---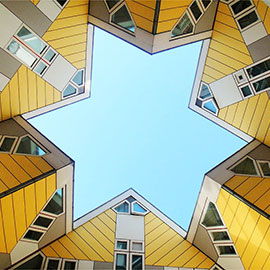 Cube House, Rotterdam (1984)
The Cube House, also called pole house or tree house, is a design by Dutch architect Piet Blom. A tilted cube on a pole resembles an abstract tree. There are 38 dwellings (of 100m2) and two big cubes on top of a pedestrian bridge. Each house has three levels: storage and entrance hall in the pole; living/kitchen, bath/bedrooms and loft in the cube.
---
Posted 29 January 2019//updated 24 May 2021