Terence Riley -KEYNOTE SPEAKER- on Philip Johnson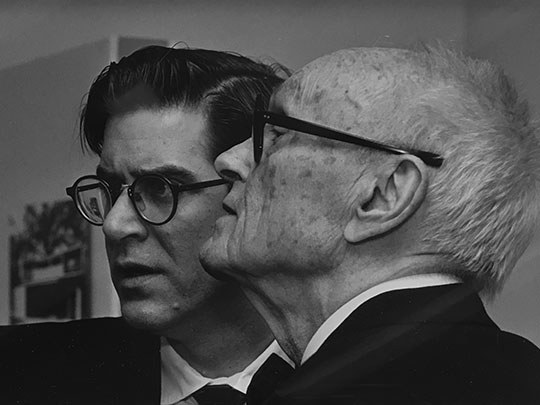 Terence Riley and Philip Johnson in 1992, unidentified photographer
As an architect and curator, Miami-based Terence Riley played a pivotal role in the renovation and expansion of MoMA (New York), the Miami Art Museum, and the Museum of Art, Design and the Environment (Murcia, Spain), as well as playing a key role in reinvigorating the Modern movement during his time at MoMA. He is a founding partner of (K/R (Keenen/Riley)|http:krnyc.com], an architectural studio known for its work for art museums, galleries, artists, and collectors. Terence was a keynote speaker at our Fifth International Iconic Houses Conference in New Canaan 15-18 May 2018. His lecture can be watched in the (below) link.
Keynote Address Philip Johnson: Portrait of the Curator as a Young Man
You once said that when you left college in the 1980s, to say that you were interested in the Modern movement was almost like admitting to being a sex offender. You then went on to play a prominent role in its critical re-evaluation at MoMA.
I did my bit, but by the time I got to MoMA, around 1989, there had already been an interesting series of developments. Architects like Rem Koolhaas, Bernard Tschumi, and Jean Nouvel were producing works that featured an intense reconsideration of Modern architecture. It was an exciting time. The Light Construction show was my manifesto. There was a definite feeling that Postmodernism was over and I was trying to memorialize that. Kazuyo Sejima, Herzog & Meuron and Ben van Berkel all got an early museum mention. It was prescient moment. I still see the book Light Construction on students' desks.
How did the Modern movement begin for you personally?
It all started with my great uncle who was Paul Nelson, a WWI pilot who was at Princeton with Scott Fitzgerald – they both left to go and fight in France. Nelson later studied at the École des Beaux Arts and worked as a Modern architect in France – I visited him in his later years. After I'd completed my master's degree at Columbia, Bob Stern suggested I do an exhibition on him. That was my first taste of curatorship.
And it was how you came to meet Philip Johnson.
Yes – he came to see the Paul Nelson show and I gave him a tour, after which he told me that he didn't like Nelson much. Then he said, "So, you want to be a curator?" I replied that I didn't really. At the time he was interviewing for the MoMA curatorship, and my reply made him decide that I should do it.
What did you learn from him?
I learned how a curator can use an institution like MoMA as a vehicle or agent to spread a message. He would always ask, "What's the message?" Achieving clarity is the science – or art – of curatorship.
Any other principles of curation you can share?
A publisher once told me, that people don't buy books with the word 'architecture' in the title as it's seen as too specialist. So I never used the word in the title of any show I did. Instead I'd use words that everyone can relate to.
As a practicing architect, you've had an office with J Keenen since 1984. What's the secret behind your long partnership?
In the beginning, we both pathologically insisted on working equally on all projects – then we got over that. Now one of us drives the project, while the other is a critic; we take it in turns. A lot has to do with geography. He's in New York, I'm in Miami.
How did you find combining the roles of curator and architect?
It wasn't that unusual at MoMA. In the early years, lots of curators were architects or trained as architects, including Philip Johnson, Eliot Noyes, and Edgar Kaufmann. I find it unfortunate that that doesn't happen anymore and we now have only professional curators who approach architecture through architectural history. I always tried to move away from the museum as exclusively a place of paper architecture.
Can you tell us something about the Marcel Breuer house in Pocantico that we're going to visit?
I'm so glad we're going there. It was a show house in the MoMA garden in the early 1950s, along with two others. The irony is that for many years people didn't realize it had been taken apart and reconstructed. So it was important in creating an audience for the Modern residence. It played a pivotal role. It featured modest and open spaces for living without servants, as well as plywood and other new materials.
Do you have a favorite house?
I love the Farnsworth House by Mies van der Rohe. Also the Glass House by Philip Johnson, which was very inspired by it – he had curated an exhibit on Mies and was borrowing from the master. It was a startling concept and it's a favorite turning point of mine. Before the gate was put up, a neighbor pulled up next to the house and said to Philip, "I could never live here." He replied, "You will never have to."
You live in a house you built yourself. Can you tell us about it?
In 2001, Barry Bergdoll and I curated the exhibition Mies in Berlin at MoMA. I researched the courthouses (a word invented by Johnson) and wrote an essay on them. John Bennett and Gustavo Bonevardi created 3D models and videos of them. Through my research I discovered that Mies had intended the courthouses to be small, economical alternatives to the free-standing single-family house. To save cost and land, they were meant to be constructed like row houses. Philip Johnson more or less turned that courthouse concept into a one-off luxury residence. So, Bennett and I decided to put Mies' proposal to the test and build at least two of them. Craig Robins was our third partner. I live in one of them full-time.
How has Modernism informed your own work?
I understand the modern movement in a broad sense, from the Industrial Revolution to the digital era, so it's the primary source for how I think about architecture.
What role do you think the Modern house plays in our own time?
I think it plays the same role as it did 100 years ago. The Modern house makes people's lives better. I truly believe that.
What contemporary house will be an icon in the future, if you have anything to do with it?
The one K/R is building in the Little River part of Miami – a hybrid of the art gallery and the loft residence.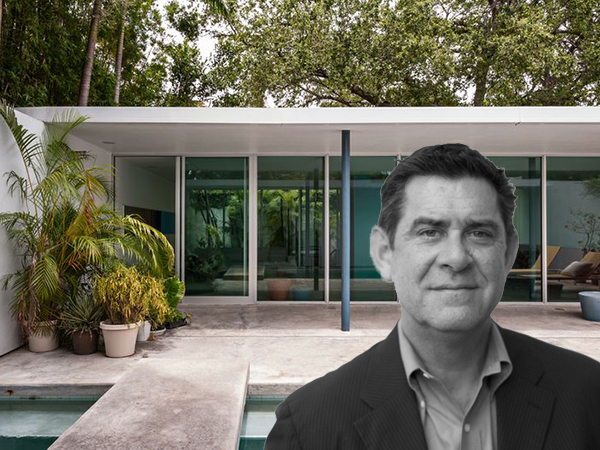 "The Modern house makes people's lives better. I truly believe that.."
Jane Szita
Photo: Terry with his own house (Miami, FL, USA) in the background.
Publication date 15 February 2018