Exhibiting & Visiting Modernist Monuments
LIVE STREAM - 14 JANUARY, 7PM CET/8PM IDT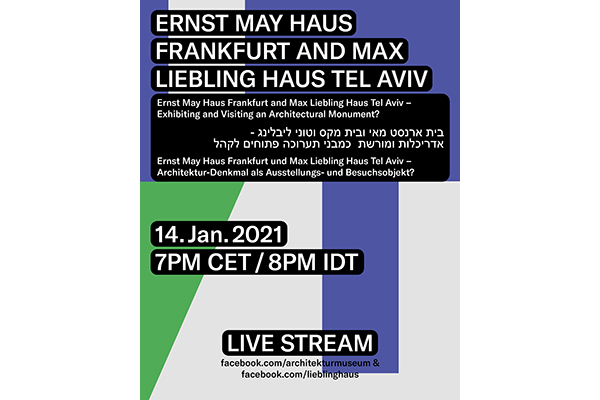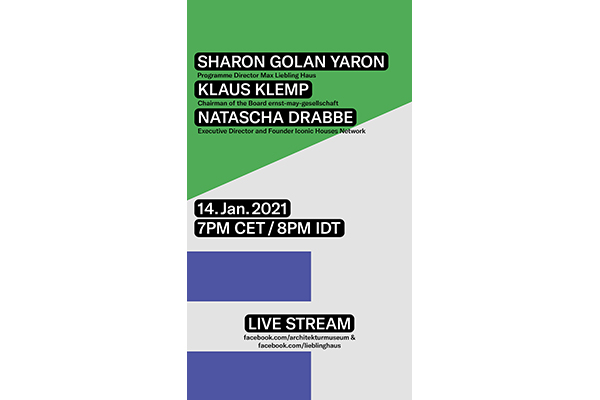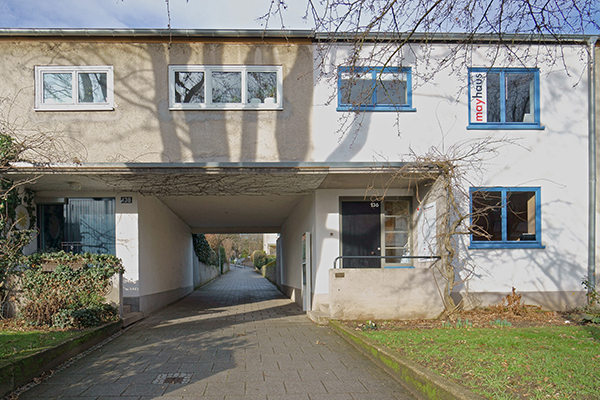 Ernst May Haus Straßenseite, Fotograf Reinhard Wegmann
Max Liebling Haus
Ernst May Haus Straßenseite, Fotograf Reinhard Wegmann
Max Liebling Haus
Ernst May Haus Frankfurt and Max Liebling Haus Tel Aviv
Exhibiting and Visiting an Architectural Monument
At the third event of the series "Context, Contrast, Continuity – Heritage Conservation and Urban Development" exemplary houses of Modernism will be discussed with the Max Liebling Haus in Tel Aviv and the Ernst May Haus as the foci.
Our new member, the May Haus, was built 1927/28 according to plans by Carl Hermann Rudloff and Ernst May as part of Frankfurt's Römerstadt. It is an exemplary house for the extensive housing estates of the Neues Frankfurt. Since 2010, after carefully restoring the small single-family terraced house to its original state of 1929, it can be visited by the interested public.
The Max Liebling Haus was built in 1936 by Max and Tony Liebling according to plans by the architect Dov Karmi. Since 2019 it houses the White City Center Tel Aviv. The Liebling Haus – The White City Center was co-founded by the Tel Aviv-Yafo Municipality and the German government at a historical and cultural crossroad in the heart of Tel Aviv. Its mission is to actively preserve the heritage of the White City site and the international style, known in Israel as the Bauhaus.
Sharon Golan Yaron, architect and programme director of the Max Liebling Haus will present her curatorial achievements for the White City Center Tel Aviv. The Head of the ernst-may-gesellschaft, Prof. Dr. Klaus Klemp, will introduce the Ernst May Haus and the programme developed by the Forum Neues Frankfurt. They will expose the radically different curatorial strategy behind the Ernst May Haus and the Max Liebling Haus. The different approaches to storytelling in historically protected monuments will be explored also in the subsequent discussion which will be opened by Natascha Drabbe, Director and Founder of the Iconic Houses Network.
The presentations and discussion are in English.
January 14, 2021 – Livestream – 7pm CET/8pm IDT
Posted 14 January 2021