We welcome 13 new members!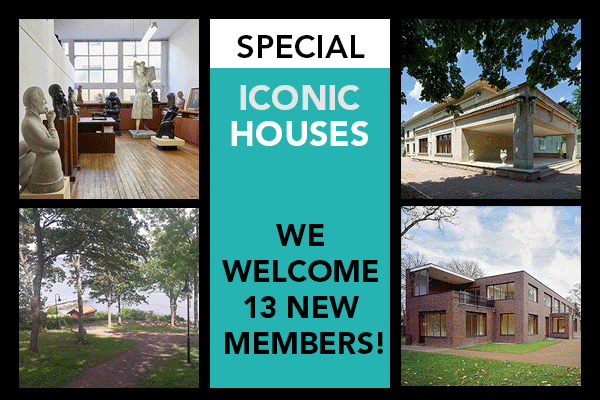 Our warmest welcome to 2019's new members, which we feature in this August update!
In this SPECIAL, we feature all the house museums which have signed up to join our Iconic Houses network since the beginning of the year.
Among them are a number of pairs:
Two artists' homes: those of Edvard Munch in Norway and Chana Orloff in Paris
Two architects' houses in Italy that can be rented for the holiday; Villa Leoni and Casa Baldarini
Two houses in The Netherlands: Van Doesburg Rinsema House and Sybold van Ravesteyn House
Two houses that can be rented short term in the USA: Case Study House #26, our first member in Northern California, and the Richard Neutra designed Guest House at the Grace Miller House in Palm Springs
Two houses in German-speaking countries: Haus Lange Haus Esters by Mies van der Rohe in Krefeld, Germany, and Ein Haus WOBA in Base, Switzerland.
Then we have three other European masterpieces: the Renaat Braem House in Antwerp, Belgium; Villa Stiassni in Brno, Czech Republic; and the smallest house in the world, the highly innovative and amusing Keret House in Warsaw, Poland.
Enjoy!
Note: Plan your visits well in advance as visiting times can be irregular.
Share your tips with us!
We're always on the look-out for inspiring modern house museums. So, if you know a unique and unmissable 20th-century house that is open to the public and isn't yet on our map, please tell us about it by mailing: info@iconichouses.org. Thanks for your suggestions!
---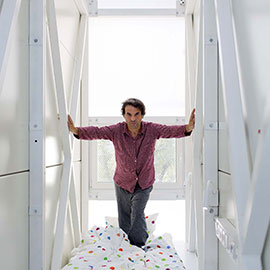 Keret House - Warsaw, 2012
The Keret House, designed by Jakub Szczęsny, is an art installation and an example of extraordinary architecture in the form of an insert in a narrow gap between two existing buildings, representing different historical periods in Warsaw's history. Artists from around the world can realize their projects here during residences. An extreme example of the current trend of tiny housing.
---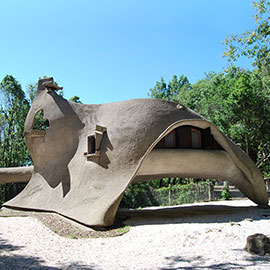 Casa Saldarini - Baratti, Tuscany, 1965
Casa Saldarini was built by Vittorio Giorgini from a double metal net covered with sprayed cement and left coarse, then in some places shaped by hand to form a slab here and there with pierced openings resembling paper cuttings. The curved, sinuous contours evoke a huge creature such as a whale or dinosaur. It was the first building in Italy based on an iso-elastic membrane made of concrete and wire netting.
---
Case Study House #26 - San Rafael, CA, 1963
Case Study House 26 is one of the last houses of the influential post-war program and the only Case Study House designed by Beverley Thorne, who designed more than 150 houses in California, mostly framed in steel and on difficult sites. The timeless design is based on a simple concept, basically a shoebox comprised of 8 identical bays, covered with a flat roof. The social spaces are accentuated by their double height.
---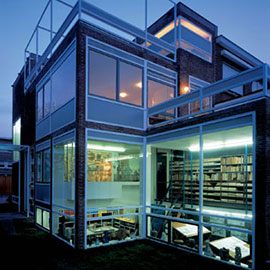 Renaat Braem Huis - Antwerp, 1958
Renaat Braem was one of the most important figures in post-war Belgian architecture. After his studies, he worked as a trainee with Le Corbusier. His own home and studio are highly individual interpretations of his ideas on 'liberated living'. The abstract three-dimensional play of volume and void, and the harmony between function, construction and form, are typical of this architect's sculptural thinking and spatial insight.
---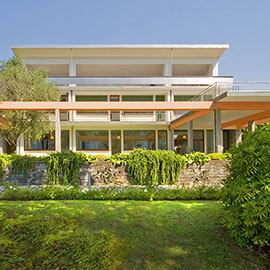 Villa Leoni - Tremezzina - Como, 1944
Situated on the western side of Lake Como, this villa was designed by architect Pietro Lingeri as the Leoni family's summer residence. Built in the same years as Lingeri's artists' houses on the island of Comacina, it represents another step in his study of rational and Mediterranean architecture in the years between the two World Wars. The Villa can be visited by appointment and rented for short stays.
---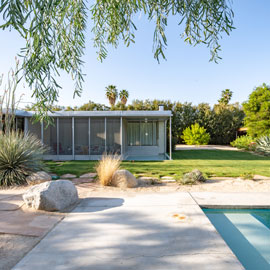 Grace Miller House - Palm Springs, 1937
The house was built as a home and exercise studio. Richard Neutra's first desert commission generated much publicity. It fell into disrepair in the 1950s and by 2000 was dilapidated and uninhabitable. The current owner has meticulously restored it to its original state whilst adding a pool and a guest house that Neutra designed but never built. The guest house can be rented for short stays.
---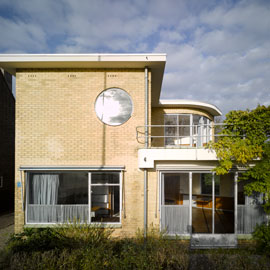 Sybold van Ravesteyn House - Utrecht, 1933
Dutch railway architect Sybold van Ravesteyn designed this villa in 1932 for himself in the style of the Nieuwe Bouwen. The villa was transferred to the Hendrick de Keyser Association in 1996. The wish of Van Ravesteyn's son was that the house and the interior would remain unchanged. As of March 2019 the house can be rented as a holiday home.
---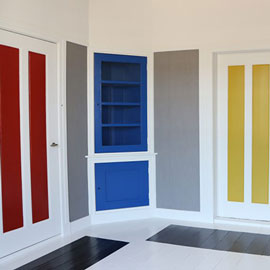 Van Doesburg Rinsemahuis - Drachten, 1930
The Van Doesburg Rinsema House is part of the Parrot District in Drachten. Avant-garde artist and De Stijl founder Theo van Doesburg was given the opportunity to design a colour scheme for both the exterior and interior of a row of houses. He based it on the primary colours red, blue and yellow, combined with black, white and grey. For the first time he was able to fully integrate his theories of art and architecture.
---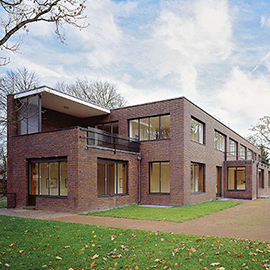 Haus Lange Haus Esters - Krefeld, 1930
The villa ensemble known as Haus Lange Haus Esters was commissioned to Mies van der Rohe by Hermann Lange and Josef Esters. The houses were to be home not only for the families of the clients but also, in the case of Hermann Lange, for his comprehensive collection of contemporary art. The design included all utility areas, kitchen, darkroom, bathrooms, as well as, in the case of Haus Esters, the layout of the garden.
----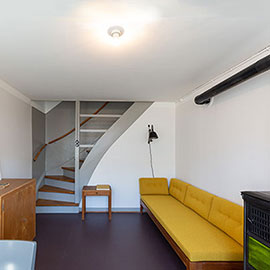 Ein Haus WOBA - Basel, 1930
Similar to the Modernist housing settlement in Stuttgart's Weissenhof Siedlung, the first modernist housing settlement in Switzerland for the subsistence minimum, or 'Existenzminimum', was realized in Basel. Thirteen architects in search of affordable and efficient working-class apartments turned the Schweizerische Wohnungsausstellung Basel, or WOBA, into one of the most exciting early Swiss housing experiments.
---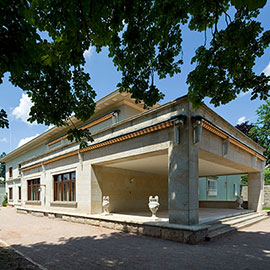 Villa Stiassni - Brno, 1927
Villa Stiassni was built for the Jewish textile manufacturer Alfred Stiassni, to designs by the famous Brno architect Ernst Wiesner. Alfred Stiassni lived in the villa with his wife Hermine and daughter Susanne for just nine years. The couple had bought several building lots with a combined area of 32,174 m2. It was one of the largest private lots of land in Brno. In 1938 the entire family fled before the imminent Nazi occupation.
---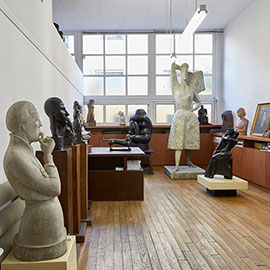 Ateliers- musée Chana Orloff - Paris, 1926
The complete oeuvre of Chana Orloff, one of the great sculptors of the 20th century, is presented in her house-studio designed by Auguste Perret. A visit of the workshop allows you to see busts of famous personalities between the two world wars such as Pierre Chareau and Anaïs Nin. Orloff's work touched on many themes, including the female figure, which was always dignified and strong, whether naked, clothed, biblical, maternal, or working.
---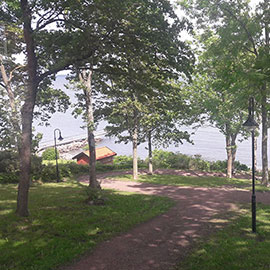 Munch's house - Åsgårdstrand, 1926
Of all the places where Munch lived and worked as an artist, he perhaps left most traces of himself at Åsgårdstrand. This is the only one of his several homes that remains intact, and the landscape remains much as it was in Munch's day. Over a period of more than 20 years he painted some of his best works here, including the sketches for Frieze of Life.
---
Posted 20 August 2019