Expert Meetings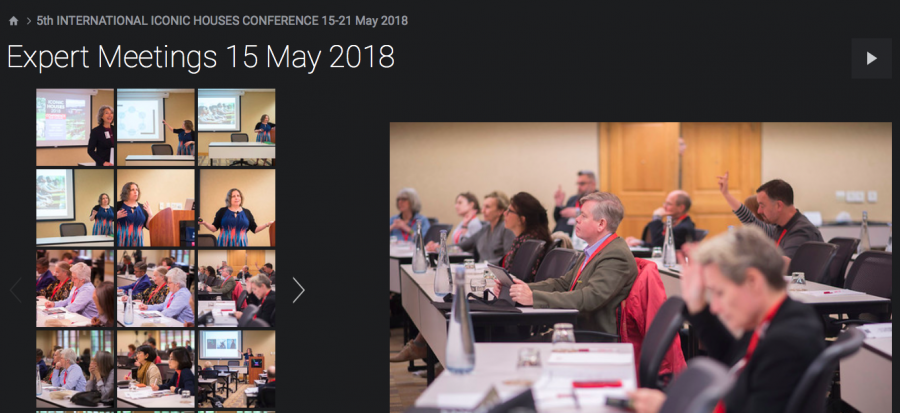 Click on the above photo for the complete photo gallery
Conference Round Up: Expert Meeting 1 – Alternatives to the House Museum Model
Sadly, many residential masterpieces quietly disappear as time goes by. However precious they may be, preserving them through multiple generations is never easy because they are private properties. In many countries worldwide, the owners of significant 20th-century houses are looking for ways to preserve this emerging heritage. These case studies were designed to suggest new strategies to ensure that the architectural integrity of such houses is secured for future generations. Representatives from four organizations explained how they have developed alternative approaches to the house-museum model to safeguard the residential icons of the 20th century.
Four International Viewpoints
Katherine Malone-France, Vice President for Historic Sites at the National Trust for Historic Preservation, Washington USA, argued that Modern houses need to avoid the 'frozen-in-time' syndrome. They should instead engage with contemporary art, design and storytelling, in order to remain 'alive' and relevant.
From Anne Mette Rahbæk, Head of Communication and special assignments of Realdania Byg, Kopenhagen Denmark, we heard how philanthropic investment can be a strategy for preservation. Her organisation acquires endangered Modern houses and rents them out to cover maintenance and running costs.
Architect Peter McMahon, Founder of the Cape Cod Modern House Trust, Wellfleet USA, has extensive experience of saving publicly-owned, abandoned Modern houses on Cape Cod. After restoring the houses, his organisation rents them out to supporters for summer stays.
Finally, architect Toshiko Kinoshita talked about the issues she faces in her work as Board Director of the Heritage Houses Trust, Tokyo, Japan. Lacking a legal preservation framework, Japan is a dangerous place for Modern homes - but now Kinoshita's organisation offers a way to acquire, restore and rent out such buildings, safeguarding them for the future.
The moderator of the panel discussion was Chandler McCoy, who manages the Conserving Modern Architecture Initiative at the Getty Conservation Institute in Los Angeles. He is an advocate of a 'modest' restoration approach, and of new uses for redundant buildings.
For the complete photo gallery, including the house tours, follow this link. Watch the Alternatives to the House Museum Model lectures below, or go to all video lectures in the link.
Katherine Malone-France
Anne Mette Rahbæk
Peter McMahon
Toshiko Kinoshita
Panel Discussion
Click on the portraits below to read our interviews with the speakers
Expert Meeting 2 – The American Art of Fundraising
Around the world, nonprofit organizations must increasingly seek private donations to supplement the funding they receive from public authorities. In their efforts to broaden and diversify their sources of financing, they might draw inspiration from their colleagues in the United States. This expert meeting was designed to introduce our audience to the factors that help our American counterparts to achieve continued success in fundraising. It covered key topics such as strategic planning, prospect identification, membership giving, donor cultivation, capital campaigns, corporate partnerships, planned giving and trustee involvement.
Four USA Approaches
Amanda J. Nelson is a former Deputy Director of Development, Alvin Ailey American Dance Theater, and is currently Director MFA Arts Leadership Program, Virginia Tech. She brought to the table her skills in building donor relationships, explaining why a strategic approach is essential.
John Bacon, Deputy Chief Development Officer for Planned Giving at The Metropolitan Museum of Art, New York, talked about 'planned giving' - in other words, legacy gifts. This major source of long-term support also requires long-term planning, he explained.
Erik Z. Gensler, President of Capacity Interactive, New York, shared his expertise in fundraising using digital platforms. He had a wealth of tips on how to use content to tell your story, so engaging the right audience.
As Executive Director of the King Baudouin Foundation United States (KBFUS), in New York, Jean-Paul Warmoes helps non-profits from Europe and Africa to gain donations in America. He explained how a targeted approach in the USA can pay dividends.
Members of Iconic Houses can watch The American Art of Fundraising lectures in our expertise centre.
Click on the portraits below to read our interviews with the speakers
Stay tuned for regular updates about our next conference and Iconic Houses lecture series and sign up for our monthly newsletter.
Posted on 19 July 2018