SPECIAL – Iconic Artist Residencies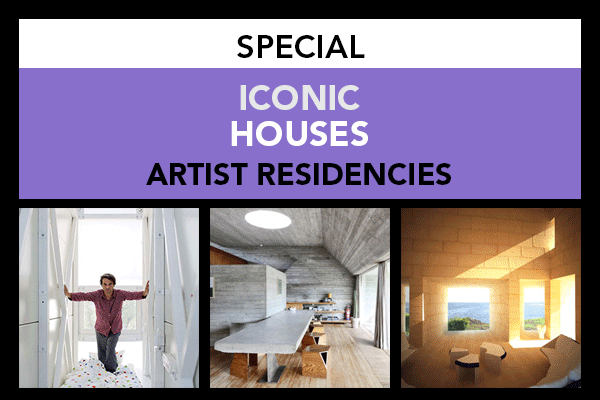 Welcome to our fifth thematic special – designed to help you make the most of our collection of modern house museums. This month, we present seven houses from our network that offer temporary residences to artists and other creative professionals. These are often houses that can be rented for holidays during other periods, and that can also be visited now and then (the number one criterion for Iconic Houses).
We kick off this month's theme by welcoming a new member: Keret House in Warsaw. An experimental house that is only an armspan wide, yet is quite possible to live in for a short period of time! When I visited the house in 2014, I was impressed by the house's ingenuity and sense of fun.
No two artist-in-residence programs are the same. Each has its own background and atmosphere. Working periods can vary from a few weeks to several months, sometimes even a year. Some specialize in a single discipline, others in several. Since we focus on their architecture, we've arranged the residencies here below chronologically, from the youngest to the oldest.
Note: Each institute has its own selection criteria. Participation is planned a long time in advance, usually six months, sometimes years ahead. To also allow visits, the artist in residence is sometimes asked to leave the house once a week or month, for a part of the day, or to allow a visit in his or her presence.
Share your tips with us!
We're always on the look-out for new and inspiring examples of modern house museums. So, if you know a unique and unmissable 20th-century house that isn't yet on our map, please tell us about it by mailing: info@iconichouses.org. Thanks for your suggestions!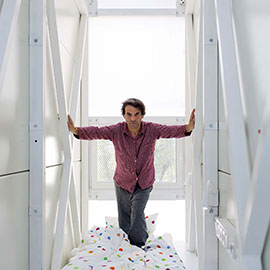 Keret House - Warsaw, Poland
The Keret House (2011), known as the narrowest house in the world, is located in central Warsaw. It is open to artists in various disciplines from all over the world and has been a place for artistic research, interaction, meetings and artistic projects since 2012. It aims to stimulate creativity by interacting with the local community, artists and cultural institutions. Visual artists, writers, musicians, architects and researchers of any nationality are invited to realize projects during a stay of three weeks. Further information on the residencies is here.
---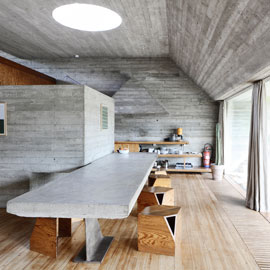 Van Wassenhove House - Sint-Martens-Latem, Belgium
In 2015, Museum Dhondt-Dhaenens began a residency program in Van Wassenhove House (1974). Since 2018, the nearby Wunderkammer Residence has also offered a residency. Both aim to establish a dialogue between the resident and the museum, its staff and entourage. The focus is on insights, thoughts, encounters or creations that intensify and challenge daily museum activities - and vice versa. Long-term stays aim to initiate a break in the accelerated pace of the art world. Further information is here.
---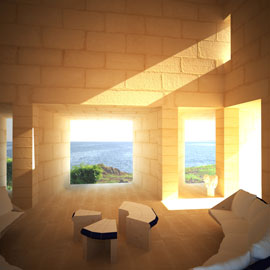 Can Lis - Porto Petro, Mallorca, Spain
The Utzon Foundation collaborates with the Danish Arts Foundation's Committee for Architecture to allocate grants for residences at Can Lis (1971). The resident's project's subject matter should relate to architectural expression, and residencies last between one and three months. The committee for architecture is acting manager of Can Lis for nine months of the year. In the other months the house can be rented for holidays. See here for further information on the residencies.
---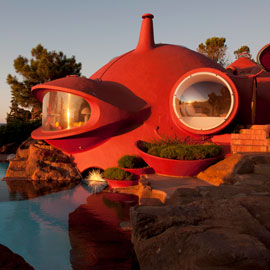 Maison Bernard - Théoule-sur-Mer, France
Every year, Maison Bernard (1970s) welcomes an artist in residence for a stay of up to six months. The selected artist must create an original work in relation to the architecture of the house and its natural environment. Artists receive a scholarship and are housed in the independent living quarters and adjacent workshop created in the 1970s by Antti Lovag for his own use. The accommodation overlooks the Mediterranean. Artists may also have access to additional space dedicated to the manufacture of their work. Follow this link for information on the residencies.
---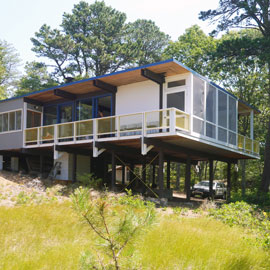 Cape Cod Modern House Trust - Wellfeet, USA
The trust was founded in 2007 as a grassroots organization with the mission of preventing the demolition of a group of significant modern houses owned by the National Park Service, and of renovating and repurposing these structures as loci for new creativity and scholarship. Over 60 residents have been hosted; architects, composers, film makers, researchers, academics and visual artists, to continue the tradition of living and working in the remote community which thrived there in the mid 20th century. Follow this link for information on the residencies.
---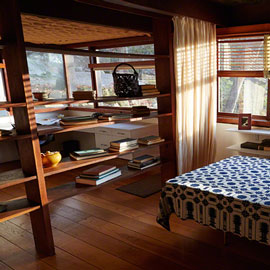 Manitoga - Garrison, USA
The artist residency program here was initiated in 2014 to foster creative responses to Manitoga (1961) that invoke Russel Wright's legacy of creative experimentation and celebration of place. Manitoga announces its sixth artist residency program with Close Your Physical Eye by acclaimed artist Michele Oka Doner, a site-specific installation of sculpture and large-scale monoprints (on view May 10 - November 11, 2019, and during special programs and events). See this link for information on the residencies.
---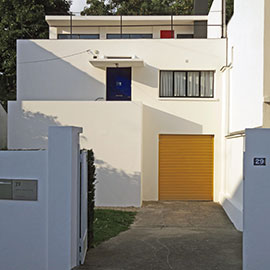 Van Doesburg Studio House - Meudon, France
This house (1930) near Paris by Dutch artist Theo van Doesburg, founder of De Stijl, was built as an artist's residence, and still retains this function. Residences are for those working professionally in one of the disciplines in which Theo and his wife Nelly were active – the visual arts, design, architecture, literature, performing arts or film. Residents should push the artistic boundaries, and explore, merge or experiment with different art forms within an international context. Find more information on open calls for a four-month residency here.
---
Posted 31 May 2019