Iveta Černá, Villa Tugendhat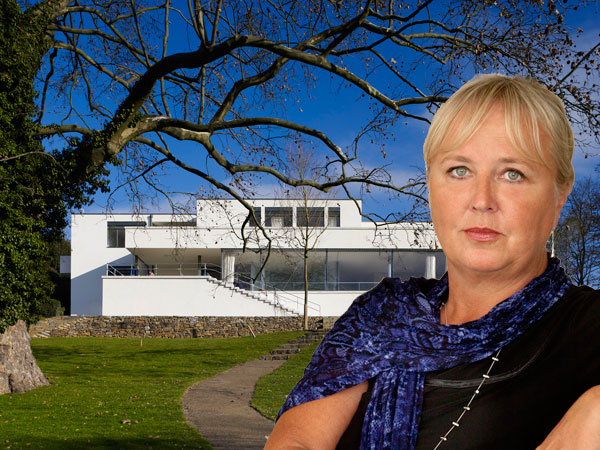 Iveta Černá is Director of Villa Tugendhat, which has been under the administration of the Museum of the City of Brno since 2002.
Villa Tugendhat is Europe's most important and most authentic building by Ludwig Mies van der Rohe. In 2001, the building was added to the Unesco World Heritage List. Černá is also member of the Organizing Committee of the Iconic Houses Network and speaker at the symposium at the Iconic Houses Europe Symposium at the Victoria & Albert Museum 12 November 2013.
Tell us a bit about yourself
I'm an architectural historian. I studied architecture at the Brno University of Technology and art history at Masaryk University in Brno. My interests include the preservation of 20th-century architecture, with a particular focus on technical questions. I am one of the founding members of Docomomo in the Czech Republic and a member of the International Specialist Committee on Technology of Docomomo International, Icomos, DEMHIST and Icom. I regularly publish articles and books and give lectures at international conferences. I've also taught at the Faculty of Architecture and the Faculty of Arts in Brno.
What makes an iconic house, as far as you're concerned?
I've been focusing on modern houses ever since my studies. My fascination is for space and its arrangement, together with innovative technologies. When an architect perfectly combines the interior and exterior parts of a house, which spill over into each other, as is the case with Villa Tugendhat, the result is a work of art as well as architecture. I like the unity of form and content - houses whose facades already indicate their internal disposition and function. Finally, I really appreciate 'smart' houses, those that are perfectly thought out from their cardinal points orientation to their door handles. Houses that perfectly complement and respect the environment in which they stand are a real treat.
What's your favourite house?
I should, and will, answer Villa Tugendhat, because that house is literally my second child. However, I have a number of favourites. I admire the human scale and organic materials of Nordic architecture, the experimental expressionism of Bauhaus architecture, and the subtle airiness of Brazilian structures. I like 'model colonies' demonstrating the work of important architects in one place, but also solitary homes that exude a meditative atmosphere. I am currently dazzled by mid-century architecture in the Americas, built mainly by European architects forced to emigrate during World War II.
What's your biggest challenge right now?
Last year's London exhibition and conference on Villa Tugendhat had the theme, 'many lives in Villa Tugendhat'. It reflected the fact that the original owners, Greta and Fritz Tugendhat, lived in the house for only eight years before they were forced to flee from Hitler. The war and then the post-war years, which saw the advent of the communist regime, brought with them many new functional uses, from a dance school to a rehabilitation centre for children to a government villa. The house was opened to the public only in 1994. Between 2010 and 2012 it was restored for the first time in its existence, using rigorous building and restoration procedures, and then reopened to the public. So the last three years have been crucial. It has not been an easy task to reconcile the authenticity of the house with a scientific building rehabilitation and the creation of attractive routes for visitors and a study and documentation centre. The fact that our efforts are highly appreciated by domestic and foreign experts is a hugely satisfying.
What's next?
The house serves as a monument of modern architecture, and it has a rich story. We want to prioritise the wishes of visitors who would like a glimpse of the time when the Tugendhat family lived here. They will see not only luxurious materials like the onyx wall, exotic veneers from Asia, retractable large windows and the iconic chairs Brno, Barcelona, Tugendhat or Stuttgart, but also the sophisticated air-conditioning system, the boiler room and a fur-coat safe. The house also offers concerts of classical music, screenings of historical films, lecture series with leading experts, workshops and conferences. The interest in all activities is extraordinary, exceeding our spatial possibilities.
'Solidarity' with other iconic buildings offers countless other possibilities. Not only the exchange of experience, but especially common projects that will emphasise the uniqueness of these solitaires in a map of architectural gems.
Which 21st century house is an Iconic House of the future?
Personally, I am attracted to architectural designs by Zaha Hadid, Santiago Calatrava, Alvaro Siza, Renzo Piano, Herzog and De Meuron as well as Jan Kaplický. They are icons even at the moment of their creation. Just like Villa Tugendhat...
House in Wales by Jan Kaplický of Future Systems (1996)
Read more about Villa Tugendhat in our Specials section.