MAMO: Le Corbu's 'Park in the Sky' open 12 June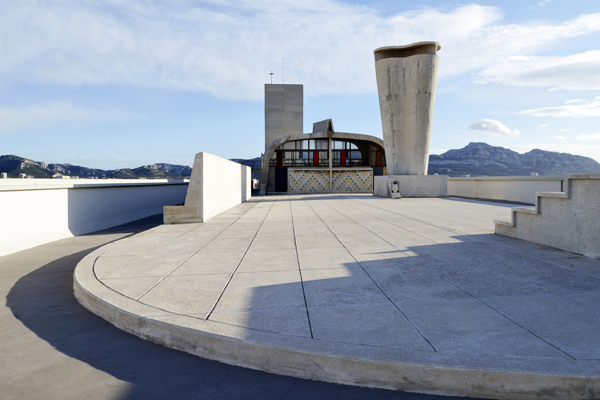 A new Art center lands on the roof of the Cité Radieuse in Marseilles
On June 12th, a remarkable initiative adds another compelling reason to (re)visit Le Corbusier's extraordinary Marseilles monument, the Cité Radieuse. MAMO – short for 'Marseille Modulor', a name inspired by the architect's scale of proportions and simultaneously a playful take on the famous acronym of New York's Museum of Modern Art, is the brainchild of local designer Ito Morabito, better known by his brand name of Ora-Ïto.

The project came about when Ora-Ïto discovered that the rooftop gym, 18 storeys up, was for sale. The roof terrace of the multifunctional apartment building, completed in 1953, had been conceived as a sort of park in the sky with glorious views, that would also function as a fitness centre for residents. But when the gym proved under-used, the residents' association sold it off – and the private buyer put it back on the market three years ago.
Removing a wart
Having grown up in Marseilles and with the Cité Radieuse, Ora- Ïto was keen to buy the gym, with the plan of restoring it to its former glory, an objective which luckily found favour with the building's co-owners. The renovation meant removing what Ora-Ïto calls 'a great big wart', an extension added in the 1950s which had been mistakenly listed with the rest of the structure when the building became a protected monument in the 1980s.
After negotiations, and with the help of the Fondation Le Corbusier, Ora-Ïto was able to remove the wart, and the terrace was returned to its original state with the aid of drawings supplied by the Fondation. The spacious sun deck is now complimented by a shower room studded with coloured tiles, and the complex once more boasts beautiful timber sliding doors designed by Le Corbu collaborator Charlotte Perriand.

MAMO's mission
The restoration work didn't come cheap, with the final bill reaching €7mn – jointly funded by Ora-Ïto and the building's co-owners. And although the rooftop is now true to the architect's vision, the gym will shortly be opened in its new incarnation as MAMO: an arts space, cafe and artists' residences, which will host a site-specific installation for four months over the summer every year.
This summer, French sculptor Xavier Veilhan kicks off the residence initiative with one of his Architectones installations – a series of works developed for specific architectural sites around the world. Veilhan is no stranger to iconic dwellings – after interventions at Richard Neutra's VDL House and Pierre Koenig's Case Study House No 21, Veilhan most recent project was completed at Lautner's Sheats-Goldstein House, famous for its appearance in Hollywood films including The Big Lebowski.
For more information, visit the MAMO site.