Annual Wright Architectural Housewalk: 18 May
Chicago 18 May 2013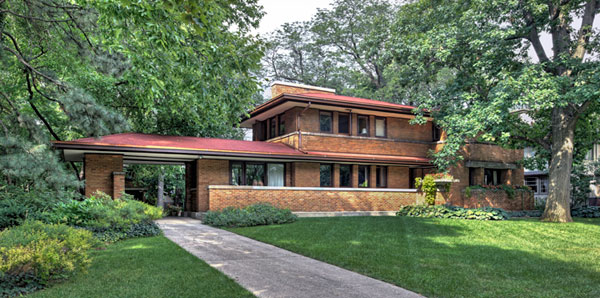 Adams House, Frank Lloyd Wright, 1913. Photo courtesy Frank Lloyd Wright Preservation Trust
The 39th Annual Wright Plus Architectural Housewalk, an all-day event with rare interior tours of nine private homes designed by Frank Lloyd Wright and his contemporaries, will feature homes that combine authentic restoration with modern livability.
The housewalk will take place 9 a.m. to 5 p.m. Saturday, May 18, 2013 in the historic district of Oak Park, Ill.
Three Frank Lloyd Wright houses will be on the housewalk. The Robert P. Parker House (1892), a Wright 'bootleg' house, was designed while he was employed by Louis Sullivan. The Louisa and Harry Goodrich House (1896) highlights Wright's emerging aesthetic. The Harry S. Adams House (1913) reflects Wright's mature Prairie style.
Five of the six additional houses on Wright Plus 2013 have never before been presented in the history of the housewalk:
T. S. Rattle House (George O. Garnsey, 1885) – a grand Victorian with an expansive addition and gardens.
Dr. Charles E. Cessna House (E. E. Roberts, 1905) – intact art glass and a magnificent oak staircase.
W. A. Rogers House (H. G. Fiddelke, 1906) – a spectacular Arts and Crafts residence.
Frank Keefer House (E. E. Roberts, 1906) – exceptional Prairie design enhanced with a dynamic two-story expansion.
Flori Blondeel House No. 2 (John S. Van Bergen, 1914) – recent restoration with original woodwork and expansive two-story atrium addition.
Also on the housewalk is an Oak Park favorite, the Frank Long House (Leon Stanhope, 1925), a cottage style home with a charming undulating roof.
At each house, docents will discuss its architecture, history and the lifestyles of the original occupants.
Also new to the 2013 housewalk, the patio and solarium at Cheney Mansion Oasis, at a house designed in 1913 by Charles E. White, Jr., will provide a place to rest.
Tickets are $100 each and $85 for members of the Frank Lloyd Wright Preservation Trust. Included is admission to two buildings on iconichouses.org, the Frank Lloyd Wright Home and Studio and the Frederick C. Robie House. Admission to Unity Temple is also included.
The Ultimate Plus Weekend Package, May 16-19, offers an extended weekend of one-of-a-kind architectural experiences, such as a gourmet dinner in a Frank Lloyd Wright-designed house, a private tour of Wright's Avery Coonley House and preferred admission to each site on the May 18 housewalk. The package also includes hotel accommodations and transportation.
Information and tickets to all Wright Plus events are available at gowright.org.