Meet Conference Co-Chair Iveta Černá
Iveta Černá - Head of Villa Tugendhat
Interview by Jane Szita
Conference Co-Chair Iveta Černá is Head of Villa Tugendhat and organizer of the Brno program.
What can people expect from the house visits in Brno?
Diversity! Indeed, one of the themes of this year's conference is Style Diversity, which is typical of inter-war architecture. Brno, as a crossroads of trends coming from Prague and Vienna, was an important centre of modernist architecture, and it experienced an intense construction boom just at the right time. Houses that were built at almost the same moment, under the same conditions, are different thanks to their architects and builders.
What would you like people to notice in Villa Tugendhat?
When Ludwig Mies van der Rohe arrived in Brno in September 1928, he was enchanted not only by the location of the plot for the villa but also the high quality of modern architecture here. So Villa Tugendhat is not alone in that regard. However, the principle of free-flowing space, radiating beyond the boundaries of the building, and its connection with the surroundings, are brought to perfection here.
You have presided over the restoration of Villa Tugendhat, a spectacular success story. What would your top tip be regarding renovation for other historic house owners?
Preparation. We had multi-professional, international discussions among sector experts and, above all, we set priorities. In the case of Villa Tugendhat, preserving authenticity was a top priority: the original building fabric, with preserved details, the original technological processes and the addition of exact replicas.
The restoration of the building took almost 40 companies only two years to complete – we are talking about a restoration, not reconstruction.
What can we learn from Villa Tugendhat today?
The high quality of the architecture and its timelessness. Villa Tugendhat has an almost futuristic feel; the house is still modern.
You have now bought another house – what's the story behind this?
The Brno City Museum, of which we are a part, has acquired a new building – the Arnold Villa, located in our immediate vicinity. After its renovation, educational programs or part of the Villa Tugendhat Study and Documentation Centre will be moved here, because the current space in the servants' wing of the house is insufficient.
How important is Iconic Houses and its work in your region?
Villa Tugendhat has been a member of Iconic Houses since its inception. We are honoured that the Czech Republic now has 12 house members. There are huge benefits in exchanging experiences in operations, maintenance and management. It's great to be part of a family of globally unique houses that we can present to the professional public through our conference.
Would you say interest in Czech modern architecture is growing, and if so why?
Modern architecture in Czechoslovakia was and is world-class. There's a wide typological range that reflects an exceptional role in world affairs between the wars, when the young republic was one of the ten most economically advanced countries in the world.
Can you nominate a contemporary Czech house as an icon of the future?
I was intrigued by a concrete villa in Prague Podolí, in Procházkova Street, designed by architect Josef Pleskot, which is a contemporary variation on inter-war functionalism. It looks like an indestructible concrete fortress, but it is timelessly beautiful.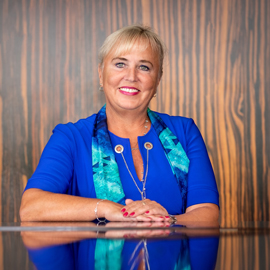 Iveta Černá. Head of Villa Tugendhat, architecture historian and theorist.
Since 2002, Iveta Černá has headed Villa Tugendhat where, during the restoration process, she founded and coordinated the expert committee THICOM – Tugendhat House International Committee. She has co-authored over 20 publications and regularly presents lectures at international conferences. She taught at the faculties of architecture and arts in Brno. She is one of the founding members of DOCOMOMO International and a member of the ISC/Technology Docomomo, ICOMOS and ICOM. Her interests include monument care for inter-war architecture with a particular focus on technical questions. She is also co-founder and member of International Advisory Board of the Iconic Houses Network, and has received the Jože Plečnik Award and the Brno City Award for architecture and urbanism.
LECTURE PROGRAM TICKETS AVAILABLE
in Iconic Houses WEBSHOP
Conference + Tour Program is Sold Out!
The daily schedule and all details on speakers can be found on the CONFERENCE WEBSITE.
Publication date 26 April