Anita Blom on Experimental Housing of the 1970s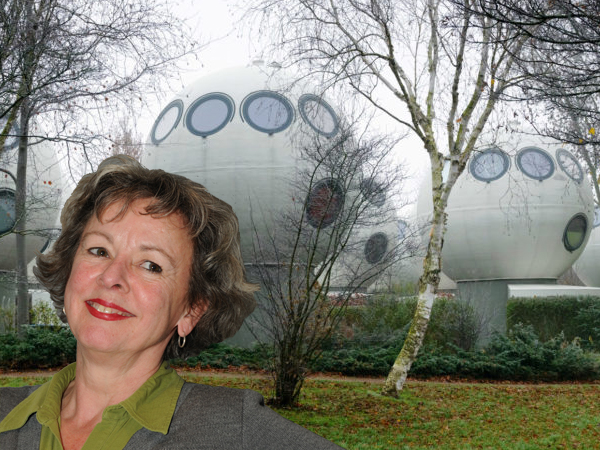 In the run-up to Pioneers of the Dutch Modern House, our Iconic Houses online event in September, we talk to leading authorities on architecture in the Netherlands about the Dutch reinvention of the house in the 20th century. Anita Blom is a specialist in Post-War Architecture and Urban Design at the RCE/Cultural Heritage Agency in the Netherlands. She currently heads the RCE's Post 65 project, which examines ways of dealing with recent heritage. At the Iconic Houses Online Event 2021, she talks about experimental housing of the 1970s.
Tell us about the RCE.
The RCE used to be seen as an organization that wanted to save old buildings. Now, it's seen more as an organization with a knowledge of the existing urban fabric. Behind that change is the concept of heritage as part of everyone's environment that needs to be analysed before new developments.
What is the aim of the Post 65 project?
To become an actual program – but ultimately the minister will decide that. We are asking, what is heritage after 1965? And what are we going to do with it? There are a lot of questions. The idea isn't just preservation, but to actively learn from the past.
Which criteria have you identified?
We are still researching which criteria we should use. Of course, we have architectural history criteria. But we're thinking, what criteria do we need when talking to non-specialists? It's a different way of thinking about cultural heritage, and that takes time.
For the unconvinced – why do 1970s buildings deserve to survive?
When I started out, post-war architecture was seen as ugly. Now it's the same with the 1970s. We have to educate people to see it another way. After all, in the 1970s, people started to focus on regenerating the inner city, on natural materials and environmentally friendly buildings – all ideas that are important to us now. After the Dutch housing shortage of the 1950s and 60s, finally architects were asking, what do people want?
What else can we learn from 1970s architecture?
In that decade, the idea of public space was important. So was the idea of nature. Both of these are important for the health of communities, and they are under pressure today.
Do you have a 1970s favourite?
I love the timber-frame housing that Abe Bonnema designed in Alkmaar (1979), which were very innovative at the time. Wooden homes deserve to be revived – they have a much lighter carbon footprint, of course, and they are quicker and easier to build.
What is the biggest threat to young heritage currently?
The withdrawal of state help, which we are seeing all over Europe. We have to live with that and think of new ways to preserve heritage. Communities need to do more – but how?
What are the biggest reasons for optimism?
Lots of young people now, especially architects, architectural historians and landscape architects, are really interested in this period. I lecture on post-1965 architecture at universities and I notice that their way of thinking is different from preceding generations. They are much more inclined to reuse. In the past, it was only about making something new.
What changes do you notice in heritage generally?
For me, it's about working with architects, urban designers, sociologists – a multidisciplinary approach, involving learning from other disciplines. I think that's part of a more holistic idea of heritage – one that also embraces green space and public space.
| | |
| --- | --- |
| Bolwoningen, Dries Kreijkamp, Den Bosch, Netherlands, 1984. Photo Francois Hendrickx. | |
Anita recommends watching this video on architect Dries Kreijkamp's Bolwoningen in 's Hertogenbosch.
| | |
| --- | --- |
| George Clarke visits the Bolwoningen in 's-Hertogenbosch, 16 February 2017. | |
Jane Szita
Curious about the Iconic Houses Online Modules?
Watch the recording of this module through our WEBSHOP.
Check out the full program of lectures and five-part series of thematic videos about the Pioneers of the Dutch Modern House HERE.
Updated 22 March 2021