BREAKING NEWS: 8 Wright Sites Inscribed on Unesco World Heritage List!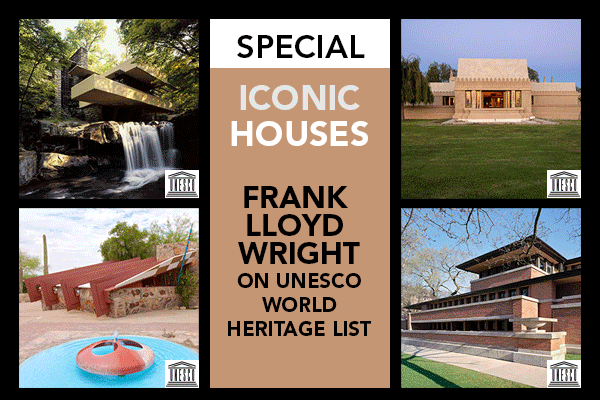 Our warmest congratulations to Unity Temple, Robie House, Taliesin, Hollyhock House, Fallingwater, Jacobs House I, Taliesin West and the Solomon R. Guggenheim Museum - the first works of Modern architecture in the United States to receive this prestigious Unesco designation.
"These sites are the best of the best, and who wouldn't want to be part of that club?" says Lynda Waggoner, former director of Fallingwater, who spearheaded the collaboration between Wright supporters and scholars to submit the buildings for review. "They hold what is called by Unesco 'outstanding universal value'—value that transcends national borders and is important to all of humanity." (Curbed interview July 7th).
Lynda Waggoner, who is a member of our International Advisory Board, led the team that, after nearly 20 years of work, helped to land Frank Lloyd Wright's architecture on the Unesco World List! Congratulations to her too, and also to the Frank Lloyd Wright Building Conservancy. The complete nomination document can be downloaded from SaveWright.org.
In our latest special, we feature all the Frank Lloyd Wright house museums which are Iconic Houses members.
Note: Plan your visits well in advance as house museums can have irregular visiting times.
Share your tips with us!
We're always on the look-out for new and inspiring examples of modern house museums. So, if you know a unique and unmissable 20th-century house that isn't yet on our map and open to the public, please tell us about it by mailing: info@iconichouses.org. Thanks for your suggestions!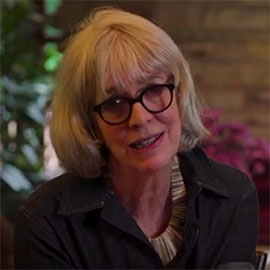 Congratulations to Fallingwater!
Fallingwater has been one of our partners from the start, when, in December 2009, Iconic Houses first reached out to 100 house museum directors to establish a global network. As a member of our International Advisory Board, Fallingwater's Director Emerita, Lynda S. Waggoner, has supported our mission over the past ten years. With Justin Gunther as her successor at Fallingwater, we will continue to work with both on strengthening the group of house museums connected by Iconic Houses, and celebrating inspiring architecture.
| | |
| --- | --- |
| FALLINGWATER, now a UNESCO World Heritage Site | |
---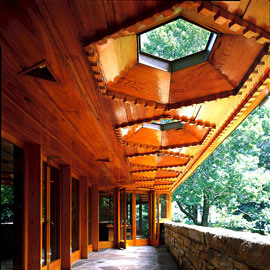 Kentuck Knob - Chalk Hill, Pennsylvania, USA, 1956
Designed on a hexagonal module, Kentuck Knob is often referred to as a Usonian House, although an unusually grand one. 'Usonian', meaning affordable for the average American, was a signature design of Frank Lloyd Wright. Dramatic yet serene, this house, situated just below the crest of the hill, appears almost part of the mountain. Commissioned by I.N. and Bernardine Hagan, owners of Hagan Ice Cream and friends of the Kaufmans of Fallingwater, the house opened for tours in 1996.
---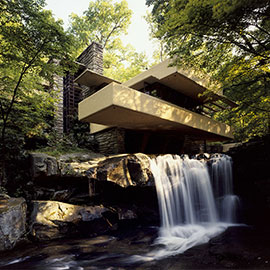 Fallingwater - Mill Run, Pennsylvania, USA, 1939
Fallingwater, one of Frank Lloyd Wright's most widely acclaimed works, was designed in 1935 for the family of Pittsburgh department-store owner Edgar J. Kaufmann. Construction of the house began in 1936. Fallingwater, built over a waterfall, exemplifies Wright's concept of organic architecture: the harmonious union of art and nature. It was the weekend home of the Kaufmann family until 1963, when the house, its contents and grounds were entrusted to the Western Pennsylvania Conservancy.
---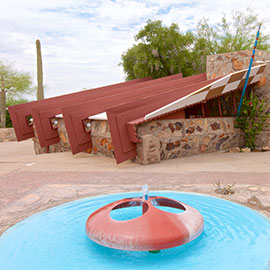 Taliesin West - Scottsdale, Arizona, USA, 1937
Taliesin West was Frank Lloyd Wright's Arizona home and architectural laboratory. Wright and his apprentices began building Taliesin West out of the stone and sand that surrounded them in the Sonoran Desert at the foothills of the McDowell Mountains in 1937. Taliesin West is home to the Frank Lloyd Wright Foundation and the School of Architecture at Taliesin. This National Historic Landmark offers tours year-round.
---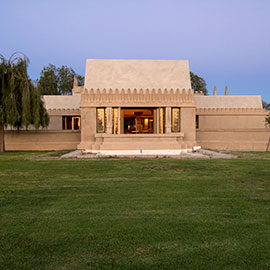 Hollyhock House - Los Angeles, California, USA, 1921
Wright's first residence in Los Angeles is an exotic architectural blend of pre-Columbian, Japanese, and California influences. Commissioned by oil heiress Aline Barnsdall, the monumental house dominates the crown of Olive Hill and also pays homage to her favorite flower, the hollyhock, through Wright's inventive use of abstract designs of the plant. Hollyhock House deeply influenced Wright's later work and the careers of Modernist architects Rudolph Schindler and his friend Richard Neutra.
---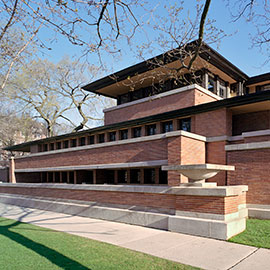 Frederick C. Robie House - Chicago, Illinois, USA, 1910
The Robie House is considered one of the most important buildings in the history of American architecture. It was created by F.L.Wright for his client Frederick C. Robie, a forward-thinking businessman. Designed in Wright's Oak Park studio in 1908 and completed in 1910, the building is a masterpiece of the Prairie style and a forerunner of Modernism. Tours of the site offer a first-hand experience of its amazingly contemporary spaces, now restored to their original appearance.
---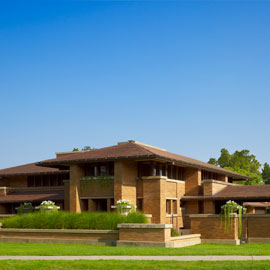 Darwin C. Martin House - Buffalo, New York, USA, 1905
Frank Lloyd Wright designed a unique residential complex for wealthy Buffalo businessman Darwin D. Martin and his family. The Darwin D. Martin House, today a National Historic Landmark, is considered one of Wright's finest achievements from his Prairie House period. The site comprises six interconnected buildings designed as a unified composition consisting of the main house, connecting pergola, conservatory and carriage house, as well as a smaller house and a gardener's cottage.
---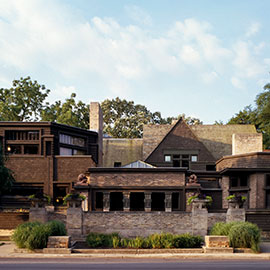 Frank Lloyd Wright Home and Studio - Chicago, Illinois, USA, 1898
The Frank Lloyd Wright Home and Studio served as Wright's private residence and workplace the first 20 years of his career. He used his home as an architectural laboratory, experimenting with concepts that contain the seeds of his architectural philosophy. Here he raised six children with his first wife, Catherine Tobin, developed a new American architecture, the Prairie style, and designed 125 structures. Experience the site as it appeared in 1909, the last year that Wright lived and worked here.
---
Posted 8 July 2019