Meet Conference Co-Chair Maria Szadkowska
Maria Szadkowska - Curator Villa Müller and Head of CPMA
Interview by Jane Szita
Conference Co-Chair Maria Szadkowska is chief curator of Villa Müller and Villa Rothmayer and heads the Centre for Monuments of Modern Architecture at Prague City Museum. She is the organizer of our Prague itinerary.
What story do the houses on the Prague tour tell?
Style diversity – which is one of our conference themes. Prague has the full range of modern styles, from Art Nouveau to Brutalism. It's a unique mix.
What aspects of Czech modernism are most distinctive?
Modern architecture in Czechoslovakia was an expression of the dynamism of the young state. In the 1930s, the construction of villas and houses became a field for experimentation: they represented a bold form of functionalism.
How did you get involved in this area?
After studying at Charles University in Prague, I was offered the chance to work on the restoration of Villa Müller. Those were the most beautiful years of my career, and I've seen my profession as a kind of mission ever since.
What's your favourite thing about Villa Müller?
It's a world-class example of the so-called classicizing modernism of the 20th century and the Raumplan of Adolf Loos.
What can Villa Müller still teach us today?
Loos felt he had an educational mission to teach people about domestic space and 'home' as more than just a place where you go to sleep. This idea has great potential for our own times.
How do visitors experience Villa Müller?
Visitors walk through the house with a guide who points out elements of interest, as Ms Müller once did. All the information is conveyed verbally. There are no displays, captions or headphones. We limit visitors to seven per tour, because exactly that many people lived in the house. This method allows people to experience not only the architecture, but also its atmosphere.
How do you see the future of iconic houses?
I think that in the current, difficult times we live in, it is essential to leave the professional bubble in which we have somewhat enclosed our beautiful iconic houses and involve them more in the life of our communities.
How do you do this?
Villa Müller attracts thousands of architecture and design students each year. The house presentation teaches them, and the interested public, the importance of making the maximum use of the space in which we live and work.
Another important group of visitors are the owners of historic homes from the 1920s and 1930s who want to preserve the authenticity of their homes while living in them normally and need advice and inspiration.
As a Co-Chair, what do you hope that this conference will achieve?
Conferences are forums for exchanging valuable experiences, making new contacts and setting up projects. I'm pleased that the Czech Republic has the chance to present its great monuments of modern architecture to global colleagues and experts. We can share our knowledge from the successful reconstruction of Villa Müller and Villa Tugendhat and compare the results with other buildings of the same type in the world. It's a great opportunity, and I am looking forward to it.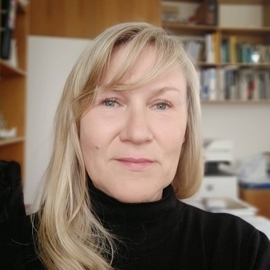 About Maria Szadkowska
Conference organizing partner Maria Szadkowska heads the Centre for Monuments of Modern Architecture at the Museum of the City of Prague. She is chief curator of Villa Müller and Villa Rothmayer. She has an MA in art history (Charles University in Prague) and co-authored the concept of the Adolf Loos Study and Documentation Centre and the functional operations of the villa in terms of public accessibility. She has organized numerous exhibitions and authored many publications about Villa Müller and the work of Adolf Loos. In 2014 – 2015, she cooperated on the restoration of Villa Rothmayer, devising the villa's permanent displays and its functional operations. Since 2016, she has headed the modern architectural heritage centre of the Prague City Museum. Since 2020, she has been a board member of ICOM's DEMHIST (International Committee for Historic House Museums).
LECTURE PROGRAM TICKETS AVAILABLE
in Iconic Houses WEBSHOP
Conference + Tour Program is Sold Out!
The daily schedule and all details on speakers can be found on the CONFERENCE WEBSITE.
Publication date 26 April