Jordi Falgàs, Casa Rafael Masó
Jordi Falgàs is director of the Fundació Rafael Masó in Girona (Spain), which operates Casa Masó. He is also museum planning advisor to Antoni Gaudí's Casa Vicens in Barcelona, which is scheduled to open to the public in 2016.
He received a BFA from the Universitat de Barcelona in 1989, an MA in art history from Michigan State University in 1995 and his PhD from the University of Wisconsin-Madison in 2011. Between 2004 and 2007, he was the Cleveland Fellow in Modern Art at the Cleveland Museum of Art, where he was one of the curators of Barcelona and Modernity: Picasso, Gaudí, Miró, Dalí.
Jordi Falgàs will moderate during the Iconic Houses Conference in Barcelona on 25 November.
Tell us about your relationship with significant houses
From 1996 to 2003 I worked at the Fundació Gala-Salvador Dalí, where I was involved in the opening of Gala Dalí Castle in Púbol and Salvador Dalí's house in Portlligat. While in the USA I had the opportunity to visit most of Frank Lloyd Wright's houses which are open to the public, and later on when I was writing my dissertation on Masó, I conducted research on several Charles Rennie Mackintosh houses and other Arts and Crafts homes throughout the UK. Houses are fascinating and unique places because they convey meaning in ways that museums can't.
Do you have a favourite house?
I can't single out just one, sorry! I have great memories of the sunset at Pierre Koenig's Stahl House in the Hollywood Hills, and also of Taliesin and Taliesin West. Then of course, there's the Robie House and Fallingwater too. I also enjoyed Mackintosh's Hill House and Baillie Scott's Blackwell, where they do an excellent job.
Of course, I've been at Casa Masó since the very early stages, long before the opening, and I'm extremely fond of it. Right now I'm also excited about the project to open Gaudí's Casa Vicens, the first house he ever designed and a fascinating building.
What's the biggest challenge facing your organisation right now?
Rafael Masó is not a very well-known architect and we need to work harder at finding ways to promote his legacy and his relevance to the development of modern architecture in Catalonia. In the near future, I would like to see his archive become fully accessible online. The same applies to Noucentisme, the movement he was involved in from 1906. He and his colleagues developed an architectural and decorative style that has not yet received the attention it deserves. So all our efforts at Casa Masó go into promoting Masó and Noucentisme at all levels.
What do you hope will emerge from the upcoming Iconic Houses conference in Barcelona?
It will be an excellent chance to meet colleagues old and new from other iconic houses in the incredible setting of La Pedrera. I am grateful to Iconic Houses for providing all of us with this opportunity and for choosing Barcelona. Of course, I hope lots of people will sign up for the trip to Girona to visit Casa Masó, as we are now only 38 minutes away from Barcelona by high-speed train. I also hope the conference will attract the attention of the media and so raise awareness about the importance of the preservation and educational work that we are carrying out at house museums today.
What 21st-century home deserves to be an Iconic House of the future?
Right here in Girona, I only have to cross the street from Casa Masó and there's Casa Collage (2006-09) by Ramon Bosch and Bet Capdeferro. It is one of the finest examples of dialogue and equilibrium between old and new architecture I've ever seen. They even reused old tiles designed by Masó. It is certainly a model to follow when it comes to sustainable architecture and how to approach an intervention in a medieval city such as the old centre of Girona. The numerous national and international awards it has received have already turned it into an icon.
Watch the video here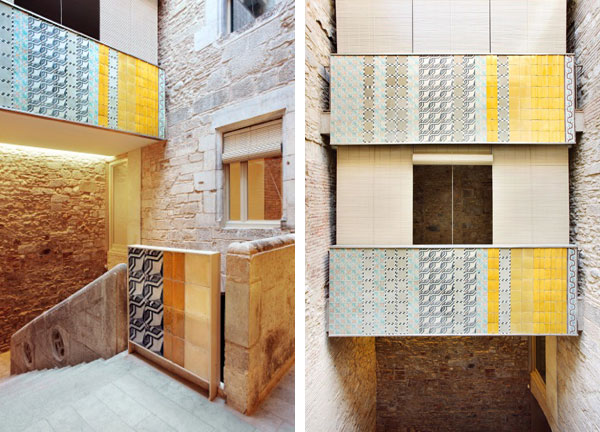 Casa Collage, Ramon Bosch and Bet Capdeferro, Girona, Spain 2006-2009. Photo José Hevia.