Iconic Houses End Year Message
From Natascha Drabbe

Once again, we're celebrating a successful end to the year – the 6th in Iconic Houses' existence. Highlights including welcoming a new house-museum member every month, the European tour of our 4th annual Iconic Houses lecture series by Tim Benton, and of course our 5th International Conference in New Canaan which sparked such interesting new initiatives: Icons at Risk and the Toolkit for Owners of Modern Homes. We look forward to telling you more about these exciting developments next year!

Click on the above photos to get to the photo albums that document the events.
New members in the US
A quick reminder of our 12 wonderful new members: our 6 new members in the USA include a rare design by Gropius and Breuer, the Alan I W Frank House, in Pittsburgh; the Home and Studio of the well-known pupil of Frank Lloyd Wright, Alden B. Dow; the MHA Site Office, a sympathetic citizens' initiative in Crestwood Hills, designed by A. Quincy Jones; the James Rose Center, the personal creation of landscape designer James Rose for himself and his mother and sister upstate New York; and Richard Neutra's Grace Miller House in Palm Springs (the guest house of which can be rented for holidays). Finally, one of the new houses is an artist's studio: Frelinghuysen Morris House & Studio. Meanwhile, with the Strutt House of James Strutt, we put our first museum home in Canada on the map.


New members in Europe
In Europe we were able to welcome our 9th and 10th house in the Czech Republic: Villa Stiassni, by Ernst Wiesner, in Brno and in Prague, Adolf Loos' Villa Winternitz in which you can even spend the night! The Ryabushinsky House, also known as Gorky House Museum by Fyodor Schechtel is our 2nd member in Moscow; Louis Herman De Koninck's own House strengthened our Brussels membership; and Haus Dellacher in Austria from Raimund Abraham, who built most of his oeuvre in the United States, came as a wonderful surprise.

Behind the scenes
Already, as a very young organization, we have been able to achieve so much. We play a 'matchmaker' role in bringing together houses and heritage organizations and secure their future (for example, the Jan de Jonghuis), and some of our members even find their way to specific and substantial grants because they are members of our network. Many exchanges have been made through exhibitions that are made together and travel between the museum houses (until 31 March 2019, for example, Museum Het Schip hosts the beautiful exhibition Gaudí and the Amsterdam School).
We all need Friends
Finally, we would like to wish you happy holidays and express our heartfelt thanks for your continued support. Your generous donations will allow us further our mission, keeping you informed and updated on this important subject of young residential heritage. Why not start planning your visits to our member houses? As a Friend of Iconic Houses, there are some very special events to look forward to next year. Thank you once again for making our work possible, and we hope we can count on your continuing support in 2019!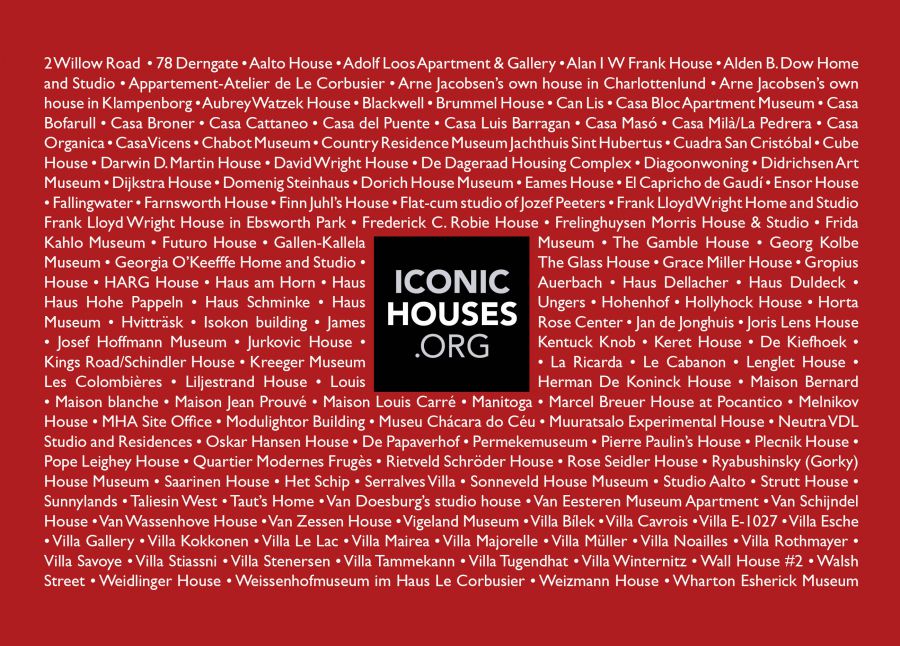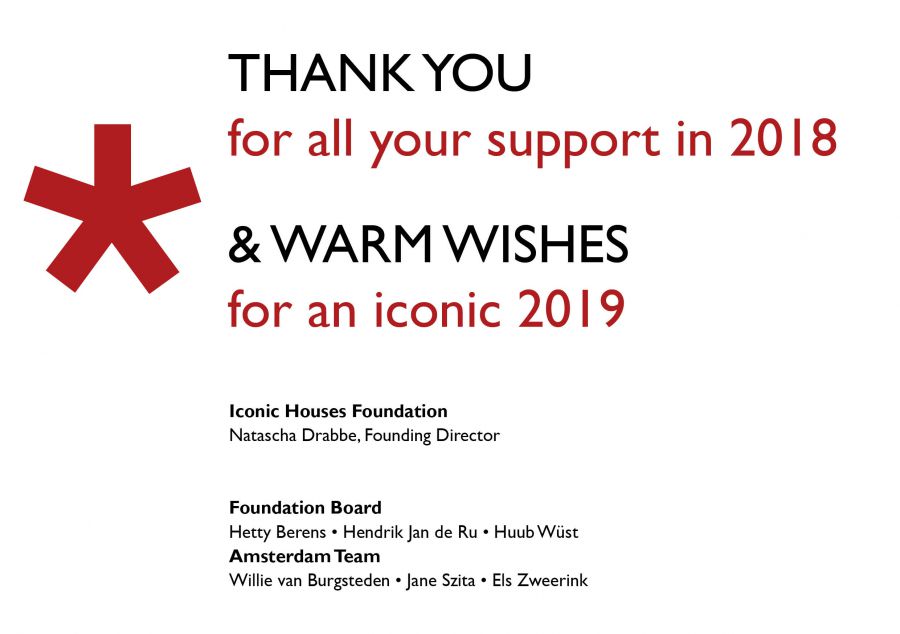 Posted 24 December 2018