Invisible Women - Interview with Alice T. Friedman
| | |
| --- | --- |
| Alice T. Friedman with the Farnsworth House in the background. | |
Alice T. Friedman is an art historian and the Grace Slack McNeil Professor of the History of American Art and Co-Director of the Architecture Program at Wellesley College. She is also a curator, art critic and author. Her books include Women and the Making of the Modern House and American Glamour and the Evolution of Modern Architecture. For the online conference Pioneers of the Dutch Modern House, she talks about women as architects and clients in the first half of the 20th century.
What ground will your lecture cover?
I will focus on three case studies of women in Modernism, looking at Marion Mahony's contribution to Frank Lloyd Wright's Susan Lawrence Dana House, Eleanor Raymond's house (or rather complex) for Natalie Hammond, and the Farnsworth House whose client was Edith Farnsworth. I will also relate Farnsworth to Tugendhat and Lily Reich.
All the women you mention have only relatively recently started to emerge from obscurity – why were they invisible for so long?
Although architecture is a collaborative process, the way in which people have analysed it has been based on the false notion of the superstar architect – a one-man show. That has to be unpacked, which is what is happening now, with credit finally being given to figures like Mahony, Perriand and Reich. It doesn't help that women often focused on interiors, which have been neglected by scholars, or given smaller, less significant projects through sexism, or interrupted their careers to raise children. But the neglect of women's roles is being reversed now, thanks to research and a greater understanding of the process and politics of architecture.
What else is shifting in how we see these Modernist houses?
The role of the client too is rightly receiving much more attention than it used to. In the 1990s, when I started researching the Farnsworth House, no one had ever asked about the client – most were amazed that the client was a woman, but in general Modern architectural history had been written by the architects. The clients were ignored. These days people – both men and women, researchers, curators, and house visitors – are more interested in how people lived in the houses, how they thought, and so on. In Edith Farnsworth's role as client, for example, you see an interesting meeting of Modernism and modesty – the architect was all about transparency and impersonality, but she wanted her privacy and her personal touches.
What are you working on now?
A book called Poker Faces. It's a series of case studies of Modern houses, mainly, that look fairly conventional but actually have very non-traditional programs. So, for example, houses for multiple individuals or queer households, rather than a conventional family.
Do you have a favourite Modern house?
I have so many! The Farnsworth House, for example, and Tugendhat, although I've never actually visited that one. But my current favourite is one that I very recently visited in Manchester, New Hampshire, which has just been renovated and opened to the public as part of the Currier Museum. The Kalil House, by Frank Lloyd Wright, is what he called a Usonian Automatic house, of which few were ever built. It's truly extraordinary and built entirely from concrete blocks.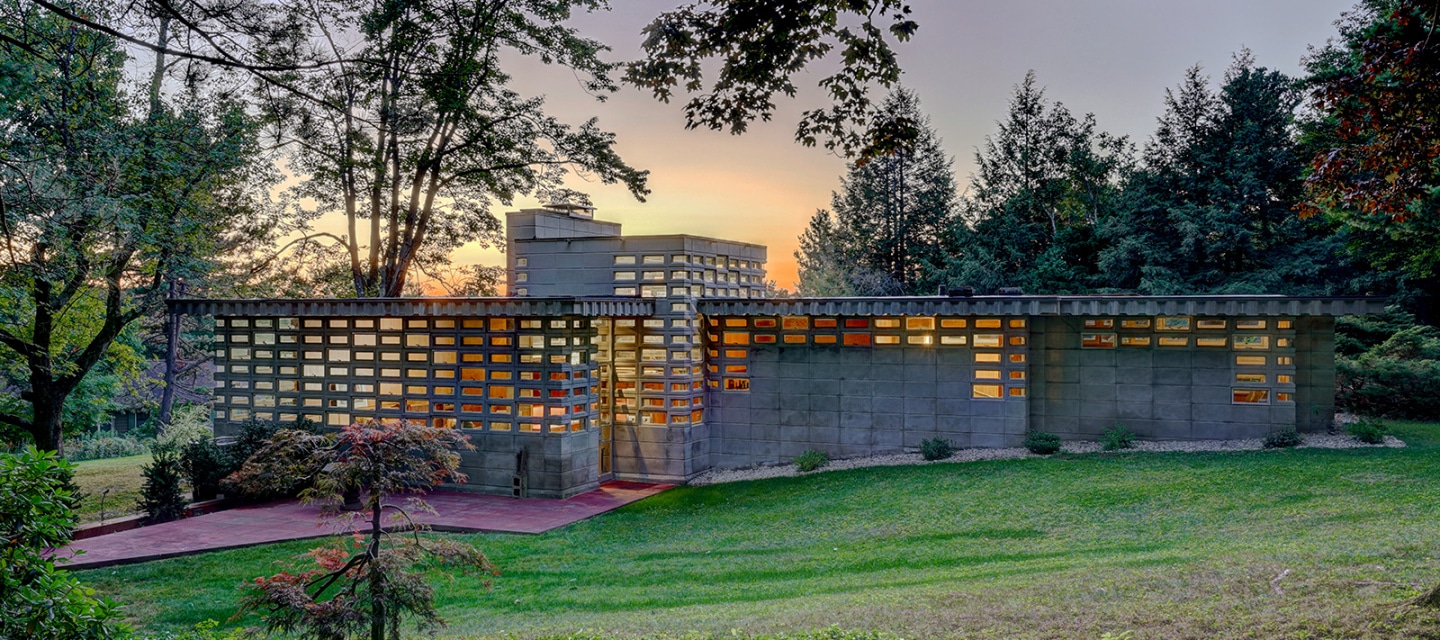 | | |
| --- | --- |
| Toufic H. Kalil House, Frank Lloyd Wright, Manchester, New Hampshire,USA, 1955. Currier Museum of Art, photo via franklloydwright.org. | |
How has the pandemic and lockdown influenced the way you feel about houses and home?
It's made me realize how lucky we are when we can physically explore interesting or great architecture in person. Also, I think we are all more aware now of how much flexibility we need for multi-tasking, and also privacy, and how important it is to have storage space, screens and so on so we can tuck away our personal items for Zoom calls.
Jane Szita
Curious about the Iconic Houses Online Modules?
Watch the recording of this module through our WEBSHOP.
Check out the full program of lectures and five-part series of thematic videos about the Pioneers of the Dutch Modern House HERE.
Posted 22 July 2021