Jocelyn Bouraly on Villa Cavrois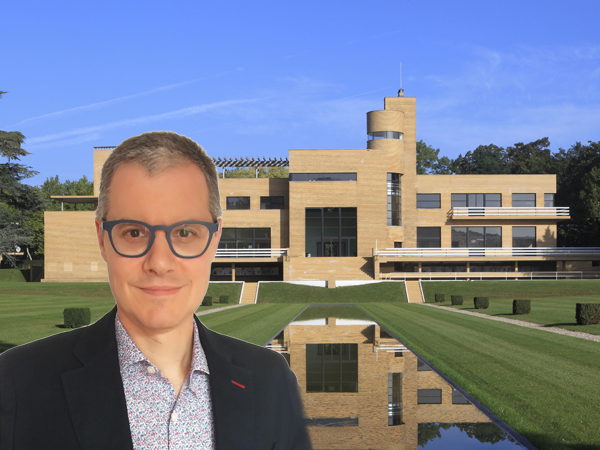 Jocelyn Bouraly managed Villa Cavrois (1929-32) for the past three years, the Robert Mallet-Stevens masterpiece in Croix which was saved from demolition to become a popular house museum with 150,000 visitors a year. It is also one of only three Modern houses owned by the Centre des monuments nationaux (CMN).
How did your involvement with Villa Cavrois begin?
I was in charge of the CMN (Centre des monuments nationaux) publishing house and we devoted a few books to Villa Cavrois. I was fascinated by its beauty and history. A few years later, I was lucky enough to get my present job.
It's an almost unique example of a Modern house in CMN ownership. What criteria decided the acquisition?
Villa Cavrois was taken over by the CMN in 2008. At that time, CMN had only one Modern house, namely Villa Savoye by Le Corbusier on the outskirts of Paris. These two remarkable houses, Cavrois and Savoye, by two master architects, were designed at the same time and were seen as two complementary assets.
The house was almost lost forever before being saved by a grassroots movement. What happened exactly?
In the early 1990s, Villa Cavrois was owned by a real-state company which wanted to tear it down to build apartment buildings. Admirers of the building founded a preservation association for the house and brought it to the government's attention. In 1990, the house was protected from demolition – but was abandoned by its owners to neglect and looting. Finally, the state purchased Villa Cavrois in 2001 and renovation followed. In 2009, CMN began the final restoration of the interiors and Villa Cavrois finally opened to the public in June 2015.
What can other icons at risk learn from Villa Cavrois's experience?
Perseverance and obstinacy are rewarded! Without the relentless commitment of a few believers, Villa Cavrois would never have been saved.
Is enough being done to preserve Modern houses in France?
The year 1999 was a turning point: the Ministry of Culture decided to mark the transition to the 21st century by highlighting the importance of our modern cultural heritage. The creation of a specific label - the 20th-Century Heritage label - was part of this strategy. The state purchase of Villa Cavrois in 2001 should be seen in this light, of course.
What's the picture like in France when it comes to newer heritage - post 1965?
Few post-1965 buildings have been awarded the 20th-Century Heritage label or even listed. This isn't enough and we need to take bolder initiatives.
Do you have a favourite post-1965 house?
Villa Delcourt (1968-9), designed by Richard Neutra a short time before his death. Only a few miles from Villa Cavrois, it looks like a Californian UFO that accidentally landed in Europe! It's a masterful composition of vertical and horizontal planes with an interesting use of water and mirrors to emphasize nearby nature in a suburban setting.
| | |
| --- | --- |
| Maison Delcourt, Richard Neutra, Croix, France 1969. Photo courtesy Barnes International Realty. | |
What developments have you noticed in recent years regarding Modern homes, and how are these impacting Villa Cavrois?
Modern homes and industrial heritage now get more attention from both general public and the authorities. Our strong visitor numbers at Villa Cavrois show an obvious interest in Modernism after a long period of neglect.
Jane Szita
Posted 15 January 2020