Tim Benton, Professor of Art History (Emeritus)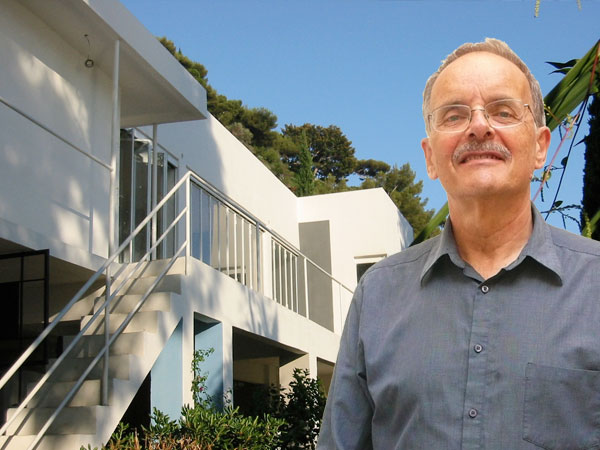 Tim Benton is Professor of Art History (Emeritus), Open University, England. At the Iconic Houses Conference in Barcelona 25 November, Tim Benton will talk about the house called E1027, designed in 1926 by Eileen Gray and Jean Badovici, at Roquebrune-Cap Martin, Southern France.
Tim Benton has published widely on the history of architecture and design in Europe between the wars. He has been particularly interested in modern domestic architecture since the publication of his book The Villas of Le Corbusier 1920-1930 (1984, revised 2007). He is a member of the Association for the preservation of E1027, Le Corbusier's cabanon and the Etoile de Mer restaurant, Roquebrune.
Tell us about your work with significant houses
I am fascinated with the difficulty some of the best modern architects have had in designing houses which are both aesthetically stunning and capable of being lived in. A close documentary analysis of the relationships of architects with their clients illuminates part of the story. But there are also other factors to consider, including the artist's studio as a model for modern living and the range of other pressures affecting the design of modern buildings, including the use of new and untried materials and building processes. The best houses are those which inspire their owners to live in a particular way and which at the same time accommodate human gestures and routines.
Do you have a favourite house?
I have never lost my passion for the Villa Savoye, despite its current presentation as an empty shell. The Villa La Roche-Jeanneret, on the other hand, fascinates in quite different ways, presenting two quite different modes of living in one shell. The Schröder House in Utrecht again never fails to surprise and challenge the visitor. And then there are the more receptive and welcoming houses, such as Aalto's Villa Mairea, Scharoun's Mohrmann house Berlin, Goldfinger's houses in London or indeed Le Corbusier's maisons Jaoul in Paris. I couldn't live in it and would prefer the Casa Vicens, but I adore the Palau Güell.
What's the biggest challenge E1027 faces right now?
The urgent and pressing challenge for E1027 is to prepare it for opening to the public, following its physical restoration. The challenge is all the greater because the house must be presented in a way that first with the statement made by Eileen Gray and Jean Badovici in 1929, in which they criticized conventional Modernist architecture as too impersonal. Therefore, Eileen Gray's inspired furniture and fittings have to be included in some way. Given the constraints of public access, this is no easy.
What do you hope will emerge from the upcoming Iconic Houses conference in Barcelona?
I am looking forward to meeting owners and visitors of modern houses and debating the interfaces between form and life-style, conservation and public access, modernity as a critical tradition and as lived reality.
What 21st-century home deserves to be an Iconic House of the future?
My first choice would be Sarah Wigglesworth Architects' Straw bale house and office, London (2001), awarded the RIBA Award and RIBA Sustainability prize. The house is both radical as architecture but also intensely thought through from a personal point of view. It also engages with sustainability issues which will be increasingly important for architects.