Eileen Gray House on Screen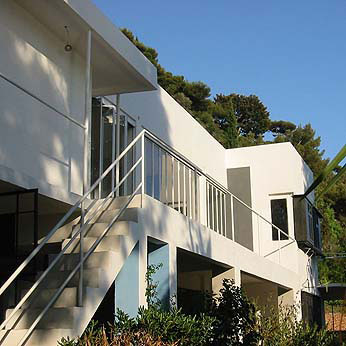 Invitation to a Voyage is a film offering insights into Eileen Gray's iconic E.1027 House in Roquebrune, Cap Martin, built in 1932 and very nearly demolished a few years ago. The film, at the Van Schijndel House Utrecht will be introduced by Gray expert Pierre-Antoine Gatier, head architect for historic monuments in France and project manager of the restoration of E.1027.
Screening 'Invitation to a Voyage'
Director: Jörg Bundschuh, Germany, 2006, 60 min. English subtitled.
At Van Schijndel House, Utrecht
Sunday 9 December 2012, 4:00 pm
The DVD 'Eileen Gray – Invitation to a voyage' can also be ordered, at Kickfilm (€ 19,90) or Amazon.
Read an article about Eileen Gray's E.1027 house here:
The Great Escape
Architect and designer Eileen Gray's E.1027 house barely escaped demolition but has now been magnificently restored. It will eventually open to the public. Renson van Tilborg tell's the house's story.
Thirty-five years after her death, Gray still ranks as a figurehead of the moderns. She liked men and women, cars, aircraft, ships, and travelling. As a designer, she revolutionised our conception of living at the start of the twentieth century. As an architect, she created one of the most famous private residences of the twentieth century. In 1938 Le Corbusier — kindred spirit, friend and devotee — was so fascinated by the house that he painted murals inside it without permission. "Whether that was out of jealousy or admiration remains a mystery," says Pierre-Antoine Gatier. "Gray wasn't pleased with them in any case." In his role as Head Architect of Historical Monuments in France, Gatier is patron and restoration manager of E.1027. "We're putting the finishing touches to the interior, including copies of the original furnishings. Our ambition is to complete the house to the standards of 1932 – just as Gray intended at the time. A complex exercise, considering the state it was in just a few years ago."
Study of modern life
Eileen Gray (1878) was born into an Irish aristocratic family. Around the turn of the century, after graduating as a painter, she travelled to Paris. There she discovered a dazzling cultural climate that suited her perfectly. The young Gray cut her hair short and wore men's suits. She made the acquaintance of Japanese craftsman Seizo Sougawara, who taught her about eastern lacquerwork techniques. She then designed her first pieces of furniture, inspired by art deco and modernism, which were emerging at the time. In 1924 Gray and Romanian architect Jean Badovici started to design her holiday home. For her it was a prototype, a study of modern living. And a successful one too, since E.1027 has become an icon of optimistic modernism. Gray's vision of modern living informed her designs for numerous pieces of furniture, some of which were taken into production. Oh yes, we almost forgot the name of the house: the E stands for Eileen, the 10 for the J in Jean (tenth letter of the alphabet), 2 for the B in Badovici, and 7 for Gray. Indeed: they were lovers.