'Inside Iconic Houses' Case Study House #26 Webcast in Webshop
Case Study House #26 was built in San Rafael (near San Francisco) in 1962, on a design by Beverley Thorne. Intended as the residence of Bethlehem Steel CEO Harrison Fuller, after his death, a TWA pilot/flight attendant couple lived in this home until it was sold in 2015. Commemorating the 60th anniversary of CSH#26, the next episode of 'Inside Iconic Houses' will be streaming on November 17, followed by a live Q&A session with the current Case Study House owners and residents Alfonso Cordon and Cord Struckmann. Tickets to the event can be purchased in our webshop.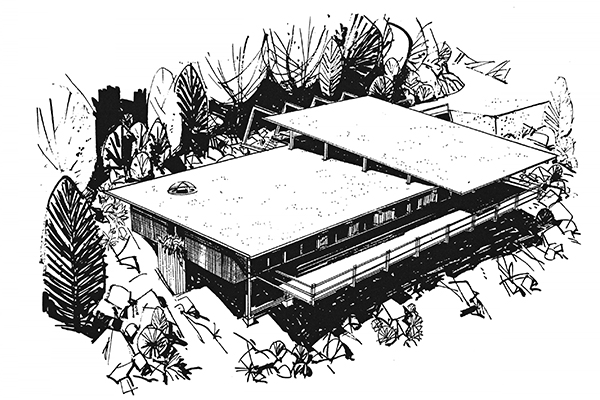 | | |
| --- | --- |
| Original elevation drawing Harrison Fuller House with proposed lower 1,400 sf level (photo courtesy of David Thorne). | |
The design is based on a simple concept: A shoebox comprised of 8 identical bays, steel-framed and covered with a flat roof. The social spaces are accentuated by a double height space, whose dramatic roof follows the slope of the lot. Using a steel structure allowed the ultimate indoor/outdoor living experience: All typical exterior walls are fully glazed; also allowing panoramic views over the nearby State Park and golf course. Landscape designer Garrett Eckbo (EDAW, now Aecom) designed the landscape. Recent renovation and preservation work was conducted by Cord Struckmann, AIA.
Both past and current owners have been taking great care to preserve the home for future generations.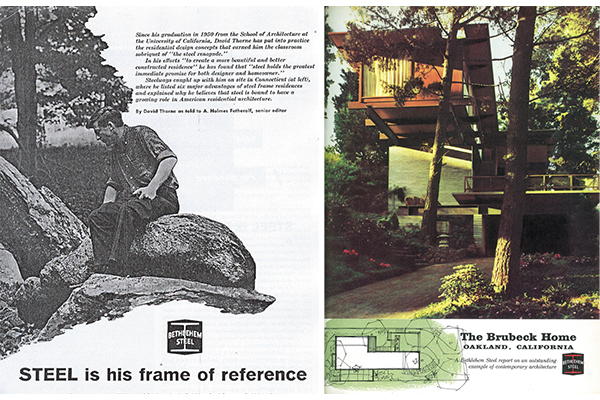 Architect Beverley (David) Thorne (1924 - 2017) liked the challenge to design houses for hillsides, typically shunned by regular developers. His preferred medium was steel. It allowed him large spans, boldly cantilevered structures, while reducing earthwork and number of foundations to the absolute minimum.
He himself helped welding the steel members for Case Study House, which is his only Case Study House project.

A graduate of UC Berkeley, David Thorne gained early fame for his spectacular 1954 Oakland home for jazz musician Dave Brubeck. Working later under his given name Beverley and out of the limelight of architecture circles, he completed more than 100 homes throughout California and Hawaii, where he spent his last years. He was the last living architect of the Case Study House program.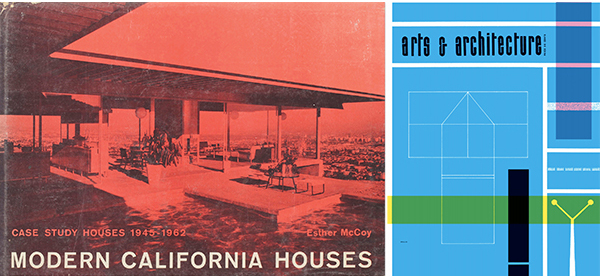 The Case Study House Program ran from 1944 to 1967 and was sponsored by the 'Arts and Architecture' magazine. The idea of editor John Entanza, with support from the Eames, Richard Neutra, and others, was to show the American public how families can live in modern times: with modern layouts, good connection to the outdoors, with modern amenities like cars, electric and appliances, and using industrial materials to allow for efficient, inexpensive construction.
Under the program, about 30 homes were designed; and about 20 were built; with almost all of them in the Los Angeles area. The 1949 Eames House (#8) and the 1960 Stahl House (#22) are the most well-known ones. After construction, each Case Study House was open to the public for tours. For the Case Study House 26's Open Houses in 1962, helicopters landed on the roof - aka helipad - ; one of the house's innovative features.
The program represented the optimistic, innovative character of post-war Californian architecture. Only few of the Case Study Houses - with #26 among them - are still in their original condition.
More info on www.casestudyhouse.com and Instagram at @casestudyhouse26.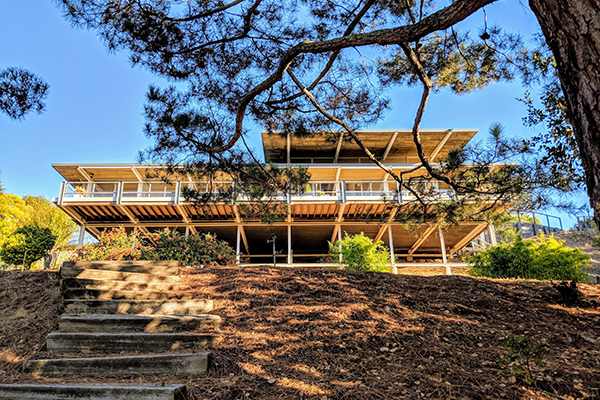 Publication date 10 November 2022