John Arbuckle on Great House Tours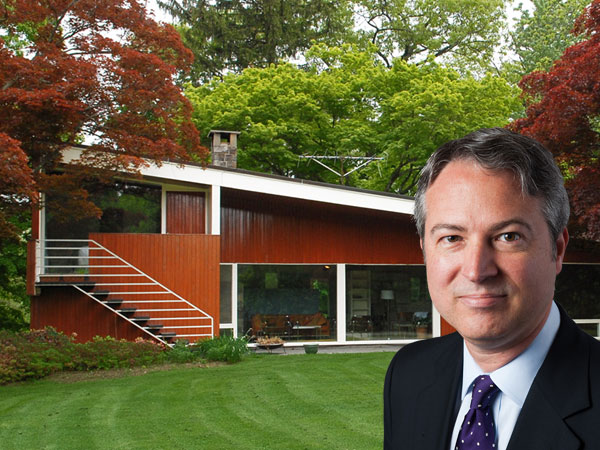 John Shreve Arbuckle is President of DOCOMOMO New York/Tri-State. Trained as an architect, he also guides tours through Arbuckle Architecture Tours, LLC and the American Institute of Architects New York Chapter (AIANY). John was a panel member at the Fifth International Conference in New Canaan. The panel discussion can be watched in the (below) link.
| | |
| --- | --- |
| Panel discussion The Harvard Five – The Advent of Modernism in New Canaan | |
How did you become interested in Modern houses?
I worked with the architect Herbert Beckhard, who was one of Marcel Breuer's design partners on many of his residential commissions. I worked very closely with Herb during the last five years of his life and was an associate in his firm, which at that time was the only active successor to the Breuer office.
How does your own work contribute to preservation?
Few houses are viable as house museums, so the survival of most depends upon finding sympathetic owners. I've been involved in the New York/Tri-State chapter of DOCOMOMO since 2004. We have been active in advocacy efforts related to specific important Modern houses such as Edward Durrell Stone's early Conger Goodyear house on Long Island, and we help spread the word when important houses are on the market. However, I think our greatest contribution has been helping to broaden awareness of Modern architecture through our communications program, talks and tours.
What do you like most about giving architecture tours?
I love helping people to understand and appreciate architecture. I began organizing architecture tours for DOCOMOMO and now guide private tours as well as tours for the AIA New York Chapter and the Municipal Art Society.
Any favorite tour locations?
Columbus, Indiana, has an extraordinary concentration of Modern architecture by architects including Eliel & Eero Saarinen, I.M. Pei, Kevin Roche, Harry Weese, Richard Meier and others. The jewel in the crown is the J. Irwin Miller House, a rare example by Eero Saarinen, with an exceptional landscape designed by Dan Kiley and interior decoration by Alexander Girard.
What makes a great tour?
Great architecture interpreted by well informed, engaging guides who understand their audience.
What mistakes should we avoid?
Too often tours are led by well meaning docents who are not as well informed as they should be. I've heard quite a bit of inaccurate information on tours of houses.
Also, I am not a fan of orientation videos. If you must subject visitors to them, please keep them short.
How can house museums ensure their popularity with visitors?
One of the biggest challenges for house museums is to keep people coming back. They need to be given a reason.
What is the biggest problem Modern houses face today?
In America the biggest problem is that still many people do not appreciate and understand Modern houses. A major issue is that ideas about what is an appropriate size for a house are different today. In order to have what they perceive as a sufficiently large house, homeowners often expand Modern houses with inappropriate additions, or worse demolish and replace them with larger residences.
John recommends watching The Pocantico Center: Historic Structures & Collections Virtual Tour as a warm up for the visit of the Marcel Breuer House.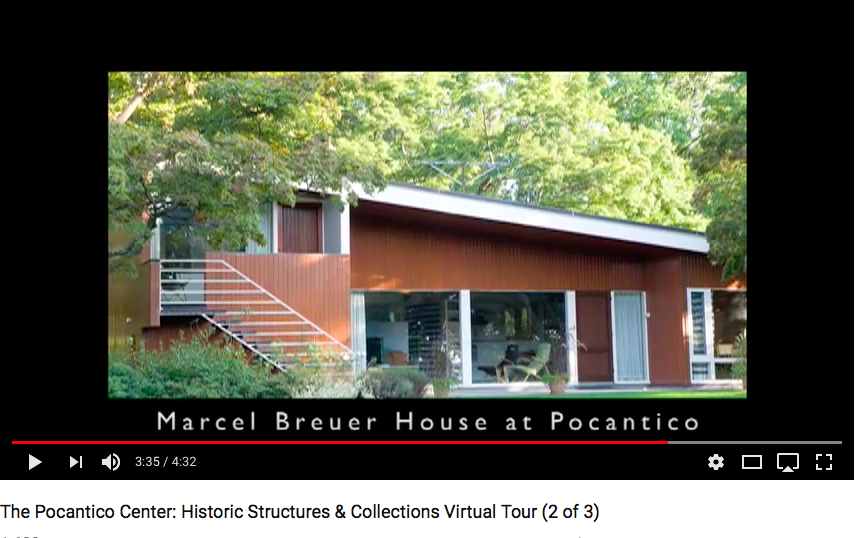 Jane Szita
Photo: John with the Marcel Breuer House in Pocantico (Tarrytown, NY, USA) in the background.
Publication date 19 March