Chandler McCoy on Making Modern Houses Sustainable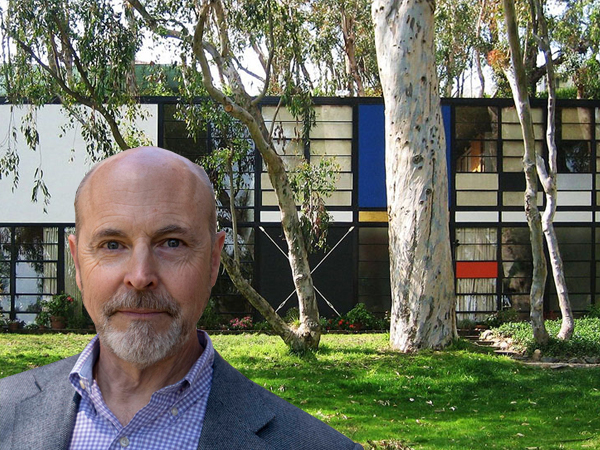 Chandler McCoy has worked in the field of architectural conservation for over 25 years. Four years ago, he joined the Getty Conservation Institute to manage the Conserving Modern Architecture Initiative.
First off, tell us about your forthcoming book on energy and conservation.
The book is called Energy and Climate Management: Case Studies in Conservation Practice, the second volume in our new Conserving Modern Heritage series. The purpose of this series is to provide useful information to building owners, architects, and conservators on specific topics that pertain to the conservation of buildings from the modern era. The case studies in this book show examples where improving energy efficiency and thermal comfort are successfully balanced with conserving the heritage values of the place. A lot of damage can be done to a historic property in the name of energy retrofitting if it doesn't start with careful thinking about the architectural form, the materials and other qualities of the architecture. Doing this work requires a willingness to balance two important factors.
For the unconverted, why is it important to make Modern houses sustainable? And what are the biggest obstacles in making Modern houses more energy efficient?
It's important to make all houses as sustainable and energy efficient as they can be whether they are Modern, traditional or vernacular buildings. We live in an age of climate change and depletion of natural resources. We also understand that using our existing buildings in a sustainable manner means keeping them in use rather than demolishing them. In some ways, energy use can be the Achilles heel of buildings from the Modern era. The architects from this time tried to incorporate as much glass as possible in their buildings to bring in natural daylight and tried to dematerialize exterior walls by making them as thin as possible. They opened their houses to the outdoors directly with floor to ceiling glazing and sliding glass doors. All of these aspects of a modern house are very challenging to retrofit. In many cases, the very thing that gives the house its beauty and its architectural character is seen by many as a big energy waster, because these features do not provide sufficient thermal buffer between the indoor environment and outdoor climate.
How did you get into this field, and why?
I loved being in architecture school and learning design but also loved architectural history, especially learning about the modern era. After working for a while, I found that I preferred working on existing buildings, especially ones with an important history. I discovered the organization Docomomo in the early 90's and it immediately clicked with me, because it combined many of my interests, so I was drawn into the world of conserving works from the Modern era. Four years ago I started working at the Getty Conservation Institute, managing their Conserving Modern Architecture Initiative. This job allows me to pursue one of my main interests in many areas of the world.
What does the Conserving Modern Architecture initiative do?
The GCI launched the Conserving Modern Architecture Initiative (CMAI) in 2012 in order to advance the practice of conserving 20th-century built heritage. It identifies and addresses conservation challenges particular to modern architecture in several ways. It does research on Modern materials, with our current research focused on the repair of modern concrete. It produces and disseminates technical materials that will help architects and conservators solve difficult modern conservation problems. Our case study book series is an example of this. Also, the CMAI does education and training. We have a short introductory course on conserving modern architecture that we have offered in Los Angeles for two years, with a third course planned for July 2020. Finally, we work with partners like the Eames Foundation doing field projects on actual buildings that allow us to model best practices. We have just completed a Conservation Management Plan for the Eames House that is now available online, which we hope will inspire others to undertake conservation planning.
What initiatives would you like to see in order to advance energy efficiency and sustainability in Modern homes?
I live in California and really appreciate the fact that it created the California State Historical Building Code (CHBC). It is an incredibly valuable tool for the preservation of historic buildings. It recognizes the unique construction issues inherent in maintaining and adaptively reusing historic buildings and provides alternative building regulations for permitting repairs, alterations and additions. I would like to see similar thinking applied to energy standards, to create something such as 'historic building energy codes' developed by national and local authorities. This would emphasize improved overall building performance instead of focusing on setting requirements for the performance of individual building parts like glass, insulation, lighting, and so on.
Is updating Modern houses to 21st-century standards ever a realistic goal?
I think the objective should be to make 20th-century houses perform to the best of their ability rather than imposing 21st-century standards onto them. When working on energy improvements for houses from the modern movement, you have to start by assessing the building's overall energy consumption and look at ways to improve it holistically. Perhaps the windows are single-glazed and are absolutely essential to the building's historic identity. If that is the case, we leave the single glazing and focus on other areas where improvements can be made. This is a process that requires understanding the building and being very creative in finding solutions. Merely complying with building standards is not a creative process and it does not take into account issues like significance or architectural character.
How does improving energy efficiency pay off for such houses?
It means they consume less energy, so they cost less to operate and also are more comfortable to occupy.
Can such measures coexist with a more classical ideas of conservation? Yes, it can be done but it is a complicated balance to achieve. It requires commitment and creativity.
What other issues are you looking forward to discussing at the conference?
It's very important for me to attend these conferences and find out what matters to the owners of modern houses, whether it is technical and operational issues, visitor management, or challenges related to heritage protection.
Do you have a favourite young heritage house (1965 or younger), and why?
Because of my recent involvement with IHN's Icons at Risk effort, I have become aware of the Casa Sperimentale built during the 1960s and 70s as a seaside villa outside Rome by the architect Guiseppe Perugini for himself and his family. It is in now unoccupied, is very dire condition and is covered in graffiti, but it is nevertheless a marvel of modernist architecture. Designed as a concrete 'treehouse', it is as experimental as its name implies, using reinforced concrete to its maximum potential for sculptural expression.
In your opinion, what is the most urgent issue that iconic houses currently face?
Finding owners who will care for them in the appropriate way. This is a challenge and not for the faint of heart, requiring an understanding of what makes them significant.
Conversely, what do you think are the most hopeful circumstance for heritage homes currently?
In the short history of conserving modern heritage, we are now at a point where there is general agreement that works from the 20th century are important and do qualify as heritage. Twenty years ago, that was not true at all. Although taking care of heritage homes is not an easy task, there are now networks like Iconic Houses that help raise awareness of this issue and provide support.
Jane Szita
Posted 11 December 2019