news
SPECIAL – Hello Germany!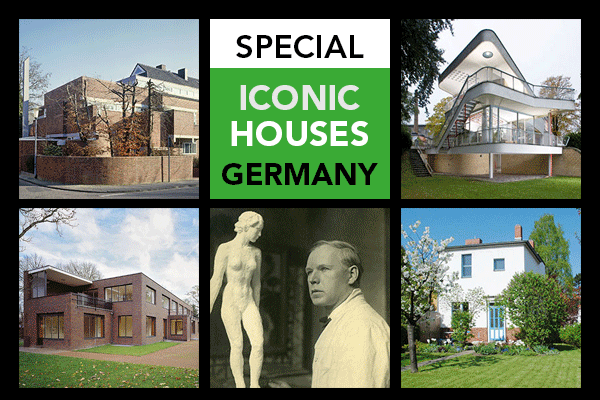 Welcome to the first in our new series of country specials – designed to help you make the most of a week(end) away. We start the ball rolling in Germany, where we welcome two new members: Haus Lange and Haus Esters in Krefeld, a pair of well-preserved masterpieces by Ludwig Mies van der Rohe.
We've arranged the houses chronologically, from youngest to oldest. It's striking to see Belgian architect Henry van de Velde so active in Germany at the start of the century, with three houses to his name. All the usual Iconic Houses categories are represented: Taut's Home in Hufeisensiedlung is a Unesco World Heritage monument where you can spend the night. Germany's hidden gem is Haus Schminke in Löbau, where you can also stay. Haus Auerbach in Jena is a private house that's open for visits, while in Berlin Georg Kolbe's house is a great example of the artist's home and studio.
Note: Plan your visits well in advance as house museums and especially private houses can have irregular visiting times.
Share your tips with us!
We're always looking out for new and inspiring examples of modern house museums. So, if you know a unique and unmissable 20th-century house in Germany that isn't yet on our map, please tell us about it by mailing: info@iconichouses.org.
Thanks for your suggestions!
Haus Ungers, Cologne (1950, 1989)
House Ungers, was built by O.M. Ungers for his family with a studio for his architectural office and two rental apartments. The house gives testimony to Ungers' architecture of the 60's, giving him his first international acclaim. In 1989, a monolithic cube of basalt lava was built into the garden to house the extensive library of rare architectural books. This building complex has has grown through decades into a unique ensemble.
---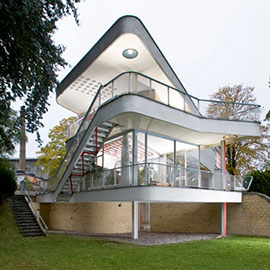 Haus Schminke, Löbau (1933)
Architecture should be an experience. This is why Hans Scharoun's Haus Schminke offers to spend a night, exclusively, in the Schminke House. And of course you can use all the built-in furniture, including the Frankfurt kitchen, which in large part remains in its original form. There is a total of seven beds. On request extra beds can accommodate up to twelve guests.
---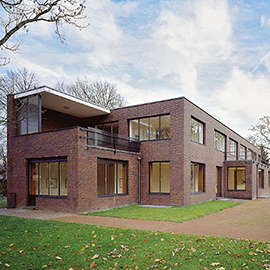 Haus Lange Haus Esters, Krefeld (1930)
Ludwig Mies van der Rohe  was commissioned in 1927 by Hermann Lange and Josef Esters to design the villa ensemble known as Haus Lange Haus Esters. They were to be home not only for the families of the clients but also, in the case of Hermann Lange, for his comprehensive collection of contemporary art. The design assignment included the concept for all utility areas kitchen, darkroom, bathrooms, as well as, in the case of Haus Esters, the layout of the garden.
---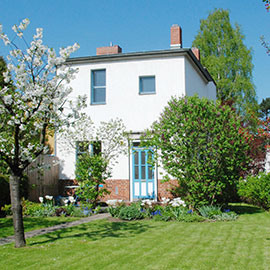 Taut's Home, Berlin (1930)
Travel back in time to Berlin's stylish 1930s accommodation at the UNESCO-World heritage site at the Horseshoe Estate. Suitable for up to four guests, Taut's Home is a cultural treasure with the character of a museum and a real-life experience of design history. This is probably the closest you can get to the spirit of emergent Modernism and the Golden Twenties in Berlin.
---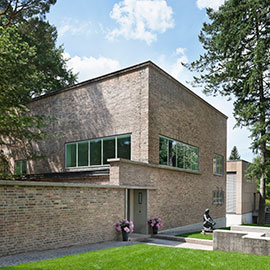 Georg Kolbe Museum, Berlin (1929)
Georg Kolbe was the most successful German sculptor in the first half of the 20th century. The studio house ensemble that Kolbe had built for himself at the height of his success in 1928/29 represents a significant example of Berlin architecture of the 1920s. The brick structures with ceiling-high windows are a clear affirmation of architectural modernism. Kolbe had artistic collaborations with architects like Mies van der Rohe, Gropius, Taut, Poelzig, Van de Velde and Mendelsohn.
---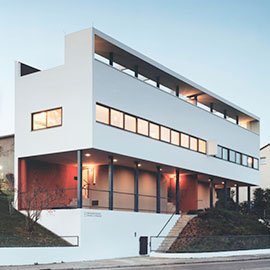 Weissenhofmuseum im Haus Le Corbusier, Stuttgart (1927)
The semi-detached house of Le Corbusier was built as part of the Weissenhofsiedlung, a building exhibition in Stuttgart. Under the direction of Mies van der Rohe, seventeen international architects belonging to the Avant-Garde presented new solutions for living, among them Gropius, Oud and Scharoun. It was a milestone of modern architecture. One half of the house shows the history of the estate with all its changes. The other half presents the restored floor plan, colouring and equipment as it was in 1927.
---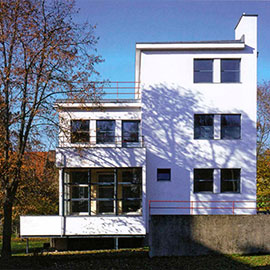 Haus Auerbach, Jena (1924)
The residence was designed for the Jewish couple Felix and Anna Auerbach. Built in 1924, Haus Auerbach is one of the few private homes that Walter Gropius ever constructed. For the first time Gropius realized his famous 'Baukastenprinzip'. It is one of the most important examples of the interbellum era of 'Neues Bauen' in Europe and the only Gropius building with the original colored interior, based on the ideas of Alfred Arndt, a member of the Bauhaus. The house was restored in 1994/95 by the present owners.
---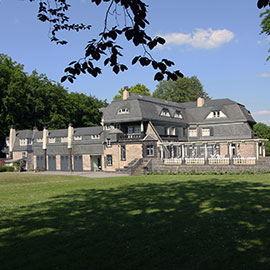 Hohenhof, Hagen (1908)
In 1906, Karl Ernst Osthaus (1874-1921) commissioned Henry van de Velde (1863–1957) to design his family home in Hagen as a 'Gesamtkunstwerk'. Traditional constructing material characterize the house; blue-black stone blends with black basalt lava and bluish slate, combined with white and greenish blue for the doors and windows. Van de Velde created the interior design as a unified whole. In addition to the original interior design, furniture and craftwork by Henry van de Velde is on display.
   
---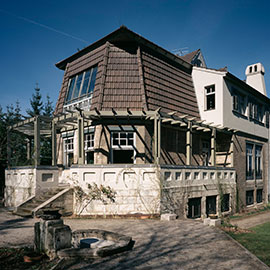 Haus Hohe Pappeln, Weimar (1907)
The Haus Hohe Pappeln was the home of the Belgian architect and designer Henry van de Velde who came to Weimar in 1902 as the artistic advisor for the Thuringian arts and crafts trade. He lived there with his family until 1917. In addition to the house itself he designed all the furniture, fixtures and the garden. The tour of Haus Hohe Pappeln takes you through the garden and the family's living quarters on the bel étage with its salon, dining room, study and living hall.
   
---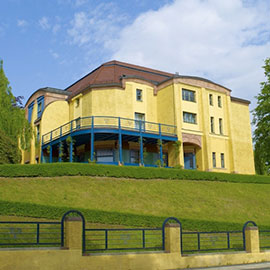 Villa Esche, Chemnitz (1903)
Villa Esche in Chemnitz was designed by Belgian designer Henry van de Velde for the family of Herbert Esche, a successful stocking manufacturer. The Esche family lived here until 1945. After that, the house had a number of reincarnations including as a military command post, a residential building and the headquarters for the local Chamber of Craftsmen. From 1998 to 2001, the mansion was treated to a meticulous and extensive renovation based on its historical design and has been popular as home to a museum dedicated to van de Velde.
   
---
Posted 25 April 2019