Philippe Bélaval, Centre des monuments nationaux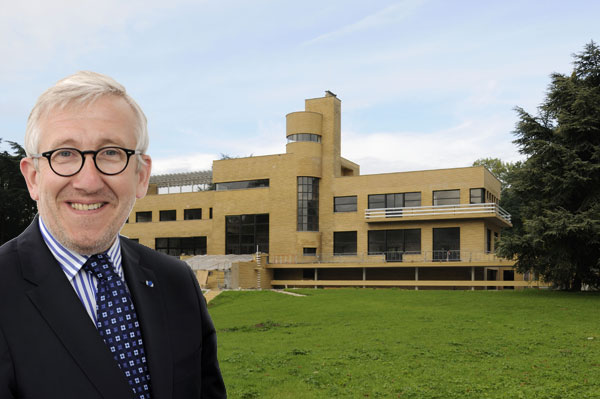 Philippe Bélaval is President of Centre des monuments nationaux in France, which runs both Villa Savoye and Villa Cavrois. Villa Cavrois, designed by Robert Mallet-Stevens will open to public in fall 2013.
We ask him our five questions.
Background; who are you?
I took law and political science degrees, and then entered civil service. But I have always been interested in cultural matters and got the opportunity of becoming CEO of Paris opera house, then of the french national library and I was finally appointed as national archivist and keeper of records. Lately, I headed the division of the French ministry of culture which is in charge of architecture, archaeology, historic buildings, museums and, again, archives. Since July 2012, I am chairing CMN, a French national agency which manages a hundredth of monuments scattered all over the country, among which such landmarks as the Arc de Triomphe in Paris or the Mont-Saint-Michel Abbey. Altogether, all those monuments welcome more than 9 million visitors a year.
What is your relation to significant houses?
A totally passionate one! More than any other heritage item, they reveal a fascinating relationship between a tasteful patron and inspired architects and artists. Most of times, they stay deeply impregnated by those who have been living or working there, and thus they evoke better the past times than the public buildings for instance. Their authenticity is that of life itself!
What is your most favourite house
So hard to say, they are so many! Of course, I am quite fond of Villa Cavrois, by Mallet-Stevens, which I find a perfect combination of monumental grandeur and of a deep sense of intimacy and family life. And of Villa Savoye, for Le Corbusier's straightforward approach oh the contemporary way of life. These two are true jewels, we at CMN are quite proud of being in charge of them. But I also like Villa Louis Carré, near Paris, by Aalto, and, in quite a different style, many XIX th century houses. When I stay in London, I never fail to visit Sir John Soane's house: a total hit, according to me.
What is the biggest challenge for you/your organisation at this moment
Above all, how to formulate properly, in clearly understandable terms, the message that monuments coming from the past can deliver to men and women of today, especially to the younger ones and also to those who, for such reasons as lack of education, poverty or social exclusion, may believe that heritage has nothing to do with them. If we fail achieving that, the transmission of heritage to further generations could be compromised, in times of deep changes in society. But I must add that finding new resources in order to compensate the diminishing of public money is quite a big challenge too …
What can we soon expect?
Innovation! The only way to satisfy the everchanging expectations of the public while money is so hard to get is to review all our processes; to get sounder results without spending more. I trust that the present situation is going to lead us to have a different approach of the role of monuments in the planetary society: we have to prepare for that, because it is not at all obvious. I am sure that the web, the social networks, the digital techniques and products will be a great help for us.
Photocredit: Jean-Luc Paillé © CMN, Paris.