news
Rietveld-Schröder House Celebrates De Stijl Anniversary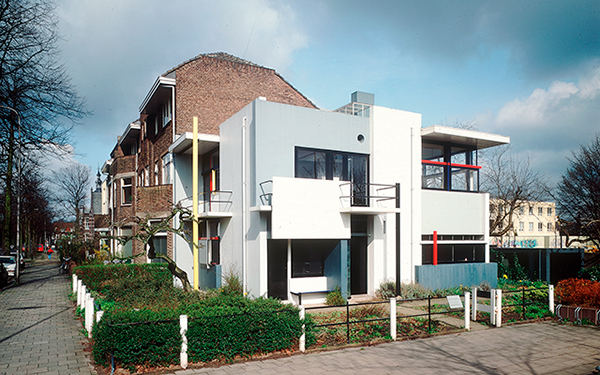 Iconic Houses member the Rietveld-Schröder House, located in Utrecht, the Netherlands, was a revolutionary architectural statement when it was unveiled in 1924. Its dramatic planar composition and flexible living spaces were unique and unprecedented. So what inspired its architect Gerrit Rietveld? One major impetus behind his work – particular the bold use of primary colours and geometric forms – was the De Stijl movement, which celebrates its 100th anniversary this year.
De Stijl, launched in 1917 by Theo van Doesburg, was primarily an artists' movement. The Rietveld Schröder House was the only building ever to have been constructed in line with its principles. Now a listed Unesco World Heritage site, the house forms part of the collection of the Centraal Museum Utrecht along with two other Rietveld houses: the Rietveld Museum House (with a period 1950s interior) on Robijnweg and the Rietveld Model Home (a manifesto for the Nieuwe Bouwen movement) on Erasmuslaan.
The museum will be marking the De Stijl anniversary with an exhibition devoted to the Rietveld Schröder House as an icon of the movement from 4 March to 11 June. To be held in the former stables of the museum, 'Rietveld's Masterpiece. Long Live De Stijl' will examine the sources of the architect's inspiration. It will explore his contacts with Theo van Doesburg and other De Stijl members such as Bart van der Leck and J.J.P. Oud, as well as with Utrecht-based artists and architects such as Willem van Leusden and Sybold van Ravesteyn. It will also address the influence of Truus Schröder, who lived in the house and who had a huge impact on Rietveld's thinking about domestic spaces.
Publication date 31 January 2017