news
ICONS AT RISK
How to Save Endangered Icons for the Future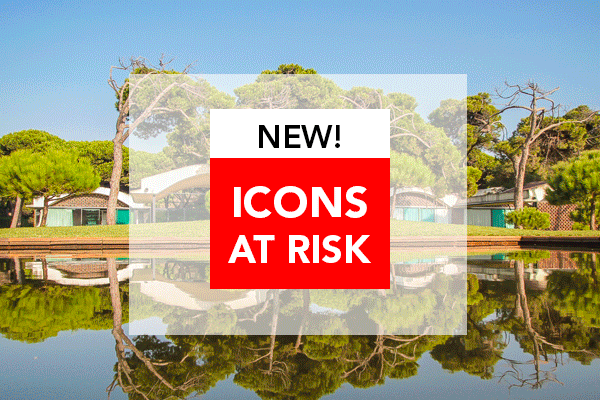 Alongside the Iconic House museums that you know and love, ICONS AT RISK is our new initiative to preserve the world's most endangered architecturally important modern houses. The project is the culmination of two years of intensive work. In this new section on our website, we have listed so far 23 Icons at Risk, Saved and Demolished Icons. More will be added every month. With many, especially those from the second half of the 20th century, in danger of being lost because they are not yet recognized as 'heritage', we need to act now. So how to save them? Icons at Risk sets out to raise public awareness and support house owners to take action. We will keep you updated on our progress on our website and in our newsletter.
| | |
| --- | --- |
| Casa Sperimentale, also known as Casa Albero, Giuseppe Perugini (1968-1975), Fregene, near Rome, Italy. Photo © French+Tye. | |
| | |
| --- | --- |
| La Ricarda, or Casa Gomis, Antonio Bonet (1949-1963), El Prat de Llobregat, near Barcelona Airport, Spain. Photo © Asier Rúa. | |
ICONS AT RISK is an initiative of the Iconic Houses Foundation.
The Steering Committee members are:
Natascha Drabbe, architectural historian and Executive Director/Founder Iconic Houses Network, Netherlands
Fiona Fisher, Curator, Dorich House Museum/Researcher, Kingston School of Art, Kingston University, United Kingdom
Janice Lyle, Director Sunnylands Center and Gardens, USA
Chandler McCoy, Senior Project Specialist, Getty Conservation Institute, USA
Thanks also to Kristen Munchheimer, Graduate Intern (2018-2019), Getty Conservation Institute, and Moriah Schnose, Administrative Coordinator for Retreats at Sunnylands, for their invaluable research. The Casa Sperimentale content is based on groundbreaking research by Patrick Weber and Sabine Storp, both of the Bartlett School of Architecture, UCL London, as part of their student programme.
Sound the alarm!
Do you know an icon at risk? Send us an alert!
You can download the Alert Form HERE.
Thank you for your help!
Posted 30 April 2020