Malachi Connolly, Cape Cod Modern House Trust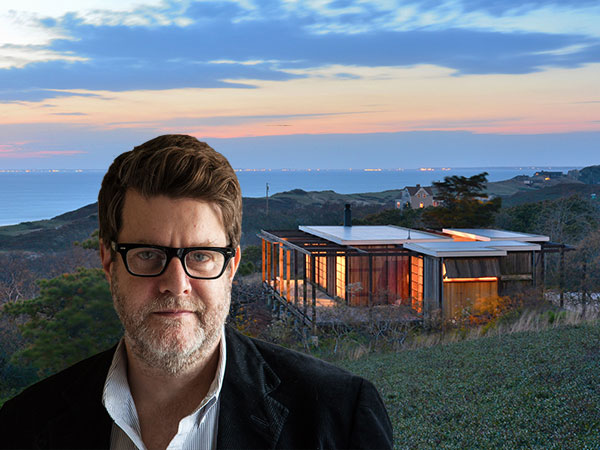 Malachi Connolly is an architect, preservationist, and President of the board of the Cape Cod Modern House Trust (CCMHT) and he will be a speaker at our conference at the Getty Center in February 2016. The Weidlinger House, restored by the CCMHT, is a member of Iconic Houses. Malachi is a native of Massachusetts, who has been working in New York as an architect and preservationist for the past 25 years. He previously worked for Snohetta as a team member on the World Trade Center Memorial Museum Pavilion and most recently for Handel Architects as a project architect on the new Perez Art Museum by Herzog and de Meuron. With the CCMHT, he presided over the restoration of three important modern houses in the Cape Cod National Seashore: the Hatch Cottage, the Weidlinger House and the Kugel Gips House, all of which now host educational tours and residencies for emerging artists. His 2013 documentary film, Built on Narrow Land, on the fate of modern architecture on outer Cape Cod, has been screened at film festivals in New York, Los Angeles, Provincetown, Copenhagen, Slovenia and Seoul in Korea. He has also lectured on the subject at various universities and for preservation groups.
Tell us about your own relationship with significant houses
I've been lucky enough to have seen a few. I cherish great architecture that moves me, especially since so much day-to-day architecture can be so careless. My first relationship with significant houses came from spending summers in Wellfleet Cape Cod, where later as an architecture student I discovered this amazing collection of modern houses built there between 1945 and 1970. Many of these houses had been abandoned for decades after the Cape Cod National Seashore came in 1961 and reclaimed many of them by way of eminent domain, which made them even more beautiful and mysterious. We have now restored three of these significant houses: the Hatch House by Jack Hall, the Gips House by Charlie Zender and the Weidlinger House by Paul Weidlinger. It's a collection that is really unrivalled in the United States when you look at the quality of the work combined with the landscape of outer Cape Cod.
Do you have a favourite house?
It's a toss up between the Casa Malaparte on the Island of Capri in Italy (I've never been there but it's so strange and beautiful) and the Hatch House in Wellfleet Cape Cod, which was one of our restoration projects. The Hatch House is on a truly remarkable site overlooking Cape Cod bay and sits so lightly on the land. The circulation happens on the outside to get from room to room, which is what makes it such a radical way of living.
What is the biggest challenge facing your organisation right now?
Fundraising to retire debt from the restoration work, which is very capital intensive. Creating new programming for our artist residences. Keeping our organization connected to contemporary issues in architecture. CCMHT now has 4 employees and 6 board members including our founding Director, Peter McMahon but we still rely heavily on the help of volunteers for events and programming throughout the year.
What do you expect from the upcoming Iconic Houses conference at the Getty Center in Los Angeles?
I expect to learn about the other participant's perspectives on the stewardship of historically significant houses. I'm imagining that there are a lot of similar issues, even though these houses are in different locations with different geographic, cultural and economic demands. I'm definitely looking forward to seeing some of the houses on the tours in person.
Which 21st-century house has the potential to become a future Iconic House, and why?
I love the Rudin House by Herzog and deMeuron which was actually completed in 1997. It reminds me of a Cape shed but built out of concrete, which is kind of perverse. It simultaneously has a cozy inward feeling because of its shape while at the same time it has enough fenestration to look outward. It also has all of the attributes one needs to survive the 21st century's ecology in crisis: it's up on stilts for floods, it has a water catchment pool for drought and thick concrete walls in case of nuclear meltdown. I feel safe and sound in this house.
Malachi recommends taking a look at the trailer of his 2013 documentary film Built on Narrow Land, on the fate of modern architecture on outer Cape Cod, as a warm up for the conference.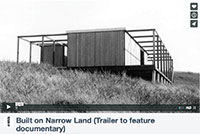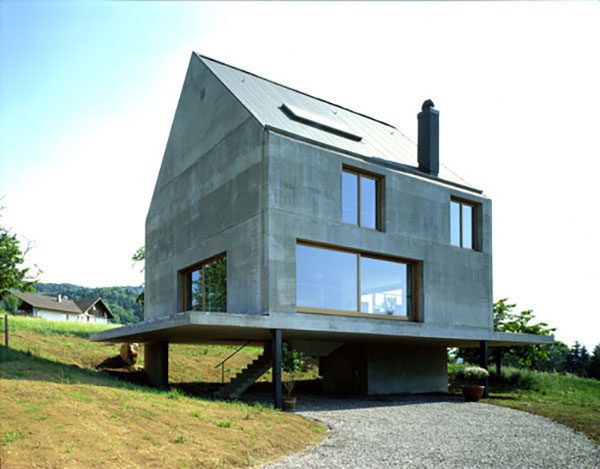 Rudin House, Herzog & de Meuron, Leymen, France 1997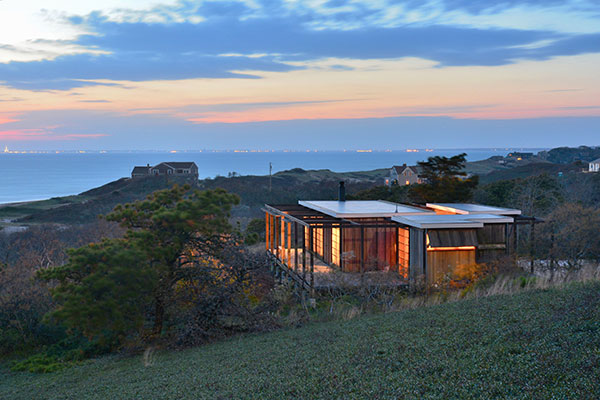 Hatch House, architect Jack Hall, Wellfleet Cape Cod, 1960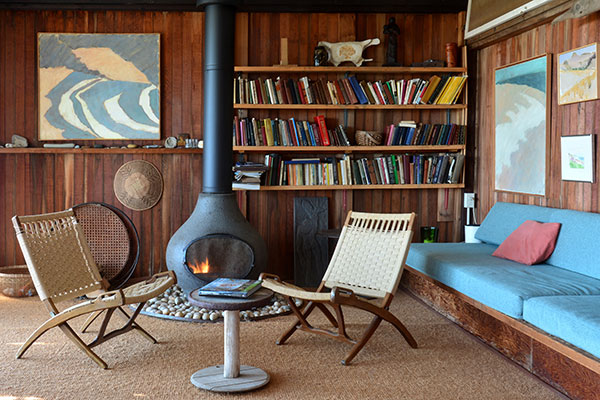 Hatch House, architect Jack Hall, Wellfleet Cape Cod, 1960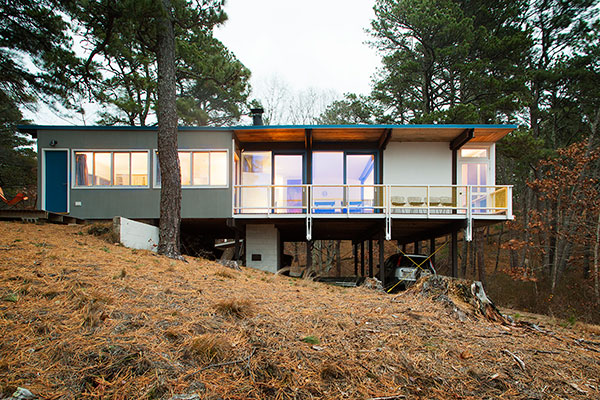 Weidlinger House, architect Paul Weidlinger, South Wellfleet Cape Cod, 1953




Weidlinger House, architect Paul Weidlinger, South Wellfleet Cape Cod, 1953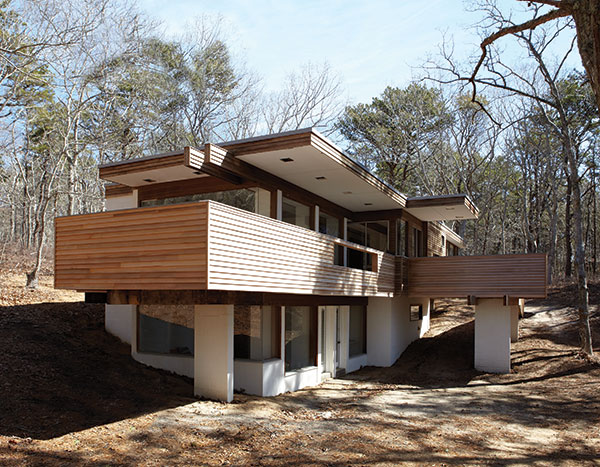 Gips House, architect Charlie Zehnder, Wellfleet Cape Cod, 1970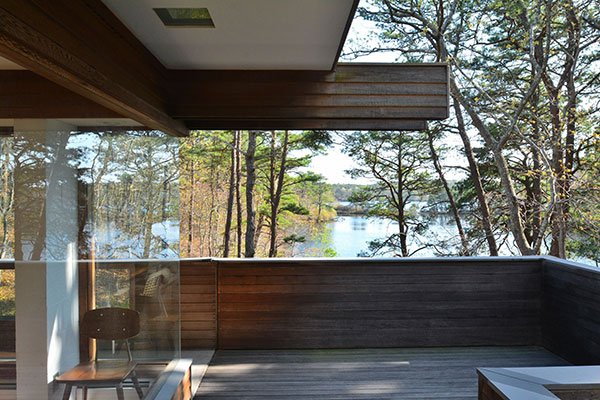 Gips House, architect Charlie Zehnder, Wellfleet Cape Cod, 1970
Publication date 7 January 2016