Frank Lloyd Wright Homes on Screen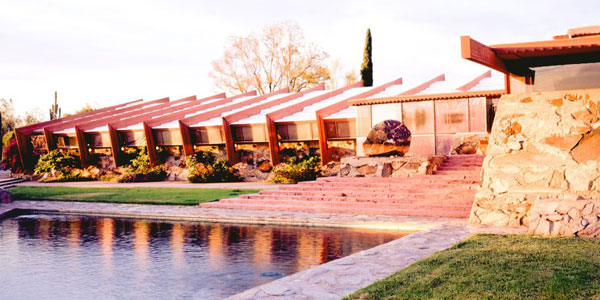 Iconic Houses Lecture Series - Dick van Gameren
Reflecting his often unsettled life, Frank Lloyd Wright designed a number of houses for himself: his home and studio in Oak Park, Illinois (1891), Taliesin East near Spring Green, Wisconsin (1911) and Taliesin West (1938) in Scottsdale, Arizona. The homes were irretrievably tied to events in his private life that were both scandalous and tragic: an affair led him to leave his first home and build the second, which was to be the scene of a devastating fire and multiple murders.
Following the documentary at the Van Schijndel House in Utrecht, architect Dick van Gameren gave an illuminating talk on Frank Lloyd Wright which can now be seen as a video lecture. It will be screened, together with the documentary, The Homes of Frank Lloyd Wright, on April 16 at Filmtheater 't Hoogt in Utrecht.
Dick van Gameren

Dick van Gameren (1962) has realised a large number of projects over the last 20 years, ranging from exhibition designs to urban master plans. Winning the Archiprix (1989), the international Europan 2 competition (1991) and the Charlotte Köhler Prize of the Prins Bernhard Culture Fund (1995) got his career off to a flying start. In 2007, his design for the Dutch Embassy in Ethiopia gained him the prestigious Aga Khan Award.
 
Dick van Gameren is a partner at Mecanoo Architects in Delft. He combines his work as an architect with teaching at Delft University of Technology, where he is professor of architectural design. He is also in the Executive Board of the Berlage Institute, the postgraduate architecture school. His design for the radical and sustainable renovation of a villa in Naarden was awarded the BNA Building of the Year prize in 2012.
His lecture at the Van Schijndel House about the Houses of Frank Lloyd Wright can be viewed as videolecture at ArchiTV.

Screening: The Homes of Frank Lloyd Wright
Director Scott Galloway, USA 2005, 50 min.
Plus a video lecture by Dick van Gameren
Filmtheater 't Hoogt, Utrecht, Netherlands
Tuesday, April 16 , 2012 at 7:00 p.m.
Language: English, no subtitles
Admission is 8.50 euros
Tickets are available from www.hoogt.nl or the box office of 't Hoogt.
 
Photo credits: Tim Long (Home and Studio Oak Park) and Judith Bromley (Taliesin and Taliesin West).