Fernando Alvarez Prozorovich, La Ricarda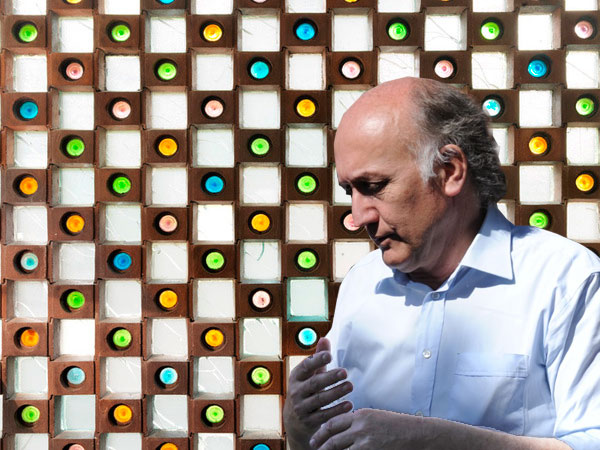 Fernando Alvarez Prozorovich is currently a Barcelona School of Architecture professor and directs the school's Master of Restoration of Monuments programme. Together with Jordi Roig, he was responsible for the restoration of La Ricarda (completed 1963). He will give a presentation on the house at the Iconic Houses Conference on 25 November. La Ricarda was designed and built by Antonio Bonet Castellana (1913-1989) and was conceived as a single-family weekend and vacation home. The house is situated on a large estate which includes a splendid pine grove, located between the sea and the city of Barcelona.
Alvarez Prozorovich completed his PhD in architecture at the Barcelona School of Architecture before embarking on a career in research on the history and restoration of Modern Movement architecture in Spain and Latin America. He has co-authored several books and catalogues, including La Ricarda (1996), Antonio Bonet 1913-1989 (1996), Bonet Castellana (1999), Arquitecturas Desplazadas (2007), Archivo Crítico Modelo Barcelona 1973-2004 (2012), and Arquitectura Española del Exilio (2014). He has received two international awards for his work.
Tell us about your work with significant houses
As my research work has been devoted to the architecture of the 20th century, I have studied many houses which, at different moments in history, revealed new paths in technology, cultural standards and spatial qualities. My task, both as a researcher and as tutor of postgraduate students, has been to go explore these developments in depth, connecting them with changes in other aspects of society, in design, art and culture.
Do you have a favourite house?
That's difficult to say. For me, the interesting thing is to follow the work of any great master, such as Frank Lloyd Wright, Aalto, Neutra, or Bonet, who was searching for their own language while paying attention to the consistency of the whole architectural process. These masters are all different and their houses reveal aspects of the eternal dialogue between architecture and nature.
So, following on from this line of thought, I would choose Villa Mairea (Alvar Aalto, 1936), the Hemycicle House (Frank Lloyd Wright, 1944), and, of course, La Ricarda (1963).
What's the biggest challenge La Ricarda faces right now?
The most dramatic challenge for the house is to survive the family who created it, lived in it, and is still looking after it. La Ricarda has a lot of visitors and there is an interesting body of research on the house and its architect, so this is encouraging for the owners. However, it still faces an uncertain future. The increasing levels of noise from the airport, the difficulties of matching good sound insulation with the aesthetics of the house, and the cost of maintenance, are strong undermining factors. Above all, we miss a commitment from public institutions to protect the house and help to keep it as a house museum, as for instance is the case with the Villa Savoye.
What do you hope will emerge from the upcoming Iconic Houses conference in Barcelona?
We would love to see the house up there with the other Iconic Houses and visited by people who are caring enough to contact the owners and express appreciation for their efforts to keep the house alive. We believe that this conference is an extraordinary opportunity to send a strong signal to the people responsible for creating the conditions for the care and use of our modern heritage. I am sure that the interchange of experiences will be both interesting and helpful.
What 21st-century home deserves to be an Iconic House of the future?
We still have a long way to go. Perhaps it's better to keep an open mind and wait for the future work of our current young architects. That said, the early years of the 21st century suggest that sustainability and a wiser relationship with nature will become important criteria in deciding what ought to be an Iconic House.