news
Icon at Risk: Van Molyvann's House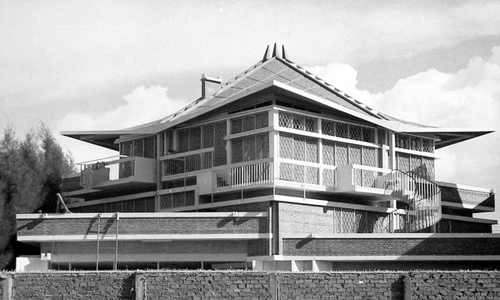 They call it New Khmer – the idiosyncratic modern architecture that developed in Cambodia between the departure of the French in 1953, and the outbreak of civil war in 1970. Modern, yet drawing on Cambodia's architectural heritage, New Khmer is exemplified by Van Molyvann.
Born in Ream, Kampot province in 1926, Vann Molyvann obtained a scholarship to pursue his studies in Paris, France. After one year of law, he switched to architecture at the School of Fine Arts in Paris (Ecole Nationale Supérieure des Beaux-Arts) and returned in 1956, the first fully qualified Cambodian architect, keen to put his talents to use. He was promptly appointed Head of Public Works and State Architect by Sihanouk. During the Sangkum Reastr Niyum regime (1955–1970) Prince Norodom Sihanouk enacted a development policy encompassing the whole kingdom with the construction of new towns, infrastructure and architecture.
Vann was the foremost of a generation of architects who contributed to the unique New Khmer architecture developing at that time. In 1970 the Sangkum Reastr Niyum came to a brutal end with the coup d'état led by General Lon Nol. Vann relocated to Switzerland with his family. He worked for the United Nations Human Settlements Programme for ten years before eventually returning to Cambodia in 1991 where he served as President of the Council of Ministers, Minister of Culture, Fine Arts, Town and Country Planning.

The Vann Molyvann family is exploring ways to preserve the private house Molyvann designed for the family in 1966, while also opening it to the public. When Vann Molyvann returned to Cambodia in 1991, he found his house serving, of all things, as the office of the national land-registration administration. ''It was completely neglected,'' he says, ''in a shocking state.'' He applied to the government to have his house returned. Amazingly, it was. But the house still faces difficulties: Cambodia is developing country with limited cultural and social institutions, and no local model of an iconic house to look to for guidance.
Stay tuned and sign up for our newsletter and we will keep you posted on the progress of the Vann Molyvann House.

To learn more about the architect and his work, see the website of the Vann Molyvann Project www.vannmolyvannproject.org